Child abuse statistics point to child safety crisis 兒虐新聞統計 兒童安全大危機
After collecting 187 child abuse-related news reports from this year, the Taiwan Fund for Children and Families (TFCF) found that physical abuse was at the top with 36 percent, while sexual abuse accounted for 34 percent and negligent care 26 percent. The most stunning discovery made was that negligent care caused death 56 percent of the time, even higher than deaths caused by physical abuse, which caused death 45 percent of the time. These results make negligence the greatest cause for concern when it comes to child safety, so adults need to be careful not to leave young children unattended as it could lead to fatal circumstances.
TFCF executive director Miguel Wang says that out of the 27 children who died due to negligent parenting this year and had an average age of 4.4 years, nearly 60 percent were in accidents while they were left unattended. The top three causes of death due to negligence included drowning, suffocating and falling from buildings. When compared to statistics from the Ministry of the Interior, the number of children harmed or injured due to negligent care has increased by 31 percent over the past eight years.
Wang says that even though the Protection of Children and Youths Welfare and Rights Act stipulates that children six years old or younger are not legally allowed to be left alone or looked after by an unsuitable caretaker, many poor families are left with no other option but to let a slightly older brother or sister take care of the younger child, or simply leave the child unattended.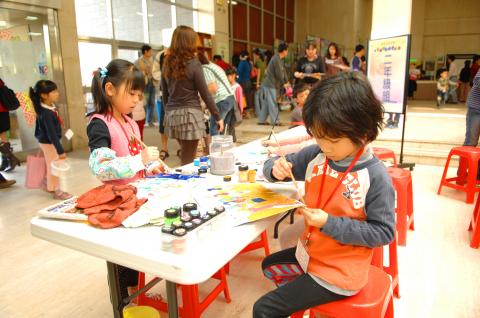 Children participate in a national associative drawing contest in Greater Taichung on Dec. 16. 兒童十二月十六日於台中參加全國兒童聯想創作畫比賽。
Photo: Chang Jui-chen, Liberty Times
照片:自由時報記者張瑞楨
TFCF invited seven experts working in the fields of social work, law and medicine to select 10 major news stories related to child protection. Four of the stories selected were related to negligent care: the charred bodies of three young brothers holding on to each other after waiting to be rescued during a fire; a four-year-old who fell from a window on the ninth floor after getting through its metal bars; a week-old infant who drowned in a bathtub while the mother was tending to another child; and a two-day-old infant girl who died from exposure to the sun after being left lying naked on a tar road for 12 hours.
Liu Shu-chiung, a professor in the Department of Social Work at National Taiwan University, is highly critical of the government's ineffective child protection policies. She urges the Cabinet to convene a consortium of social work and legal experts that would be responsible for coming up with more effective ways to protect children, and annually release reports of children's deaths to hopefully remedy the situation by better understanding causes of death, the circumstances, and the problems involved.
(Liberty Times, Translated by Kyle Jeffcoat)
家扶基金會蒐集今年一八七則兒虐新聞發現,遭身體虐待佔百分之卅六比率最高,其次為性侵傷害百分之卅四、照顧疏忽百分之廿六。令人咋舌的是,兒童因照顧疏忽致死率百分之五十六高居第一,遠高於身體虐待致死率百分之四十五,「大人粗心、小孩枉死」成為兒童安全一大隱憂!
家扶執行長王明仁指出,因照顧疏忽不幸死亡的廿七名兒童,平均僅四點四歲,近六成是獨處時發生意外,尤以溺斃、悶死及墜樓為前三大主因。比對內政部統計,因照顧疏忽導致兒童受害的人數,八年激增百分之卅一。
王明仁說,儘管兒童及少年福利與權益保障法規定不能讓六歲以下兒童獨處或由不適當者代照顧,但弱勢家庭不少迫於經濟,由稍大孩子照顧年幼弟妹或任由孩子獨處。
家扶邀社工、法界、醫界等七位專家選出今年十大兒保新聞,照顧疏忽類佔四則,分別是火噬三兄弟焦屍交纏似待援;四歲童鑽鐵窗欄縫自九樓墜地亡;哄這娃漏那娃、週歲嬰溺斃浴缸;出生兩天的女嬰棄柏油路赤身曬十二小時。
台大社工系教授劉淑瓊痛批政府兒保政策是「捉瞎」!疾呼行政院邀集社政、司法等專家,召開兒保協調會報,每年定期公佈兒童死亡報告,了解死因、樣態、問題,才能對症下藥!
(自由時報記者謝文華)
Publication Notes
TODAY'S WORDS 今日單字
1. negligence n. 疏忽 (shu1 hu1) 例: The driver's negligence caused the accident. (司機的疏忽導致車禍。) 2. drown v. 溺斃 (ni4 bi4) 例: She almost drowned. The lifeguard saved her life. (她差點被淹死,是救生員救她一命。) 3. char v. 燒焦 (shao1 jiao1) 例: You charred the steaks. Looks like we'll be going out for dinner again. (你燒焦牛排了,看來我們又要去外面吃晚餐。)
Comments will be moderated. Keep comments relevant to the article. Remarks containing abusive and obscene language, personal attacks of any kind or promotion will be removed and the user banned. Final decision will be at the discretion of the Taipei Times.