Obesity epidemic propels fitness as career 肥胖流行 健身產業職缺多
As the American waistline continues its spread, fitness is shaping up as one of the hottest careers of this tepid economic recovery.
Employment of fitness trainers and instructors is expected to grow by a brisk 24 percent in the decade to 2020, according to the US Bureau of Labor Statistics, as businesses, health professionals and insurance companies take sharper aim at the sedentary lifestyle.
"Helping individuals be more active is important and fitness professionals can be at the center of that," said Cedric Bryant, chief science officer of the American Council on Exercise (ACE), which has certified more than 50,000 fitness professionals.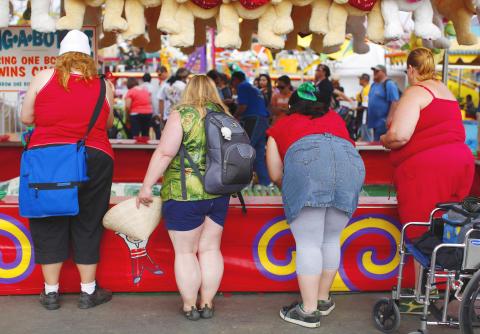 Fairgoers play a carnival game at the San Diego County Fair in Del Mar, California on June 29 last year. 民眾去年六月二十九日在加州德爾馬爾聖地牙哥市集玩一場嘉年華遊戲。
Photo: Reuters
照片:路透
Obesity rates have sky-rocketed in the last 20 years. More than one third of adults in the US are obese, according to the US Centers for Disease Control and Prevention.
Bryant said the health crisis is strongly linked to the lifestyle choices that fitness professionals, such as personal trainers and group fitness instructors, address.
(Reuters)
隨著美國民眾腰圍越來越粗,健身正逐漸成為經濟緩慢復甦下最熱門職業之一。
根據美國勞工部勞工統計局,隨著企業、保健專家及保險業者都更清楚聚焦在久坐不動的生活型態,預期截至二○二○年的十年間,健身教練及指導員的職缺將成長百分之二十四。
美國運動協會(ACE)科學長塞德里克.布萊恩說:「幫助民眾多多運動很重要,健身專業人士可以扮演關鍵角色。」ACE已經認證超過五萬名健身專業人士。
肥胖率在過去二十年飆高,據美國疾病管制暨預防中心指出,美國超過三分之一的成人都有肥胖問題。
布萊恩說,這種健康危機,與諸如私人教練及團體健身指導員等健身專業人士所對付的生活型態選擇,有強烈的關聯。
(路透/翻譯:陳成良)
Publication Notes
TODAY'S WORDS 今日單字
1. epidemic n.
流行病 (liu2 xing2 bing4)
例: The fight against the HIV/AIDS epidemic is promising.
(防治愛滋病的流行,已出現曙光。)
2. tepid adj.
不熱烈的;不熱情的 (bu2 re4 lie4 de5; bu2 re4 qing2 de5)
例: It was a tepid reception.
(這是個不大熱情的招待。)
3. sedentary adj.
不常運動的;久坐的 (bu4 chang2 yun4 dong4 de5; jiu3 zuo4 de5)
例: I'm bored with this sedentary office job.
(我對坐在辦公室的工作已膩了。)
Comments will be moderated. Keep comments relevant to the article. Remarks containing abusive and obscene language, personal attacks of any kind or promotion will be removed and the user banned. Final decision will be at the discretion of the Taipei Times.