Avoiding bad posture at work and exercising your shoulders 工時長坐姿不良 常聳肩舒筋骨
Long work hours, exhaustion from working, excessive stress, fatigue, and keeping the same posture for many hours can all spell inflamed, sore muscles for many people. For one 35-year-old truck driver, driving long hours between northern and southern Taiwan every day was causing him to feel severe soreness in his neck due to sitting in the same position for long chunks of time, and this was seriously affecting his quality of sleep. A doctor of Chinese medicine was able to use Chinese medicine and acupuncture to alleviate the symptoms.
Juan Ying-hsu, a doctor at Dalin Tzu Chi General Hospital's Department of Chinese Medicine, says that Chinese medicine divides muscle pain into two categories, weak circulation and blood stasis. Weak circulation includes muscle pain caused by excessive fatigue, which usually occurs when a person works long hours and has bad posture. Blood stasis, on the other hand, occurs because modern office workers stay in air-conditioned rooms all day and like to use cold foods and drinks to cool down, which can cause muscle pain due to the ensuing bad circulation, he says.
Juan says that there are various Chinese herbal remedies available that can allay joint pain, and says that different pressure points on the body can be pressed to relieve long-term back pain. There are also specific pressure points that can be pressed to help with soreness in the shoulder area.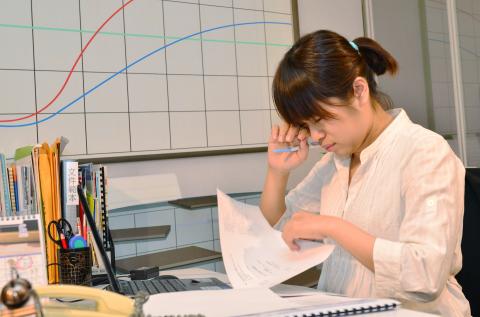 A woman rubs her eyes in an office in Taipei on June 25. 一位女士六月二十五日於台北一處辦公室擦眼睛。
Photo: Wei Yi-chia, Liberty Times
照片:自由時報記者魏怡嘉
Juan says that the average person cannot do acupuncture on themselves, but says that they can put heat on sore areas during their daily showers, allowing muscles to relax. Joints can easily become sore when sitting or staying in the same position for an extended period of time. He says that people should do shoulder shrugging exercises when they are not working to move the muscles and joints in the shoulder area.
Juan says that exercising during time off from work can also greatly improve circulation. He also says that people should avoid eating excessive amounts of bananas, pineapples, bamboo, preserved foods or having carbonated drinks, and that they should supplement vitamin intake and eat more green vegetables. Most importantly, however, he says people need to maintain good posture and adopt good exercise habits and a healthy diet.
(Liberty Times, Translated by Kyle Jeffcoat)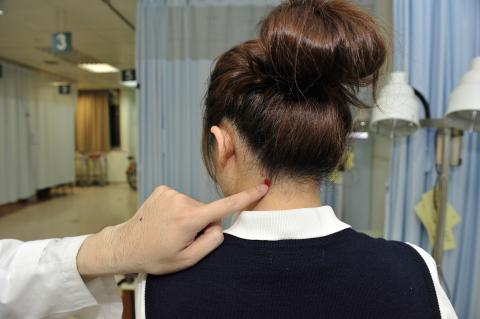 Juan Ying-hsu, a doctor in Dalin Tzu Chi General Hospital's Department of Chinese Medicine, in Chiayi County on Monday shows a pressure point on the back of the neck that can be pressed to relax tension. 大林慈濟醫院中醫科醫師阮膺旭週一於嘉義縣指出脖子後面可按壓的穴道舒緩緊繃。
Photo: Lin Yi-chang, Liberty Times
照片:自由時報記者林宜樟
許多人常因工時長,加上工作勞累、壓力大、疲勞,姿勢長時間固定,肌肉發炎疼痛。三十五歲貨車司機因南北往返,長時間開車,固定的坐姿造成脖子酸痛,嚴重影響睡眠品質,中醫師以藥物及針灸治療後,症狀獲得緩解。
大林慈濟醫院中醫科醫師阮膺旭表示,中醫的肌肉酸痛可分為「氣血衰弱」及「氣血瘀滯」。氣血衰弱包括過度疲勞引起的肌肉酸痛,容易發生在工時長且姿勢不良的人身上,而氣血瘀滯是因為現代上班族大多待在冷氣房裡,喜歡吃冰品消暑,造成氣血循環差引發肌肉酸痛。
阮膺旭說,舒筋活絡可利用不同中藥促進新陳代謝。長期腰酸背痛,可按壓不同穴位來改善酸痛感。肩膀酸痛則可按壓特定穴道舒緩肩內緊繃。
阮膺旭說,一般民眾無法自行針灸,可利用每天洗澡時針對酸痛部位熱敷,讓肌肉鬆弛。久坐或長期維持同個姿勢容易肩頸酸痛,休息時要做聳肩運動,活動肩部肌肉及筋骨。
阮膺旭指出,休假時多運動可讓循環更好,平時少吃香蕉、鳳梨、筍子、碳酸飲料及醃漬食品,多補充維他命,並多吃深綠色蔬菜,更重要的是,保持良好姿勢、養成良好的運動及飲食習慣。
(自由時報記者林宜樟)
Publication Notes
TODAY'S WORDS 今日單字
1. acupuncture n.
針灸 (zhen1 jiu1)
例: Around 60 percent of doctors in the US believe that acupuncture is somewhat effective in the treatment of pain.
(在美國有接近六成的醫師認為,針灸對治療疼痛有某種程度的功效。)
2. allay v.
舒緩;減輕 (shu1 huan3; jian3 qing1)
例: It should allay your fears to know that the police patrol the neighborhood at night.
(知得警察夜間有社區巡邏後,應可減輕你的恐懼。)
3. pressure point n. phr.
穴位 (xue4 wei4)
例: Pressing specific pressure points can cause intense pain or relieve pain.
(按壓特定穴位,可以產生或舒緩激烈的疼痛。)
Comments will be moderated. Keep comments relevant to the article. Remarks containing abusive and obscene language, personal attacks of any kind or promotion will be removed and the user banned. Final decision will be at the discretion of the Taipei Times.