Yunlin to create 800 hectares of organic farmland within three years 雲林打造有機農業 三年內八百公頃
The Yunlin County Government is planning to create 800 hectares of organic farmland within the next three years and hopes to expand its new guidance program, which includes subsidies for the cost of organic fertilizers, as well as organic farmland leases and certification. It is also working on increasing the number of organic farmers in Yunlin. On Sunday last week 160 students received certificates for attending the government's organic farming classes.
Yunlin's Agriculture Department said that there is currently more than 5,200 hectares of certified organic farmland in Taiwan, 270 hectares of which belongs to Yunlin County, or 5.2 percent, so there is apparently still plenty of room to grow when it comes to developing organic farming in Yunlin. The low number is also a sign of the many difficulties that farmers face in switching from regular to organic farming.
The department says that in order to build up the organic farming industry in Yunlin, the government plans to create 800 hectares of organic farmland within the next three years, and promote its new guidance program for organic farming, which includes organic farming subsidies, the organization and planning of designated organic farming areas, and organic farming classes.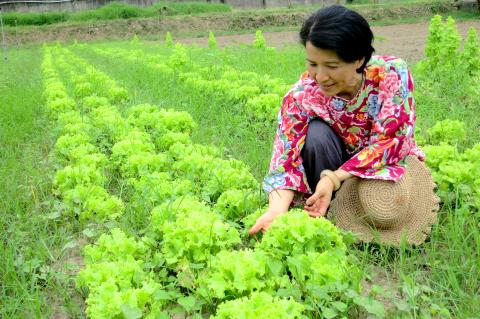 Lee Hsu-ching, founder of an organic farm, tends to her lettuce in Taipei on May 18. 有機農場創辦人李旭清五月十八日於台北細心種植萵苣。
Photo: Chung Li-hua, Liberty Times
照片:自由時報記者鍾麗華
Chen Kun-chin, head of the department's Farming Guidance Section, says that financial assistance includes funds for organic farming greenbelts, planting shrubs and trees, organic fertilizers, biological control materials and resources, certification and testing fees, rent for farmland, as well as small-scale farming machinery.
National Yunlin University of Science and Technology was commissioned to teach the new organic farming classes, which are offered in Douliu, Huwei, Siluo and Beigang townships. A total of 160 students received certificates this time. On Sunday last week Yunlin's Chief Secretary, Hsu Yi-fong, said during the ceremony that organic farming is a long road indeed, but that as long as you are on the right road there is no reason to be afraid how long that road is, adding that the county government will continue promoting organic farming and encouraging farmers to develop the organic farming industry.
(Liberty Times, Translated by Kyle Jeffcoat)
雲林縣政府計畫三年內打造八百公頃有機農業,擴大推動輔導旗鑑計畫,包括有機肥、租金、驗證等費用補助,也積極培育有機生力軍,週日有機專班結訓共有一百六十名學員取得證書。
農業處指出,二○一二年台灣有機農業已驗證土地面積約有五千二百多公頃,其中雲林縣有二百七十公頃,約佔百分之五點二,可見雲林農民在有機農業發展還有很大的空間,另方面也可看出農民在轉型遭遇許多困難。
農業處表示,為打造雲林有機農業,縣府計畫在三年內達到八百公頃的有機栽種面積,並推出雲林有機農業擴大推動輔導旗艦計畫,包括有機農業補助、有機專區規劃設計、有機專班。
農業處農業輔導科長陳坤進指出,補助項目包括有機農田隔離綠帶、灌木樹苗、有機肥料、生物防治資材、驗證及檢驗費用、土地租金及小型農業機械等。
第一批有機專班培訓委託雲林科技大學辦理,在斗六、虎尾、西螺及北港開課,總計一百六十名學員取得結訓證書,秘書長許義豐週日在結訓典禮中表示,有機農業是一條很漫長的路,但是走對路就不怕路遠,縣府會持續推動有機農業,鼓勵農民發展有機農業。
(自由時報記者黃淑莉)
Publication Notes
TODAY'S WORDS 今日單字
1. subsidy n. 補助 (bu3 zhu4) 例: The federal government is offering subsidies to small business start-ups. (聯邦政府目前提供補助給新創立的小型企業。) 2. fertilizer n. 肥料 (fei2 liao4) 例: Fertilizers supply plants with nutrients to help them grow. (肥料提供植物生長的養分。) 3. shrub n. 灌木 (guan4 mu4) 例: The shrubs in front of the window keep a lot of the light from coming in. (窗外的灌木有遮光作用。)
Comments will be moderated. Keep comments relevant to the article. Remarks containing abusive and obscene language, personal attacks of any kind or promotion will be removed and the user banned. Final decision will be at the discretion of the Taipei Times.