Higher birth weight linked to grandmother gene 出生體重較重與祖母基因相關
Scientists say a gene variation could contribute up to 155g to a child's birth weight.
The gene studied is believed to act as a growth suppressor, reducing birth weight. But UK-based researchers found that a particular variant passed down from the mother can add 93g to birth weight, or 155g if passed down from the maternal grandmother.
Professor Gudrun Moore of University College London and his colleagues looked at a gene called PHLDA2 in nearly 9,500 DNA samples taken from mothers and their babies, collected in three separate studies.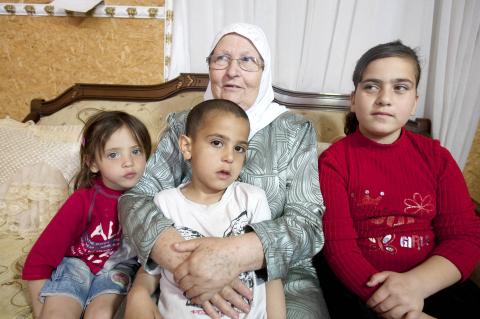 A woman poses for a photo with her grandchildren in Umm al-Fahm, Israel on April 17. 一位女士四月十七日在以色列城鎮Umm al-Fahm與其孫子們合照。
Photo: AFP
照片:法新社
They found that a gene variant called RS1 appeared to change the way in which the gene functioned, leading to higher birth weights. "The gene is already known to have a profound effect on birth weight by acting as a growth suppressor," Moore said.
The RS1 variation was found in around 13 percent of the individuals studied, with 87 percent possessing the RS2 variation. "We suggest that the more common RS2 gene variation, which is only found in humans, has evolved to produce a smaller baby as a protective effect to enhance the mother's survival during childbirth," said Moore.
(Liberty Times)
科學家說,一種基因的變異可能會讓兒童出生體重增加多達一百五十五公克。
研究針對的這種基因據信扮演生長抑制者的角色,會降低出生體重。但英國研究人員發現一種從母親遺傳的特別基因變異,可能讓出生體重增加九十三公克,從外婆遺傳的基因變異,可能讓出生體重增加一百五十五公克。
倫敦大學學院的摩爾教授與同僚,從取自母親與她們小孩的將近九千五百份DNA樣本中,研究一種稱為PHLDA2的基因。這些樣本取自於三份不同的研究。
摩爾教授說,他們發現一種稱為RS1的基因變異似乎會改變基因運作方式,導致出生體重增加,摩爾說:「這種基因已知會扮演生長抑制者的角色,對出生體重有深遠影響。」
研究的對象中,約百分之十三有RS1變異,百分之八十七有RS2變異,摩爾教授說:「我們認為,只有在人類體內發現的、較普遍的RS2基因變異,是演化產生的保護效果;它製造較小的嬰兒,加強母親生產時的存活率。」
(自由時報/翻譯:國際新聞中心)
Publication Notes
TODAY'S WORDS 今日單字
1. variant n.
變異;變化版 (bian4 yi4; bian4 hua4 ban3)
例: There are many cola flavors on the market now, which are all variants of the original one.
(現在市面上有多種可樂,都是從原始的可樂變化而來。)
2. pass down v. phr.
流傳,傳承 (liu2 chuan2; chuan2 cheng2)
例: His occupation is a family trade, passed down from generation to generation.
(他的是家族事業,代代相傳。)
3. maternal adj.
母系的;母性的 (mu3 xi4 de5; mu3 xing4 de5)
例: She is very maternal towards her staff.
(她對員工非常有母性。)
Comments will be moderated. Keep comments relevant to the article. Remarks containing abusive and obscene language, personal attacks of any kind or promotion will be removed and the user banned. Final decision will be at the discretion of the Taipei Times.