Goodwill rats help pals escape: study 善意鼠會幫夥伴脫困
Lab rats have feelings, too.
Given a choice between munching on a tasty chocolate treat or helping a fellow rat escape from a restraint, test rodents often preferred to liberate a pal in need, indicating that their empathy for others was reward enough.
The observation by University of Chicago neuroscientists, published in the journal Science, suggests that even these primitive creatures are wired to show benevolence for their own kind.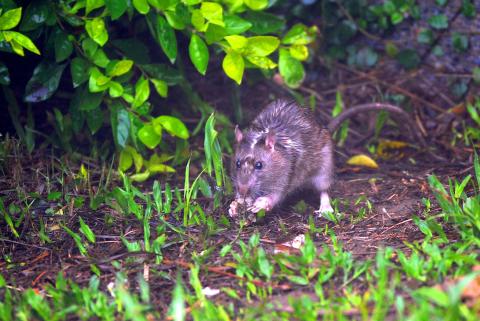 A rat is seen on Yangmingshan in Taipei on Oct. 15 last year. 這張去年十月十五日拍攝的照片,是在陽明山上的一隻老鼠。
Photo: Chang Chia-ming, Liberty Times
照片:自由時報記者張嘉明
Researchers started by housing 30 rats together in pairs, each duo sharing the same cage for two weeks. Then, they moved them to a new cage where one rat was held in a restraining device while the other could roam free.
The free rat could see and hear his (or her — six of the rats were female) trapped buddy, and appeared more agitated while the entrapment was going on.
The door to the trapping enclosure was not easy to open, but most rats figured it out within three to seven days. Once they knew how, they went straight to the door to open it every time they were put in the cage.
"There was no other reason to take this action, except to terminate the distress of the trapped rats," said first author Inbal Ben-Ami Bartal. "In the rat model world, seeing the same behavior repeated over and over basically means that this action is rewarding to the rat."
(AFP)
實驗鼠也有感情。
假設在津津有味嚼食可口的巧克力與幫助夥伴逃離監禁之間做選擇,接受測試的老鼠往往寧願讓有困難的同伴獲得自由,這顯示他們對他者的同理心就是足夠的報償。
這項刊登在「科學」期刊、由芝加哥大學神經科學家進行的觀察顯示,即使是這些原始生物也傾向對同類展現慈善。
研究人員首先將三十隻老鼠兩兩配對安置一起,每對關在同一個籠子兩週。然後他們被移到新籠,其中一隻被關進一個監禁裝置,而另一隻則可以自由走動。
自由鼠可以看到、聽到他(或她—當中六隻是母的)受困的搭檔,而當圈閉的情形持續,自由鼠更顯激動。
圍場的門不容易打開,不過多數老鼠在三到七天內就了解訣竅。他們一旦知道如何開門後,每當被放進籠子,他們就直接去開門。
「除了停止受困鼠的沮喪外,他們沒有其他理由採取這樣的行動,」第一作者巴塔爾說。「在鼠輩的模範世界,看見相同的行為一再重複,基本上,這表示這樣的行動對老鼠而言是值得的。」
(法新社/翻譯:魏國金)
Publication Notes
TODAY'S WORDS 今日單字
1. given prep.
假如;考慮到 (jia3 ru2; kao3 lu4 dao4)
例: Given their inexperience, they have done a good job.
(考慮到他們欠缺經驗,這工作算是做得不錯。)
2. in need adv. phr.
困難地 (kun4 nan2 de5)
例: He is in dire need.
(他生活極其困難。)
3. rewarding adj.
值得的;有益的 (zhi2 de2 de5; you3 yi4 de5)
例: Reading can be very rewarding for everyone.
(閱讀對人人都有莫大好處。)
Comments will be moderated. Keep comments relevant to the article. Remarks containing abusive and obscene language, personal attacks of any kind or promotion will be removed and the user banned. Final decision will be at the discretion of the Taipei Times.