Spicing up sex life with pretend rape turns real for mistress 裝強暴助「性」? 矇眼硬上重創小三
In order to improve the quality of sex with his extramarital partner, a married man surnamed Chien broke into his mistress' house and pretended to be a rapist. He tied her up using tape while she was in the middle of sleeping, forced her to have sex with him, and then left without revealing his identity. The mistress then called the police believing she had been raped. When the police showed her the surveillance video, she was shocked and said: "What? Isn't that my boyfriend?" However, because it was a criminal act subject to public prosecution, what was initially pretend turned real, and Chien was indicted on charges of rape and sentenced to two years in prison and a suspended sentence of five years.
The verdict said that Chien often comes in and out of his mistress' house freely, and that they had previously used blindfolds and tied up each others' hands in order to spice up their sex life. One day in August this year, Chien wore a black baseball cap when he went inside his mistress' house, saw that she was sound asleep, and then without tell her first, he tore off all her clothes, put a blindfold on her eyes, tied her hands behind her back, and forced her to have sex. During the process, his girlfriend resisted, and poked his cheeks and neck with a key, bruising his back and arms. The most unbelievable thing is that after the entire incident, Chien did not even explain what he had done, left her tied up, and drove away on his motorcycle.
His girlfriend suspected that it was probably Chien who had raped her but still had her doubts, so she sent a text message and called him to make sure, but he did not respond. Therefore, thinking that she had really been raped, her mother notified the police, and when the police were reviewing the surveillance footage, she saw that it was actually Chien who raped her.
(LIBERTY TIMES, TRANSLATED BY KYLE JEFFCOAT)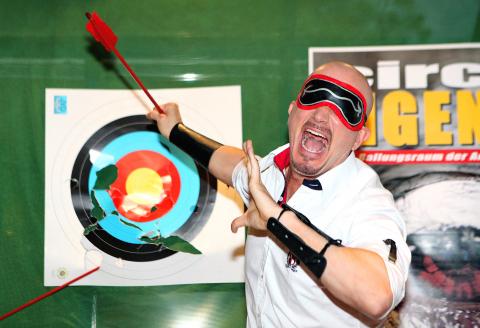 Stuntman Joe Alexander catches an arrow blindfolded in Hamburg, Germany on Nov. 16. 雜技演員朱歐‧亞歷山大十一月十六日在德國漢堡蒙眼抓箭頭。
Photo: EPA
照片: 歐新社
已婚簡姓男子為提高婚外情的炒飯「性」致,扮成強暴犯直闖小三的住處,用膠帶綁住睡夢中的她再強制性交,事後也沒表露身分就不吭不響離去,小三以為遭強暴而報案,警方調出監視畫面,她才驚呼「咦?這不是我男友嗎?」但因事涉公訴罪,弄假成真的簡男仍被依強制性交罪判刑兩年,緩刑五年。
判決書指出,簡男常自由出入小三家,兩人為尋求刺激,曾以蒙眼、綁手方式做愛,今年八月某日,簡男戴黑色棒球帽到小三家,見她昏睡,在未告知下,就剝光她的衣物,蒙她眼睛,反綁雙手,強迫炒飯,女友在過程中反抗,還拿鑰匙抵住簡男的臉頰、脖子,造成他背部、雙臂瘀青;更離譜的是,簡男完事後既沒給個交代,也沒解開她膠帶,就逕自騎車離去。
小三事後猜想可能是簡男幹的,卻不敢確定,她傳手機簡訊,又打電話給簡男查證,卻未獲回應,於是認為「那應該是真的被強暴了」,其母得知便報警,警方調閱監視器,小三見了畫面才發現是簡男幹的。
(自由時報記者王善嬿、林宜樟)
Comments will be moderated. Keep comments relevant to the article. Remarks containing abusive and obscene language, personal attacks of any kind or promotion will be removed and the user banned. Final decision will be at the discretion of the Taipei Times.