Secretive North Korea opens up to cell phones 神秘的北韓開放民眾使用手機
North Korea is expected to register the 1 millionth cell phone user by the end of the year, barely four years after people were thrown into prison camps, or possibly even executed, for owning one.
Most of the users are in the capital of Pyongyang, home to the impoverished country's elite and powerful who have the cash to splash out for a device and the calling fees.
The authoritarian government ended a ban on cell phones in 2008, signing a four-year deal with Egyptian company Orascom to build the 3G network in partnership with the government.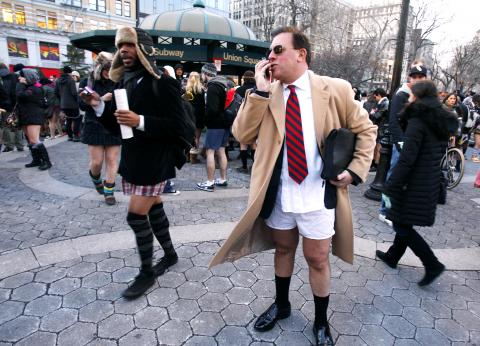 A man talks on his cell phone after taking part in the 10th Annual No Pants Subway Ride in New York City on Jan. 9. 一位男子一月九日在紐約市參加第十屆「地鐵無褲日」活動後,講著手機。
Photo: Reuters
照片:路透
A report this month by the Nautilus Institute for Security and Sustainability said 60 percent of people ages 20 to 50 use cell phones in Pyongyang, a city of around 3 million people who are strictly vetted by the state for residency permits. Calling fees have fallen this year, driving the surge in demand, reports say.
But you cannot dial into or out of the country, and there is no Internet. The government still keeps a stranglehold on all news flows into the destitute state.
Cell phones and the Internet have been used to rally a revolutionary wave of protests and civil wars that have brought down iron rulers from Hosni Mubarak to Muammar Qaddafi. But analysts say this is unlikely to happen in North Korea because strict state media controls limit what people know about the outside world.
(Reuters)
北韓的手機用戶數將在年底達到一百萬人。不到四年前,擁有手機的人還會被關進監獄,甚至遭到處決。
大部分的手機用戶都位於首都平壤,在赤貧的北韓,菁英和有權有勢的人都住在平壤,他們有的是現金,能恣意揮霍,購買手機並支付通話費。
北韓的獨裁政府在二○○八年結束手機禁令,和埃及的Orascom公司簽下四年合約,與政府合夥建立3G網路。
「鸚鵡螺安全與永續發展研究所」本月公布的報告指出,二十歲至五十歲的平壤居民中,有六成使用手機。平壤約有三百萬人口,必須經過當局嚴格審查後,才能在當地居住。報告說,由於今年通話費降價,推升手機的需求激增。
但手機無法撥打或接聽國外電話,也沒有網際網路。北韓政府仍舊管制所有進入這個窮困國度的新聞。
手機和網路以往曾用來掀起抗議的革命風潮及內戰,拉下胡斯尼‧穆巴拉克和穆阿邁爾‧格達費等鐵腕政權。但分析家表示,這種情況不太可能發生在北韓,因為國家對媒體的嚴厲控制,限制了平民對外在世界的了解。
(路透/翻譯:陳維真)
Publication Notes
TODAY'S WORDS 今日單字
1. splash out v. phr.
揮霍 (hui1 huo4)
例: Her boyfriend doesn't mind her splashing out.
(她男友不介意她揮霍的習慣。)
2. stranglehold n.
管制 (guan3 zhi4)
例: In France, supermarkets have less of a stranglehold on food supplies.
(在法國,超市對食物供應的管制比較少。)
3. bring down v. phr.
拉下;使…失敗 (la1 xia4; shi3…shi1 bai4)
例: This scandal may well bring the president down at the next election.
(這件醜聞恐怕會令總統在下次選戰中失敗。)
Comments will be moderated. Keep comments relevant to the article. Remarks containing abusive and obscene language, personal attacks of any kind or promotion will be removed and the user banned. Final decision will be at the discretion of the Taipei Times.