Young Taiwan pianist shines in Louisiana 台灣鋼琴新秀 美國展現光芒
When the fourth Louisiana International Piano Competition (LIPC) wrapped up last Saturday, the first and second prizes went to Israel's Michael Namirovsky and China's Chen Junhui. One of two Taiwanese pianists stood out among the 37 contestants from 13 countries by becoming one of the top three contestants.
Taiwanese pianist Chen Yi-yang made his way to become one of the three finalists in the artist level competition last Thursday. Unfortunately, Josh Chandra, the committee assistant to the LIPC, wrote in an email to the Taipei Times last Saturday, "Chen Yi-yang is not competing because of medical reasons."
Though in the end Chen had to be satisfied with having made it to the finals and couldn't vie for the first and second prizes, it was exciting to see a young Taiwanese concert artist shine internationally and Taiwan's national flag hoisted along with flags of other nations in the concert hall. There has been a surge of young Taiwanese pianists sweeping through global competitions in recent years, including Hu Ching-yun, Lee Yun-yang, and Fan-Chiang Yi.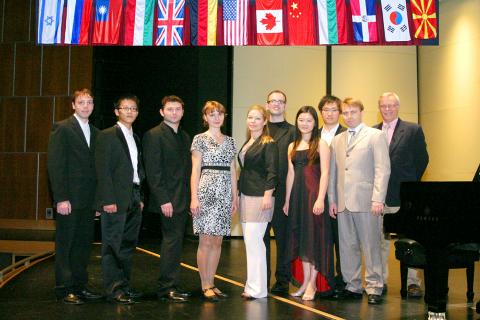 Chen Yi-yang, third right, and other 2011 Louisiana International Piano Competition (LIPC) semifinalists pose for a group photograph with the LIPC's president David Holcombe, far right, and founder Nikita Fitenko, second right, in Alexandria, Louisiana last Thursday. 陳逸陽(右三)以及二○一一年路易斯安那國際鋼琴大賽(LIPC)準決賽參賽者上週四在路易斯安那亞歷山卓,與LIPC主席大衛‧霍康比(最右)與創辦人尼基塔‧費田寇(右二)合影。
Photo courtesy of the LIPC
照片由路易斯安那國際鋼琴大賽提供
Though a few brilliant musicians, such as violinist Anne-Sophie Mutter, became famous without winning major competitions, entering a competition is still considered helpful for aspiring young classical artists to get themselves heard, build their careers, and further develop their technical virtuosity. More and more young artists are eager to enter the LIPC because they may get a chance to perform with the St. Petersburg Symphony in St. Petersburg, Russia and at the Carnegie Hall in New York City, record a solo CD, win a cash award of US$6,000 (NT$180,000), and give recitals.
"I think that component of this event is extremely important," LIPC President David Holcombe was quoted by the AFP as saying. "Our area is a poor area. The per capita income is US$24,000 (NT$727,000) a year… So any activity that brings the world to Alexandria is a positive social experience."
The LIPC — the brainchild of Nikita Fitenko — staged its initial event in Alexandria, Louisiana, in 2005. Now in its fourth biennial event, the LIPC has grown into an established event providing local residents and the world with the opportunity to hear spectacular classical music.
(LIN YA-TI, TAIPEI TIMES)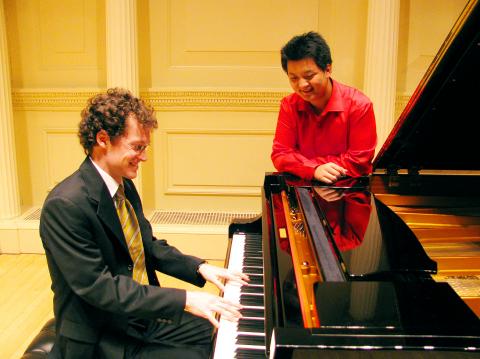 2009 Louisiana International Piano Competition (LIPC) winners John Fisher, left, and Kun Yao rehearse in Weill Recital Hall at Carnegie Hall on Jan. 23 last year. 二○○九年路易斯安那國際鋼琴大賽得主約翰‧費雪(左)與姚坤(音譯)去年一月二十三日,在卡內基室內樂廳威爾獨奏廳彩排。
Photo courtesy of the LIPC
照片由路易斯安那國際鋼琴大賽提供
第四屆路易斯安那國際鋼琴大賽(LIPC)上週六圓滿結束,首獎與二獎得主分別由以色列的麥可‧納米諾夫斯基與中國的陳俊暉(音譯)奪得。在三十七位從十三個國家來的鋼琴家中,兩位代表台灣的參賽者,有一位脫穎而出,進入前三強的決賽。
台灣鋼琴家陳逸陽上週四在藝術家級的比賽中,通過重重關卡,順利晉級成為進入決賽的三位鋼琴家之一。可惜,上週六在一封給《台北時報》的電子郵件中,LIPC評審委員會助理喬許‧千卓寫道:「陳逸陽因健康因素,不克繼續參賽。」
雖然陳逸陽止於決賽者而未繼續角逐首獎與二獎,不過見到台灣年輕音樂家在國際舞台嶄露頭角,並且讓台灣國旗與其他國家國旗並列高掛於音樂廳內,是一件令人興奮的事情。近年來有越來越多台灣鋼琴新星,包括胡瀞云、李昀陽、范姜毅等,在國際大賽中囊括各式獎項。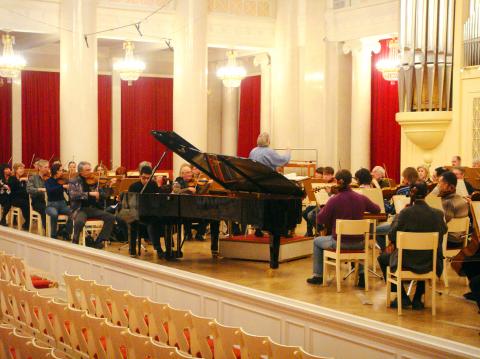 The 2009 Louisiana International Piano Competition (LIPC) First Prize Winner Daniil Tsvetkov rehearses Beethoven's Piano Concerto No. 1 with the St. Petersburg State Philharmonic Orchestra conducted by Thomas Zanderling at the Great Philharmonic Hall in St. Petersburg, Russia on Feb. 25. 二○○九年路易斯安那國際鋼琴大賽首獎得主丹尼爾.茨維特科夫二月二十五日在俄羅斯聖彼得堡的大音樂廳,與聖彼得堡愛樂樂團排練貝多芬第一號鋼琴協奏曲。指揮是湯瑪斯‧桑德霖。
Photo courtesy of the LIPC
照片由路易斯安那國際鋼琴大賽提供
雖然還是有些優秀的音樂家,像是小提琴家安蘇菲‧慕特,並未因獲得重要音樂大賽獎項而成名,但是對於有潛力的年輕音樂家來說,參賽有助樂壇能見度、建構音樂職涯,以及精進琴藝。LIPC已是當今許多年輕音樂家躍躍欲試的賽場,因為參賽者將有機會與聖彼得堡交響樂團在俄羅斯聖彼得堡以及紐約市卡內基音樂廳演出、錄製獨奏CD、獎金六千美元(約新台幣十八萬元),以及多場公開演奏的機會。
法新社引用LIPC主席大衛‧霍康比的話說:「我想該比賽的組成極其重要。」他說:「我們所在之處是個貧窮地區。人均所得每年只有兩萬四千美元(約新台幣七十二萬七千元)…所以任何只要能將世界帶進亞歷山卓的活動,都堪稱是個正向的社會經驗。」
LIPC由創辦人尼基塔‧費田寇獨創,二○○五年在路易斯安那亞歷山卓舉辦首屆比賽。該兩年一度的比賽至今已邁入第四屆,也成為一個提供當地居民以及世界各地人民聆賞精湛古典音樂的機會。
(台北時報記者林亞蒂)
Publication Notes
TODAY'S WORDS今日單字
1. stand out v. phr.
脫穎而出 (tuo1 ying3 er2 chu1)
例: If you want your book to stand out and be noticed among the thousands of books published every year, you have to find your own style.
(若你要你的書脫穎而出,並在數千本出版的書海中被注意到,你要找到自己的風格。)
2. eager adj.
躍躍欲試的;熱切的 (yue4 yue4 yu4 shi4 de5; re4 qie4 de5)
例: He was so eager to watch the last Harry Potter movie that he slept at the ticket stand for three nights before the release.
(他因太熱切要看最新哈利波特的電影,竟在上映前於售票口睡了三夜。)
3. brainchild n.
獨創 (du2 chuang4)
例: That electric car company was his own brainchild.
(電動車公司是他自己的獨創。)
Comments will be moderated. Keep comments relevant to the article. Remarks containing abusive and obscene language, personal attacks of any kind or promotion will be removed and the user banned. Final decision will be at the discretion of the Taipei Times.