Steve Jobs not always smooth-talking media star 賈伯斯天生的演說家? 他曾緊張到想吐
Steve Jobs may have had newsmen eating out of his hand when presenting iconic Apple products in later life — but he was not always so smooth a media performer, as some old TV footage shows.
Preparing for a 1978 interview, the young Jobs admits he is so nervous he wants to be sick, and is amazed people can see him live on camera — something his iPad will help make an everyday experience three decades later.
"Look at that. Look, I'm on television. Hey," he says, seeing himself in a monitor as studio assistants prepare him for the live appearance, inserting an earpiece so he can hear the interviewer.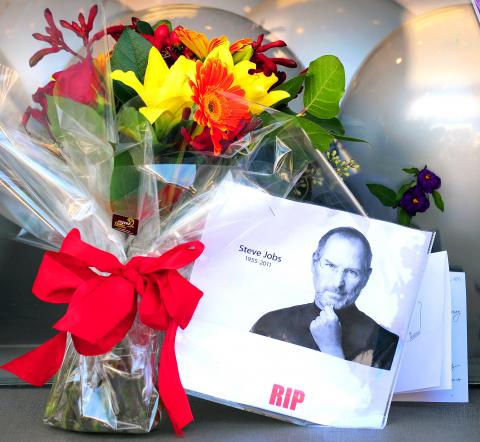 Flowers are placed at a makeshift shrine dedicated to Steve Jobs in front of an Apple store in Santa Monica, California, on Oct. 6. 這張十月六日攝於加州聖塔摩尼卡蘋果商店前,是放在史蒂夫‧賈伯斯臨時紀念台上,獻給他的花束。
Photo: AFP
照片:法新社
"Isn't that amazing?" someone asks, to which the bearded Jobs, dressed in distinctly 70s style, enthuses, "Yeah it is." Told that he was live on screen in New York too, he asks incredulously: "Am I really, are you serious?"
Jobs, who died last Wednesday at 56, became famous in recent years for his presentations of iPods, iPhones and the iPad to rapt audiences at Apple's California headquarters.
His iconic products, combined with the Internet, have made talking live and on camera commonplace for millions of ordinary people in their everyday lives.
But back then Jobs was having problems just keeping his nerves under control for the interview, according to the footage re-run on CNN in the wake of his death from cancer.
After flustering about whether he can get up and walk about once wired-up for the interview, and before he goes on live, he first asks for a glass of water — and then decides he needs some relief.
"You need to tell me where the restroom is too, 'cause I'm definitely ill actually, and ready to throw up at any moment," he says.
(AFP)
史蒂夫‧賈伯斯在人生後段發表劃時代蘋果產品時,令記者們對他大為折服─但他並非像一些電視片段所呈現那般,天生就能在媒體前能言善道。
青澀的賈伯斯,為了準備一九七八年的一場專訪,坦承他因為太緊張而想要裝病,並且對於民眾可以同步看到他在攝影機前的實況畫面,則是嘖嘖稱奇。三十年後的今天,他的iPad就是讓每位使用者天天都有如此臨場體驗的玩意兒。
當攝影棚助理正為他現場受訪錄影做準備,並為他戴上耳機以聽到訪問者的聲音時,他看見自己出現在螢幕中後說:「瞧那個。喂,來看啊,我上電視了。」
當有人問賈伯斯:「這不是很棒嗎?」一身典型七○年代風格打扮,留著鬍子的賈伯斯滿腔熱血地說:「是啊,真是棒。」當被告知他同時也出現在紐約螢幕上時,他則半信半疑地說:「是真的嗎?你是認真的嗎?」
賈伯斯近幾年在蘋果公司加州總部對著癡迷觀眾,發表iPod、iPhone與iPad而成名。他上週三過世,享年五十六歲。
他劃時代結合網際網路的產品,讓上百萬無名小卒在日常生活中即時互動與上鏡頭,成為司空見慣的事。
根據一段CNN在賈伯斯癌逝後而重播的片段,顯示當時的賈伯斯,無法控制自己受訪時的緊張情緒。
在慌亂擔心一旦專訪準備就緒後他是否還能起來走動,他在現場節目開始之前,他首先要一杯水─而後決定他需要舒緩緊張情緒。
他說:「你也要告訴我廁所在哪裡,『因為我事實上明顯感到不適,隨時都可能嘔吐。』」
(法新社/翻譯:林亞蒂)
Publication Notes
TODAY'S WORDS 今日單字
1. bearded adj. 留著鬍子的 (liu2 zhe5 hu2 zi5 de5) 例: All of the men inside the temple were bearded and wearing long black robes. (所有在廟裡的人都留著鬍子,並且穿黑色長袍。) 2. commonplace adj. 司空見慣的 (si1 kong1 jian4 guan4 de5) 例: Cars are so commonplace now that hardly anyone rides horses anymore. (當今汽車已司空見慣,幾乎沒人騎馬了。) 3. throw up v. phr. 嘔吐 (ou3 tu4) 例: Marina got food poisoning and was in the restroom throwing up all night. (瑪麗娜食物中毒,並且整晚都待在廁所內嘔吐。)
Comments will be moderated. Keep comments relevant to the article. Remarks containing abusive and obscene language, personal attacks of any kind or promotion will be removed and the user banned. Final decision will be at the discretion of the Taipei Times.