Some squids do it in the dark, male-on-male 公烏賊暗中亂來 公母不分
The sex life of Octopoteuthis deletron — O. deletron, if you prefer — is a cruelly hit-or-miss affair, according to candid footage of the deep-sea squid in its element, unveiled last Wednesday.
No foreplay, no tender caresses, no fond farewells until the next union, just a desperate drive to reproduce followed by a glancing quickie and an early death.
Scientists suspect that some specimens can drift a lifetime without ever encountering a potential sex partner, much less a soul mate.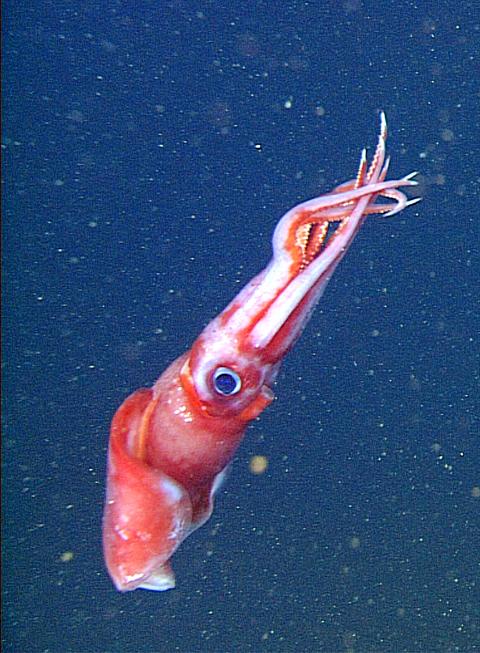 GRAPHIC: AFP
圖表:法新社
In the open sea at 800m it can make the search for companionship long and lonely, a team of researchers note in a study, published in the journal Biology Letters.
And even when these solitary, bug-eyed cephalopods do run into each other, they probably cannot tell a he-squid from a she-squid, prompting males to proposition the first shapely body that comes along, no matter what its sex.
That, in any case, is what Hendrik Hoving of the Monterey Bay Aquarium Research Institute in Moss Landing, California and colleagues suspected when they set out to film the creatures in their natural setting.
O. deletron's reproductive cycle was already known. During opposite-sex mating, males use a long tentacle-like appendage — a penis of sorts — to deposit small sperm-laden sacs, called spermatangia, onto females.
The sacs release sperm into the female's tissue, and the cycle begins anew, leaving the males to die shortly after a single reproductive act.
But Hoving had noticed empty spermatangia on the surface of dead males caught in fishing nets, and wondered how they got there.
To find out, he used remotely operated vehicles to explore the deep waters off the central California coast.
The video footage captured 108 individuals, but scientists could only identify the sex of 39 squid, 19 females and 20 males, according to the study.
None were caught in flagrante delicto, but the riddle was solved: 19 of them — nine boy squids and 10 girl squids — had clusters of spermatangia attached to their bodies.
"Males were as likely to be found mated as females," the study concluded. The sperm-carrying sex, in other words, "routinely and indiscriminately mates with both males and females."
(AFP)
八腕深海烏賊上週三在其自然環境被偷拍到的畫面公諸於世後,才知道深海烏賊的性生活是極度隨意的。該種烏賊可簡稱為O. deletron。
無前戲,無溫柔擁抱,也無情意綿綿的道別直到下次重逢;反之,只有因極度渴望孕育下一代的衝動而發生的短促性行為,以及早夭的命運。
科學家懷疑一些烏賊可以漂游一生,還是尋覓不到潛在性伴侶,更不用說靈魂伴侶了。
一個研究團隊在《生物學通訊》的一篇研究中寫道,在深海八百公尺處,烏賊可以花上一段長時間孤軍奮戰,就為了尋找一段伴侶關係。
這些既孤獨又兩眼凸出的頭足動物,還是會碰到同類,但卻可能因無法分辨對方的性別,以至於公烏賊一見有勻稱的身軀朝牠游來,就會不分公母向對方求歡。
無論如何,這正是加州摩斯蘭汀蒙特利灣海洋研究機構的漢德利克‧哈文與其研究團隊,在自然環境下拍攝紀錄烏賊後,所察覺到的現象。
八腕深海烏賊的生殖週期已為人知曉。在異性交配時,公烏賊利用其長而像觸手的附屬器官─類似陰莖的構造─將小而滿載精液稱為精包的袋狀物,儲存到母烏賊身體。
精包會釋出精子到母烏賊的身體組織,並且這個週期又重新來一遍,使得公烏賊在單次的生殖行為不久後死去。
但哈文先前就在以捕魚網捕獲的死公烏賊體表上,發現空的精包,並對於精包是如何抵達該處感到百思不解。
為了尋找答案,他使用遠端操控的運載工具,在加州中部海岸深海處一探究竟。
根據研究報告,該影片捕捉到一百○八尾烏賊的畫面,但科學家僅能判定三十九尾的性別,其中母的十九尾與公的二十尾。
雖然未能在烏賊做那件事的當下逮個正著,但這個謎終究還是被解開:其中的十九尾─九尾公的與十尾母的─都有一團團精包附著在身體上。
該研究結論指出:「公烏賊被公烏賊看上而交配的可能性,與母烏賊比是不相上下的。」換句話說,體內帶有精子的一方,「規律且不分青紅皂白地與公的也與母的交配。」
(法新社/翻譯:林亞蒂)
Publication Notes
TODAY'S WORDS 今日單字
1. desperate adj.
極度渴望的 (ji2 du4 ke3 wan4 de5)
例: Many governments are growing increasingly desperate to solve their debt crises.
(許多政府正極度渴望要解決負債危機。)
2. shapely adj.
勻稱的 (yun2 cheng4 de5)
例: He has a shapely body, doesn't he?
(他有勻稱的體格,不是嗎?)
3. indiscriminately adv.
不分青紅皂白地
(bu4 fen1qing1 hong2 zao4 bai2 de5)
例: He indiscriminately eats anything you put in front of him. No wonder he's so overweight.
(他不分青紅皂白地吃下任何你放在他面前的東西。難怪他嚴重超重。)
Comments will be moderated. Keep comments relevant to the article. Remarks containing abusive and obscene language, personal attacks of any kind or promotion will be removed and the user banned. Final decision will be at the discretion of the Taipei Times.