US study questions if pets make owners healthier 養寵物較健康? 未必盡然
Pet owners have long been encouraged to think that they are happier, healthier and live longer than people without pets, but a new US study claims they might be barking up the wrong tree.
Howard Herzog, a professor of psychology at Western Carolina University, says studies conducted in the past to determine whether having a pet improves health and longevity have "produced a mishmash of conflicting results."
"While pets are undoubtedly good for some people, there is presently insufficient evidence to support the contention that pet owners are healthier or happier or that they live longer" than people without pets, Herzog wrote in the August issue of Current Directions in Psychological Science.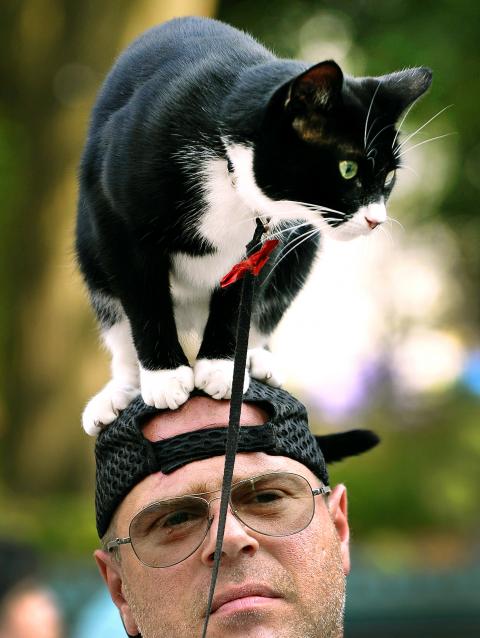 A man balances his cat on his head as he takes advantage of the sun in Union Square Park in New York on July 11. 一名男子七月十一日在紐約聯合廣場公園,將愛貓平衡在其頭上。
Photo: AFP
照片:法新社
"While some researchers have reported that positive effects accrue from interacting with animals, others have found that the health and happiness of pet owners is no better, and in some cases worse, than that of non-pet owners."
Herzog cites several studies purportedly showing the benefits of having a pet, including one from 1980 which showed that heart attack victims who had a pet were around four times more likely than petless victims to survive for a year after the crisis, but said more gloomy studies had been ignored.
"While the media abounds with stories extolling the health benefits of pets, studies in which pet ownership has been found to have no impact or even negative effects on human physical or mental health rarely make headlines," he said.
He cited another study which found no difference in blood pressure between older pet-owners and the petless. In fact, the pet owners in that study exercised less than the non-owners and were more likely to be overweight.
Moreover, he said pets — which can be found in two-thirds of US households — bring with them a cornucopia of health problems that can be transmitted to humans such as giardia, salmonella poisoning, skin mites and worms.
(AFP)
寵物飼主長期被洗腦,自認應比沒養寵物者,更快樂、更健康,並且活得更久;但美國一項新研究指出,這些飼主可能只是自我感覺良好。
西卡羅萊納大學心理學教授霍華德‧賀佐格表示,過去針對養寵物是否能促進健康與延年益壽的研究,卻「產生混合的衝突性結果」。
賀佐格在八月號的《心理科學最新指南》中寫道:「無庸置疑,飼養寵物對一些人有益,但目前對於寵物飼主較無寵物者更健康、快樂或長壽的論述,則是佐證不足。」
他說:「當一些研究員指出,與動物互動產生正向影響,但其他研究員則發現飼主的健康與快樂程度,不見得比沒養寵物者好,有時甚至比沒寵物者更糟。」
賀佐格引用多項據稱養寵物有好處的研究,包含一項一九八零年的研究顯示,心臟病患者在發病後,有寵物者多存活一年的機率,比沒有寵物者大四倍;但他說,一些對於飼主較不利的研究,則被忽略。
他說:「媒體充斥讚揚養寵物對健康有益的報導,至於發現養寵物對身心無益,甚至會有負面影響的研究,則鮮少受媒體關注。」
他引用另一項研究,該研究發現養寵物與無寵物的年長者,血壓值並無差異。但事實上,在該研究中養寵物者的運動量比無寵物者的運動量少,並且前者也更可能體重過重。
此外,他說寵物─存在於美國三分之二的家庭─可能將大量人畜共通傳染病等健康問題,傳染給飼主,舉凡梨形鞭毛蟲、沙門氏桿菌中毒症、毛囊蠕型?與寄生蟲。
(法新社/翻譯:林亞蒂)
Publication Notes
TODAY'S WORDS 今日單字
1. barking up the wrong tree idiom 自我感覺良好;找錯人了 (zi4 wo2 gan3 jue2 liang2 hao3; zhao3 cuo4 ren2 le5) 例: If you think she'll help you, I'm afraid you're barking up the wrong tree. (若你認為她將會幫助你,很遺憾,你可能找錯人了。) 2. mishmash n. 混合 (hun4 he2) 例: The salad was a mishmash of nuts, fruits, vegetables, eggs and half a dozen dressings. (沙拉是混合堅果、水果、蔬菜、蛋,以及六種醬料。) 3. cornucopia n. 大量 (da4 liang4) 例: There is a cornucopia of viruses spreading throughout that region of the country right now, so be sure to get vaccinated before traveling there. (大量病毒目前正蔓延在該國家的這個地區,因此到當地旅遊前,務必要先打預防針。)
Comments will be moderated. Keep comments relevant to the article. Remarks containing abusive and obscene language, personal attacks of any kind or promotion will be removed and the user banned. Final decision will be at the discretion of the Taipei Times.