Live rat found in Aussie loaf 澳洲一條麵包內發現活老鼠
An Australian woman said last Thursday she was horrified after finding a live rat nestled inside a loaf of bread she bought at a supermarket.
The woman, who had been shopping in Aitkenvale, in Queensland's tropical north, noticed there were holes in the sliced bread as she was packing her bags into the car.
"I said to my friend, 'this bread's got a hole in it, it looks like a rat's eaten into it'," the woman, who asked not to be identified, told the Australian Associated Press.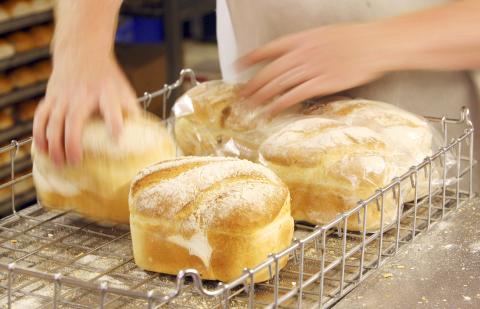 A bakery employee packages loaves of bread. 麵包店員工包裝一條條的麵包。
Photo: Bloomberg
照片:彭博社
When she lifted the bag out she found a live rodent had chewed through the packaging and was lurking inside.
"The thought of a live rat in my loaf of bread and so close to me was pretty gruesome," she said.
"I didn't want to vomit, I just wanted to throw it away, I got all squeamish."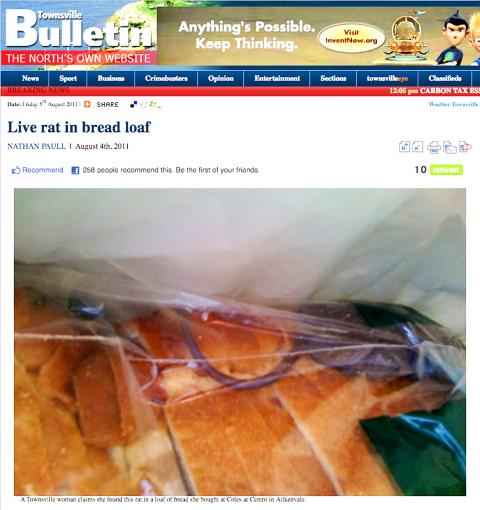 A screenshot taken from the Townsville Bulletin website last Friday shows the photo of the rat in a loaf of bread. 上週五翻攝自《湯斯維爾快報》網站,是躲在一條麵包內的一隻老鼠。
Photo: Taipei Times
照片:台北時報
Pictures in the Townsville Bulletin newspaper showed the rat inside the loaf's plastic packaging.
The woman took the bread back to the supermarket after the discovery on July 31 but they were reluctant to take responsibility, she told the newspaper.
"It came from their shop but they are saying it was in the bread before it was delivered to the shop," she said.
A spokesman for Coles supermarkets said the incident was "obviously concerning" but isolated and the company would investigate.
Townsville City Council Environmental Health executive manager Gavin Hammond confirmed a complaint had been received.
"While it's virtually impossible to ascertain where the rodent came from, the council takes public health very seriously and has carried out an inspection of the supermarket and the bakery," he told the Bulletin.
"We are satisfied that they have complied with all health requirements."
(AFP)
一位澳洲女性上週四說,她驚駭地發現一隻活老鼠被包覆在其購自一間超市的一條麵包內。
這位在昆士蘭熱帶北部艾肯維爾購物的女子,在將購物袋放入車內時,發現切片麵包內有洞痕。
這位不願被指認的女子告訴澳洲美聯社說:「我對我朋友說:『這條麵包裡有個洞,看起來像是被老鼠啃過。』」
當她將這只袋子提出時,發現一隻活生生的老鼠已經啃透該包裝袋,並躲藏在麵包內。
她說:「想到有一隻活老鼠在我的一條麵包內,而且又如此靠近我,是非常可怕的。」
她說:「我並不想吐,我只想把它扔掉,我渾身感到不舒服。」
在《湯斯維爾快報》登出的照片,可見老鼠在一條麵包的塑膠包裝袋內。
這位女子七月三十一日發現後,就將這條麵包帶回超市,但她告訴該快報說,業者當時不願擔負責任。
她說:「牠是從這家店來的,但他們表示牠在麵包運送到超市前,就已經在麵包裡了。」
柯爾斯超級市場發言人說,這起事件雖「明顯令人擔憂」,但這是個案,公司會進行調查。
湯斯維爾市議會環境衛生執行經理蓋文‧哈蒙德證實已接獲一件客訴。
他告訴《湯斯維爾快報》說:「雖然要弄清老鼠打哪兒來幾乎是不可能的,但市議會非常重視城市的公共衛生,並且已對該超市與麵包店進行檢驗。」
他說:「我們對他們一直都遵守一切衛生法規感到滿意。」
(法新社/翻譯:林亞蒂)
Publication Notes
TODAY'S WORDS 今日單字
1. gruesome adj. 可怕的 (ke3 pa4 de5) 例: The novel portrays the most hideous crimes in gruesome detail. (這本小說以可怕的細節,描寫最駭人聽聞的犯罪。) 2. squeamish adj. 不舒服的 (bu4 shu1 fu2 de5) 例: Seeing the open wound made him feel really squeamish. (看到皮綻肉開的傷口,會讓他感到非常不舒服。) 3. comply with v. phr. 遵守 (zun1 shou3) 例: China's state-run media complied with a ban on negative media coverage of the incident. (中國公營媒體遵守禁播這起事件負面新聞報導。)
Comments will be moderated. Keep comments relevant to the article. Remarks containing abusive and obscene language, personal attacks of any kind or promotion will be removed and the user banned. Final decision will be at the discretion of the Taipei Times.