Russian leaders in tennis clothes in mystery posters 俄羅斯總統、總理穿網球裝 現身神秘海報上
The government last Monday ordered the removal of mysterious posters put up around central Moscow showing Russia's ruling tandem posing in matching tennis shorts.
Several posters with the logo of the upmarket department store TsUM were posted close to the store in central Moscow last Monday, an AFP photographer witnessed.
The posters show President Dmitry Medvedev holding a tennis racket, while Prime Minister Vladimir Putin is empty-handed and looking slightly pained. Their pristine outfits have monograms "M" and "P" on the chests.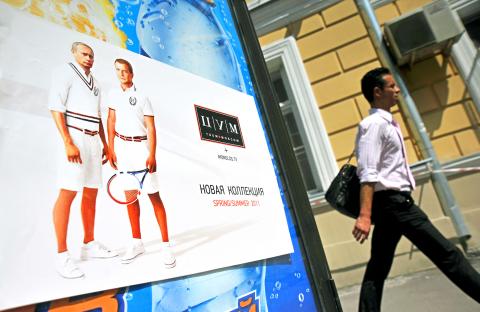 A man walks past an advertising poster with a picture of Russian President Dmitry Medvedev, right, and Prime Minister Vladimir Putin, left, wearing tennis clothes in Moscow last Monday. 一位男子上週一在莫斯科路過一幅俄羅斯總統德米崔‧麥維德夫(右)與總理弗拉吉米爾‧普廷(左)穿網球裝的廣告海報。
Photo: AFP
照片:法新社
The posters are stylized as ads for the department store's spring/summer 2011 campaign.
The Russian government ordered Moscow city hall to remove the posters by the end of last Monday, Putin's press secretary, Dmitry Peskov, told the Interfax news agency, called the posters "clearly commercial" and "bordering on hooliganism."
The TsUM department store denied any connection to the posters.
"We would like officially to inform that TsUM department store has no relation to this advertising, and using (the) TsUM trademark in this case is illegal," the store said in a statement sent to the AFP.
The posters include the address of a website called Monolog.tv, and the artist's e-mail.
The artist, who declined to give a name, said in an e-mail to the AFP that the posters were "street art."
"I took the two most famous people in our country ... who are completely isolated from the world of fashion and showbusiness," the artist wrote.
"We usually see Putin and Medvedev buttoned-up and I wanted to show them as fashionable, relaxed guys who follow trends and have an active way of life."
Neither leader has expressed particular enthusiasm for tennis, which was the favorite sport of first Russian president Boris Yeltsin. Putin is known as a judo enthusiast while Medvedev has said he enjoys yoga.
(AFP)
俄國執政雙人組穿整套網球短褲的照片,現身於來路不明且張貼在莫斯科市中心大街小巷的海報上,政府上週一下令拆除。
一位法新社攝影記者上週一親眼目睹許多標有上流百貨公司TsUM商標的海報,被張貼在這個位於莫斯科市中心的百貨公司附近。
海報上是俄羅斯總統德米崔‧麥維德夫拿著網球拍,而俄羅斯總理弗拉吉米爾‧普廷則兩手空空且面露難色。在他們純潔服裝的胸口上,分別有「M」與「P」的字母組合圖案。
這些被設計過的海報是這間百貨公司二零一一年春/夏季活動的廣告。
普廷的新聞秘書德米崔‧佩斯可夫告訴俄羅斯國際文傳社說,俄羅斯政府下令莫斯科市政府在上週一結束前,清除這些海報,他稱海報「顯然以商業為目」且「簡直是無賴行為」。
TsUM百貨公司否認與這些海報有任何關聯。
百貨公司在一篇寄給法新社的聲明稿上說,「我們想正式知會大眾,TsUM百貨公司與此廣告無關,且此海報在這起事件中使用TsUM的註冊商標是違法的。」
海報上有一個網址Monolog.tv以及藝術家的電子郵件地址。
不願意具名的藝術家在一封給法新社的電子郵件說,這些海報是「街頭藝術」。
這位藝術家寫道,「我以我國最負盛名的兩位人士為題…因他們完全被孤立於時尚與演藝圈之外。」
這位藝術家說,「我們通常看到普廷與麥維德夫內斂的一面,而我想要將他們呈現為時尚且放鬆的男子,不但跟隨潮流,也充滿活力。」
這兩位領導人皆未對網球有特別的熱忱,不過俄羅斯首任總統鮑里斯‧葉爾欽則視網球為最愛的運動。眾所周知普廷熱愛柔道,而麥維德夫則曾說過他享受做瑜珈。
(法新社/翻譯:林亞蒂)
Publication Notes
TODAY'S WORDS 今日單字
1. tandem n. 雙人組 (shuang1 ren2 zu3) 例: The two players were once the best guard tandem in the entire NFL. (在整個全國橄欖球聯盟中,這兩位球員曾是最好的防衛雙人組。) 2. pristine adj. 純潔的 (chun2 jie2 de5) 例: The waiter spilled coffee all over the customer's pristine white shirt. (服務生將咖啡潑灑在顧客純白的襯衫上。) 3. hooliganism n. 無賴行為 (wu2 lai4 xing2 wei2) 例: Football hooliganism is still a major problem in Sweden, but has all but disappeared in the UK. (足球無賴行為在瑞典仍是個大問題,不過此問題在英國已全數消失。)
Comments will be moderated. Keep comments relevant to the article. Remarks containing abusive and obscene language, personal attacks of any kind or promotion will be removed and the user banned. Final decision will be at the discretion of the Taipei Times.