Taoist spirit medium's magic fails breathalyzer test 酒測作法 乩童失靈
Taoist spirits find it difficult to communicate with drunk drivers! Police in Hengchun Township recently detained a man surnamed Kung for drunk driving. The detainee, who also is a Taoist spirit medium, unexpectedly tried to use magic before taking a breathalyzer test in hopes of conjuring the "magical powers" of the spirits to help him pass the test. His amusing performance left the police wondering whether they should laugh or cry.
Reeking of alcohol, the police requested Gong to take a breathalyzer, but he refused. After informing him that he would still be fined if he refused, the man suddenly asked the police to allow him a few minutes before taking the test. Then for around one minute he babbled and performed "magic" by drawing symbols on the palm of his hand before finally doing the breath test. The police were naturally stunned by the situation.
While the police were on patrol on the morning of May 13, they discovered Kung riding his motorcycle reeking of alcohol, and a bottle of rice wine on his motorcycle's foot step panel. Worried that he might cause a traffic accident, they took him to the police station to test his blood-alcohol level with a breathalyzer. Kung then unexpectedly commenced his strange act to avoid being tested.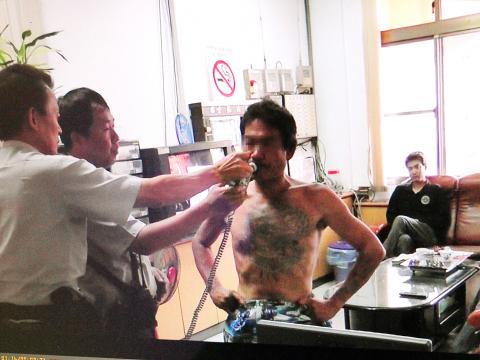 Two police officers help a man take a breathalyzer test in a Pingtung County police station in May. The man sought help from Taoist spirits to pass the test. 這張五月份攝於屏東的照片,是兩位正在幫一位男子酒測的警員。這位接受酒測的男子為了躲避酒測曾求助於神力。
Photo: Tsai Tsung-hsien, Liberty Times
照片:自由時報記者蔡宗憲
Kung confessed to the police that he was planning to take Taoist worshippers to Manjhou Township that afternoon to let their souls visit and communicate with the souls of dead relatives waiting in the underworld. In order to relax a bit he decided to have a couple of drinks in the morning. However, he never considered that the police might catch him. After being caught he sought help from the spirits to pass the breathalyzer test. Although the police thought that his performance was quite ridiculous, they still patiently allowed him to finish his "magic" before testing him. The breathalyzer registered a very high blood-alcohol level. Even the spirits did not wish to help him in his drunkenness. After completing the interrogation procedure, the police finally charged Gong with offenses against public safety.
(LIBERTY TIMES, TRANSLATED BY TAIJING WU)
神明難渡酒駕客!恆春警方日前查獲一名龔姓男子酒駕,沒想到擔任乩童的那位男子竟然在酒測前先起乩作法,希望召喚神明以「法力」讓他通過酒測,這舉動讓警方感到啼笑皆非。
渾身散發酒氣的龔姓男子面對警方要求酒測,先是推拒,經警方告知拒測仍可開罰後,突然要求警方等候他片刻,隨即口中念念有詞,並在掌心畫符「作法」,約一分鐘後才接受酒測,讓員警看的瞠目結舌。
員警五月十三日早晨巡邏時,發現騎乘摩托車且散發酒氣的龔姓男子,腳踏墊還放著一瓶米酒,擔心造成交通事故,立刻將他帶回派出所酒測,沒想到男子竟然上演詭異的作法避酒測。
龔男向警方供稱,預計當天下午要到滿州鄉帶信徒觀落陰,早上先放鬆小酌兩杯,沒想到被警方抓到,才想說神明能幫他通過酒測。員警雖然認為男子很「瞎」,但仍耐心讓他「作法」結束後才酒測吹氣,不過酒測值依然很高,神佛也不願為他的貪杯解危,警方訊後依公共危險罪嫌移送法辦。
(自由時報記者蔡宗憲)
Publication Notes
TODAY'S WORDS 今日單字
1. conjure v. 召喚 (zhao4 huan4) 例: The medium claims she conjured up the spirit of his dead wife. (靈媒宣稱她召喚了他過世妻子的靈魂。) 2. reek v. 散發臭氣 (san4 fa1 chou4 qi4) 例: The refrigerator reeks of old moldy cheese. (冰箱散發出發霉乳酪的臭氣。) 3. register v. 顯示(讀數) (xian3 shi4 (du2 shu4)) 例: That was too fast for the machine to register. (速度太快,以至於機器無法顯示讀數。)
Comments will be moderated. Keep comments relevant to the article. Remarks containing abusive and obscene language, personal attacks of any kind or promotion will be removed and the user banned. Final decision will be at the discretion of the Taipei Times.