Octogenarian spends nine days cycling around Taiwan 八旬翁成功挑戰 九天環台
Kuo Chang-rong, an 84-year-old man living in Luodong, Yilan County, spent nine days and eight nights riding his bicycle around Taiwan. By doing so, he has proven that he is still full of youthful vigor and vitality.
This octogenarian, who had previously made a TV appearance in a vitamin commercial for seniors, took up the challenge of riding a bicycle around the island. Members of the Bicycle Association of Yilan also rode with him. The group of cyclists departed from Luodong on the morning of April 16, heading south on the Suhua Highway. Upon completing their trip around Taiwan, they arrived in Luodong on April 24 after a 1,150-kilometer-long journey.
After they set off on their journey, they traveled clockwise around the island through Hualien, Taitung and Pingtung, and then headed north along the west coast. They slept in hostels, hotels and motels at night. The first day of their trip was sultry, while the weather was a bit unsettled during the following days. They wore raincoats when it rained and were bathing in sweat when the weather was nice and sunny. At times they had to pedal against the wind, and each day offered a different challenge.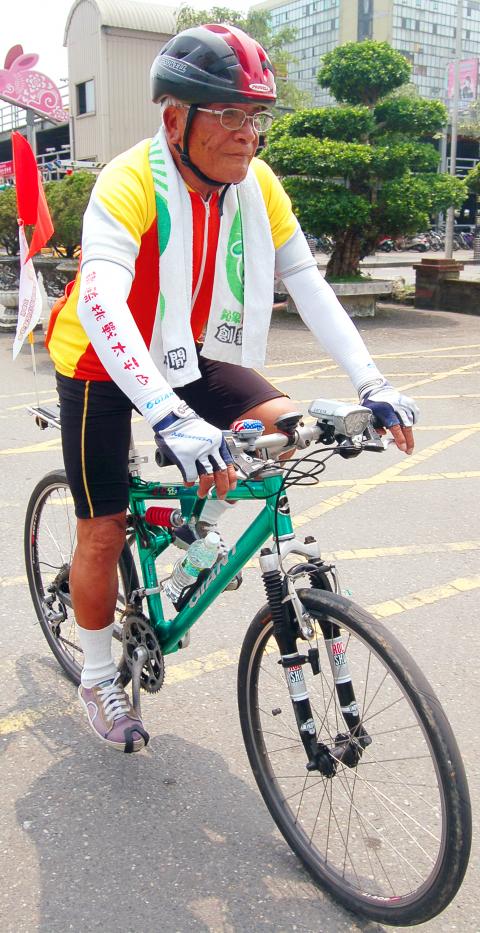 Kuo Chang-rong, an 84-year-old man living in Luodong, Yilan County, rides his bicycle in this photo taken April 26. Kuo managed to travel around Taiwan in nine days and eight nights on his bicycle. 這張攝於四月二十六日的照片,是宜蘭縣羅東鎮八十四歲的郭長容正在騎腳踏車。郭長容花了九天八夜騎腳踏車環島。
Photo: Chiang Chih-hsiung, Liberty Times
照片:自由時報記者江志雄
Kuo said that riding a bicycle around Taiwan is the epitome of life itself, and that even though one may feel the joy of laughter at times, it is also full of challenges. If one shrinks back when encountering difficulties and gives up halfway, one must come up with a solution and march forward courageously in order to reach one's final destination.
"Going around Taiwan on a bicycle isn't reserved for young people only," said the old man. He stressed that if seniors stay fit and prepare thoroughly in advance, they could also ride around the island. Already 84 years old, he has achieved something that seems almost inconceivable to other people, and proven that even the elderly can do the same things young people do.
Kuo plans to take part in a bicycle competition to be held on Taiping Mountain in May, and to ride around Taiwan once a year. He hopes there will be more seniors joining the round-Taiwan trip next year to experience together the joy of riding a bike.
(LIBERTY TIMES, TRANSLATED BY TAIJING WU)
宜蘭縣羅東鎮八十四歲的郭長容,用九天八夜時間,完成單車環台,用行動證明自己仍是「一尾活龍」。
這位多年前曾出現老人維他命電視廣告的八旬老人挑戰單車環台,蘭陽單車協會的人也陪騎,一行人四月十六日上午從羅東出發,沿著蘇花公路南下,環島一周後,二十四日返抵羅東鎮,騎了一千一百五十公里路程。
車隊啟程後順時鐘騎程,途經花蓮、台東、屏東,再從西部一路北上,晚間夜宿民宿、旅舍、汽車旅館,環台首日天候燠熱,之後便陰晴不定,遇雨穿上雨衣騎車,放晴時汗流浹背,有時候還得逆風而行,每天都有不同的考驗。
郭長容說,單車環台像是人生縮影,有歡笑,更不乏挑戰,如果遇上困難就退縮,將半途而廢,必須設法解決各種難題,勇往直前,才能順利抵達目的地。
「單車環台不是年輕人的專利﹗」郭長容說,銀髮族若能培養好體力,事先做好準備,也能環台長征,已經八十四歲的他,完成別人眼中不可能的任務,證明年輕人能,高齡者一樣做得到。
郭長容接下來要參加五月份的太平山單車賽,並計畫每年單車環台一周,他希望明年的環台之行,有更多高齡同好加入作伴,一起體驗騎車兜風的樂趣。
(自由時報記者江志雄)
Comments will be moderated. Keep comments relevant to the article. Remarks containing abusive and obscene language, personal attacks of any kind or promotion will be removed and the user banned. Final decision will be at the discretion of the Taipei Times.