Crocodile becomes offering to deities 神豬神羊不夠看 一百九十五公斤大鱷魚上供桌
Jianan Temple in Taoyuan County's Pingchen City held a ceremony last Saturday at the occasion of the thousandth birthday of the temple deity, the Sage King Kaichang. One of the devotees, Teng Hsu-tun, presented a big crocodile weighing 195kg as an offering to the temple deity. By comparison, other more common offerings, such as pigs and lambs, presented on the offering table looked less impressive.
Teng said he decided to use a big crocodile as offering because it was a novelty, that would add an air of freshness to the ceremony. Teng also wanted to display his filial piety by giving his father his 15 minutes of fame. He said he spent NT$180,000 on this very big crocodile, which is more than the value of all the pigs and lambs offered to the deity.
The crocodile was still alive and kicking when it was brought to Teng's house from Pingtung County. Because he has been breeding pigs for offerings for years, slaughtering a crocodile was not a problem for him, since the procedure is similar to slaughtering a sacrificial pig. The crocodile was distributed between the devotees in the evening, after the ceremony. Only the reptile's shiny skin remained.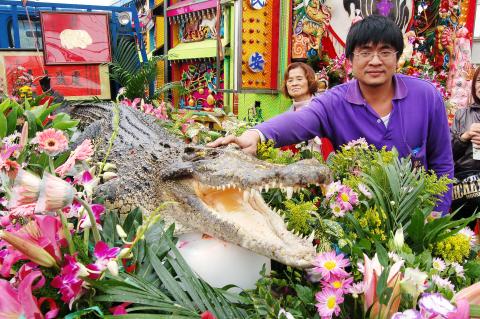 Sage King Kaichang devotee Teng Hsu-tun touches the head of a crocodile at a temple fair on March 19. Teng, who donated this crocodile as an offering to the temple deity, bought the reptile from Pingtung County for NT$180,000. He said the crocodile tasted delicious, although it was a bit chewy. 這張攝於三月十八日的照片中,建安宮信眾鄧旭敦正於一場廟會中觸摸鱷魚的頭部。鄧旭敦以新台幣十八萬元,自屏東縣購買這條供奉給神明的鱷魚。他表示鱷魚味道鮮美,只是吃起來比較硬一點。
PHOTO: LUO CHENG-MING, LIBERTY TIMES
照片:自由時報記者羅正明
The crocodile offered by the Tengs was about 2m long. As soon as it arrived at the temple early last Saturday morning, it attracted the attention of lots of people who gathered around the croc. Teng also put an apple between its fangs in the hope that the Sage King Kaichang would assure peace and calm, as the Mandarin Chinese words for "apple" and "peace" are homophones — both words are pronounced "ping."
After the temple ceremony, the crocodile was cooked and eaten by devotees at a temple banquet. Teng said people were very surprised when they saw the crocodile and wanted to have their photograph taken with it. He said this made him feel quite proud. He also said the crocodile tasted good and fresh and that it didn't smell too bad, although it was a bit chewy.
(LIBERTY TIMES, TRANSLATED BY TAIJING WU)
開漳聖王聖誕千秋,桃園縣平鎮市建安宮信眾鄧旭敦,特地供奉一隻重達一百九十五公斤的大鱷魚當供品,供桌上常見的豬跟羊便相形失色。
鄧旭敦說,決定用超級大鱷魚敬拜開漳聖王,主要是大家都沒看過,典禮上新鮮感十足,也順便讓老爸風光一下,藉此表達孝心。他說,超級大鱷魚以新台幣十八萬元購得,比供奉給神明的豬跟羊都還要貴。
大鱷魚從屏東縣運抵家裡時還活蹦亂跳,由於飼養神豬多年,要宰殺大鱷魚並不困難,方法跟殺豬敬神一樣,鱷魚當晚祭典結束就分給信眾,剩下的只有閃閃發亮的鱷魚皮。
鄧仁火、鄧旭敦敬獻的大鱷魚長約二公尺,上週六一早運抵建安宮廟埕拜拜後,吸引大批人潮圍觀,鄧旭敦還找來一顆蘋果給大鱷魚咬住,開漳聖王也能保佑一家人平平安安。
廟會結束時,辦桌時就把鱷魚肉拿來煮,鄧仁火說,信眾看到鱷魚都很驚訝,紛紛搶著拍照,讓他覺得很有面子。他說鱷魚味道鮮美,沒有臭味,只是吃起來比較硬一點。
(自由時報記者羅正明)
Publication Notes
TODAY'S WORDS 今日單字
1. novelty n. 新奇的事物 (xin1 qi2 de5 shi4 wu4) 例: That's a novelty, I don't think anyone has ever seen that before. (這真是新奇的事物,我認為之前沒有人看過。) 2. 15 minutes of fame n. phr. 風光一下 (feng1 guang1 yi2 xia4) 例: It is said that we're all going to get our "15 minutes of fame" before we sink back to obscurity again. (聽說我們再度沉寂之前都有機會風光一下。) 3. alive and kicking adj. phr. 活蹦亂跳的 (huo2 beng4 luan4 tiao4 de5) 例: I may be 95, but I'm not dead yet — I'm still alive and kicking. (我也許九十五歲了,但我還沒死—我還活蹦亂跳的。)
Comments will be moderated. Keep comments relevant to the article. Remarks containing abusive and obscene language, personal attacks of any kind or promotion will be removed and the user banned. Final decision will be at the discretion of the Taipei Times.