He's only got 8 million faces left to draw 畫盡紐約路人 插畫家還要畫八百萬人
Artist Jason Polan won't be running out of live models any time soon. In trying to draw every person in New York, he's got at least eight million more to go.
The plan may sound crazy, but Polan, 28, is serious.
Every day he's out there with ink pen and sketch pad, posting the results on www.everypersoninnewyork.blogspot.com. Three years into the project, he's up to about 14,000.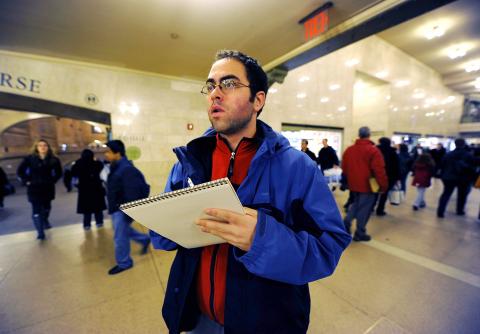 Artist Jason Polan stands in Grand Central Station on Feb. 28 working on his project of trying to draw every person in New York City. 插畫家傑森‧波朗二月二十八日站在紐約中央車站進行他畫盡每位紐約客的計畫。
Photo: AFP 照片:法新社
"I know I'm going to fail, I won't draw everybody, but I enjoy trying," he says.
The artist on this quixotic mission is a quiet, non-descript man with glasses and an anorak. He blends easily into the crowds that obsess him so much.
Many of his targets are moving, but he's learned to draw quickly, barely looking at the paper.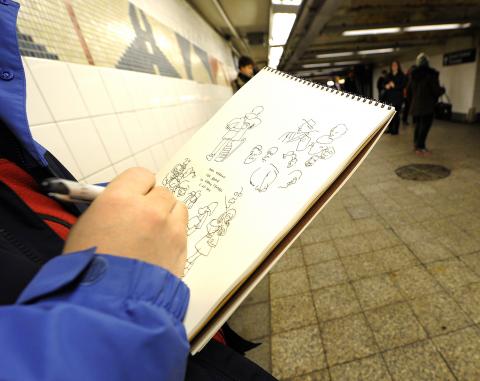 Photo: AFP 照片:法新社
Polan, a professional illustrator, has a thing for cataloguing. He once sketched every single work of art in New York's Museum of Modern Art. Another time he drew every individual piece in a bag of popcorn.
He may have a meek demeanor, but he scans crowds with the intense concentration of a hunter.
And the goal, Polan says, is not to scratch out any old picture, but some defining characteristic of the person's look. The sketch must be live, not remembered and embellished later.
"I crave authenticity," he said.
Part of that authenticity is to keep himself anonymous. Polan never asks permission to draw portraits and he stands at enough of a distance so that he is rarely spotted.
An exception is that he invites members of the public, through his website, to set up a rendezvous. Give him a time, place and rough personal description and he will come to draw you -- although you might never realize.
"I kind of hide. I like to get there early so there's a surprise element for them when they look at the blog that evening and wonder if I got them," he said.
Polan says the goal may be elusive, even impossible, but that he enjoys this artistic embrace of an entire city.
(AFP)
插畫家傑森‧波朗近期內不會面臨模特兒短缺。他正試著畫下在紐約的每個人,至少還要畫八百萬人。
這個計畫可能聽起來很瘋狂,不過現年二十八歲的波朗可是認真的。
他每天帶著畫筆與素描板在街上鎖定目標,並把成果上傳到網站www.everypersoninnewyork.blogspot.com。三年前開始這項計畫的波朗,目前已畫了大約一萬四千人。
他說,「我知道我將會失敗,因為我不可能畫下每個人,但我享受這個努力的過程。」
正在進行這項異想天開使命的插畫家是一位戴眼鏡、穿防水夾克、文靜且不起眼的一般男子。這樣他就能輕易地融入他所迷戀的人群中。
由於繪畫對象總是在移動中,他繪畫速度越來越快,幾乎不用看素描簿。
職業插畫家波朗熱愛編目,他曾以素描記錄紐約現代藝術博物館的所有作品。他也曾把每個作品畫在一個爆米花紙袋上。
他也許有謙恭的態度,但會用獵人聚精會神的目光,掃描眼前的人群。
波朗說,(這項計畫的)目標不是胡寫亂畫,而是堅持每幅素描都要畫出此路人長相的明確特色。素描必須是活的,而非紀念性或後製美化的。
他說,「我渴求真實。」
真實的一部分就是保持他自己不被人察覺。波朗從不經路人同意,就直接站在一定距離之外畫肖像畫,因此很少有人看到他。
例外的是,波朗邀請公眾人物參與這項計畫,藉由網路約定會面。只要寫下時間、地點與大略的個人描述,他就會神不知鬼不覺地抵達會面地點,為名人作畫。
波朗說:「我半躲著。我喜歡提早到會面地點,這樣可以在他們當天傍晚到我的部落格查看我有沒有畫他們時,他們就會發現驚喜。」
波朗說,雖然這個目標難以達成,甚至是不可能達成,他享受用藝術擁抱整個城市。
(法新社/翻譯:林亞蒂)
Publication Notes
TODAY'S WORDS 今日單字
1. blend in/into v. phr.
融入 (rong2 ru4)
例: I thought you wanted to blend in tonight. So why wear the bow-tie?
(我還以為你今晚想要融入(大家)。但為何你戴領結?)
2. defining characteristic n. phr.
明確特色 (ming2 que4 te4 se4)
例: A defining characteristic of Van Gogh's paintings was his unique use of color.
(梵谷畫作的明確特色是他對顏色的獨到用法。)
3. elusive adj.
難以達成的 (nan2 yi3 da2 cheng2 de5)
例: It's not easy to pin-point exactly where the problem is, so the solution is proving to be elusive.
(要找出確切的問題點並不容易,所以證實解套是難以達成的。)
Comments will be moderated. Keep comments relevant to the article. Remarks containing abusive and obscene language, personal attacks of any kind or promotion will be removed and the user banned. Final decision will be at the discretion of the Taipei Times.