Animal rescue center up for adoption 高雄流浪動物之家 待有緣人延續
Since Jan. 1, Befriend Animal Rescue Kaohsiung (BARK), an animal welfare group based in Kaohsiung, has been up for adoption. They are seeking applicants interested in taking over its operations.
On Nov. 24, 2010, Natasha Hodel and Chris Leroux, co-founders and co-executive directors of BARK, issued a notice saying that the organization is looking for new leadership. They published a resignation letter on public Web sites and on their Facebook page saying that from Jan. 1 they would no longer lead BARK's activities. In an email to the Taipei Times, Leroux wrote "some volunteers have decided to step up to the plate already to keep some parts of BARK's operation going. A group of volunteers will continue to operate a monthly adoption event and they will also continue with the pet sitting and adoption programs."
In their resignation letter, the pair explained that "It's time for us to move on. Taiwan is home to us now, but at the same time, it's not our forever-home. We plan to leave Taiwan in the next year or two at the most and we need to concentrate on our future plans. And of course, we need a year or two to find a home for the animals under our care. We have long been telling people to start early to try to find a home for a pet if they plan to leave Taiwan. We want to live up to that, too, and that's why we need to plan a year or two in advance. It's time to stop rescuing animals and to concentrate on finding homes for the animals we are currently responsible for. Those we care for directly and those living with foster families."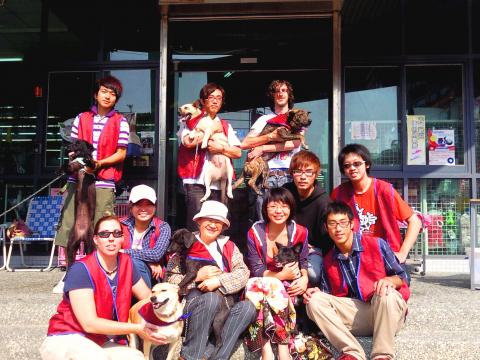 Natasha Hodel, front left, poses with a group of volunteers during one of BARK's monthly adoption events in this undated photograph. 這張未標示日期的照片中,娜塔莎.霍德爾(左前)在一場動物認養活動,與一群志工合照。
PHOTO COURTESY OF BARK
照片由高雄BARK流浪動物中途之家提供
The letter continues, "We helped many animals in Taiwan, but as much as we'd like to, we can not dedicate our entire life to helping animals here. We came to Taiwan, we help animals, and the time has come to move on to new horizons." The fact that BARK is up for adoption has nothing to do with financial constraints or the Kaohsiung City Government.
According to the letter, Hodel and Leroux will still be working with animals over the next year or two despite their resignation. Hodel will still be trapping cats, and Leroux will continue to help local Aishin Mamas catch dogs and build wheelchairs for handicapped dogs.
In their resignation letter, Hodel and Leroux wrote that they started BARK almost five years ago and they've been busy working with animals every day since then. They have rescued and directly cared for over 50 animals a year. Since 2008, when they started a neutering program, they have neutered almost one thousand animals. They also produced a YouTube video, entitled "Farewell and Thank You," showing a small sample of the many animals they were able to help with the public's support.
Leroux stressed in his email that while the organization is up for adoption, BARK is not asking anyone to take over the actual care of any animals. In other words, whoever takes over BARK will start afresh with no animals to care for. They will also inherit a good truck, various sponsors, supporters, equipment, a Web site, donation boxes, a huge email list, and vet sponsorship among other things. For more information, visit www.bark-taiwan.org.
(LIN YA-TI, TAIPEI TIMES)
從一月一日起,高雄BARK流浪動物中途之家正式開始接受「認養」,歡迎有意願者接手經營BARK。
去年十一月二十四日,BARK發起人與執行長娜塔莎.霍德爾與克里斯.勒魯在公共網站與Facebook上刊登一封辭職信,信中寫道,從一月一日起,他們將不再帶領BARK的活動。在一封給《台北時報》的電子郵件中,勒魯寫道,「有些義工們已決定持續協助BARK的部分工作。有一群義工將會繼續舉辦每月的認養活動,也將持續寵物保姆與寵物認養的推廣。」
霍爾德與勒魯的辭職信寫道,「是該離開的時候了。台灣現在是我們的家,不過在此同時,這不是我們永遠的家。我們計畫最晚在一兩年內離開台灣,並且專注於我們未來的計劃。當然,為我們照顧的動物找個家,需要一兩年的時間。我們很早就宣導,若有人要離開台灣,必須提早安置他們的寵物。我們也要遵守這點,這也是我們在一兩年前就預先計畫的原因。是該停止救援,全心為我們負責照顧的動物找居所,牠們包含我們直接照顧的動物,還有送到寄養家庭的動物。」
他們在這封信繼續表示,「我們幫助許多在台灣的動物,雖然竭盡我們最大的可能,我們還是不可能花一生的時間在這裡幫助動物。我們來到台灣、我們幫助動物,不過此時是跨進新視界的時候了。」BARK即將易主,與經費與政府因素無關。
根據這封辭職信,儘管霍爾德與勒魯已卸任,他們將繼續在這一兩年繼續做與動物保護相關工作。霍爾德仍將繼續誘捕流浪貓。勒魯將繼續幫助當地的愛心媽媽誘捕流浪狗並同時繼續為肢體殘障的狗製作輪椅。
霍爾德與勒魯在信裡寫道,他們約五年前創立BARK,之後他們每天與動物為伍。他們每年救援並且直接照顧超過五十隻以上的動物。從二零零八年開始推廣動物結紮至今,他們已絕育上千隻動物。他們也製作一部標題為「道別與感謝」的YouTube短片,呈現一小部分他們因外界支持而能夠照顧的許多動物。
勒魯在電子郵件中強調,在BARK準備易主之際,這個組織並不要任何人照顧現有的動物。換句話說,任何接管BARK的人,將不用照顧任何現有動物,只要全新開始。新的接管者將繼承一台好卡車、各方贊助者、支持者、設備、一個網站、捐款箱、一長串的電子郵件清單、獸醫資助等。更多資訊請上BARK網站www.bark-taiwan.org。
(台北時報林亞蒂)
Comments will be moderated. Keep comments relevant to the article. Remarks containing abusive and obscene language, personal attacks of any kind or promotion will be removed and the user banned. Final decision will be at the discretion of the Taipei Times.