World's oldest person celebrates 115th birthday 世上最長壽人瑞歡慶115歲生日
The world's oldest person celebrated her 115th birthday last Monday with music, cake and a letter of congratulation from US President Barack Obama.
Gertrude Baines, who became the planet's oldest living human in January following the death of Portuguese woman, Maria de Jesus, also 115, marked her birthday at Los Angeles Western Convalescent Hospital.
Baines — who attributes her long life to her religion and clean-living — attracted worldwide headlines last November when she became the oldest African-American to vote for Obama during the presidential election.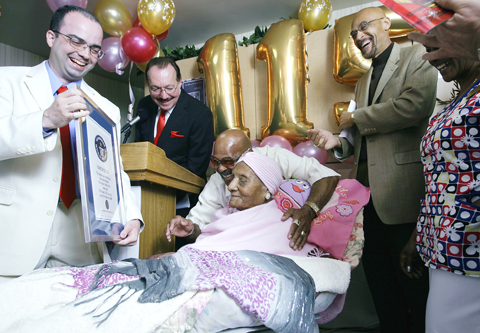 Guinness World Records' gerontology consultant Robert Young, left, presents Gertrude Baines with a certificate naming her the world's oldest living person, as she celebrates her 115th birthday on April 6, 2009, at the Western Convalescent Hospital in Los Angeles.四月六日在洛杉磯的西方療養院中,金氏世界紀錄老年學顧問羅柏.楊(左)在葛楚.拜恩絲歡度一百一十五歲生日時,頒發世上現存最高齡人瑞證書給她。照片:美聯社
PHOTO: AP
She marked her latest milestone on Monday by declaring that she hopes to be around to vote for Obama again in 2012.
The low-key ceremony saw a group of friends sing Happy Birthday to Baines before the reading from the Guinness Book of World Records acknowledging her as the world's oldest person.
"Her only complaint to me, well there are two complaints, number one, she doesn't like the bacon. It's not crisp enough," her doctor, Charles Witt, told KCAL9 local television.
"And the other thing is she fusses about her ... arthritis of her knees.
She told me that she owes her longevity to the Lord, that she never did drink, she never did smoke and she never did fool around."
Baines, who has outlived her entire family, was born in 1894 in Shellman, Georgia. Her father was the son of slaves, and her only daughter died of typhoid fever when she was a toddler.
Baines, who worked as a maid in University of Ohio dormitories until her retirement, has lived at the Convalescent Hospital for more than 10 years.(AFP)
世上最高齡人瑞上週一在音樂、蛋糕和美國總統巴拉克.歐巴馬的一封祝賀信中,歡慶了她一百一十五歲的生日。
葛楚.拜恩絲在洛杉磯的西方療養院中慶生。今年元月同是一百一十五歲的葡萄牙婦人瑪利亞.狄耶蘇斯過世後,她就成為全球現存最高齡的人瑞。
拜恩絲將長壽的秘訣歸功於信仰和簡單的生活,去年十一月她以全球最高齡的非裔美國人身份將總統大選一票投給歐巴馬時,吸引了全球媒體的關注。
上週一她慶祝人生中最新的里程碑時說,希望能活到二0一二年再投歐巴馬一票。
這場低調的生日會上先有一群朋友為拜恩絲唱生日快樂歌,接著由《金氏世界紀錄》宣佈確認她為世上最高齡的人瑞。
她的醫生查爾斯.維特向當地電視台KCAL9表示:「她只會跟我抱怨兩件事,第一,她不喜歡培根,因為不夠酥脆。」
「而她抱怨的另一件事是…她的膝蓋關節炎。」
她對我說她將她的長壽歸功於上帝,她從不喝酒、從不抽菸,也從不四處瞎混。
一八九四年生於喬治亞州薛爾曼的拜恩絲比她所有的家人都活得更久。她的父親是黑奴後裔,而她的獨生女還在蹣跚學步時就感染了傷寒症過世。
退休前一直擔任俄亥俄大學宿舍工友的拜恩絲,已在這間療養院住了十多年。
(法新社╱翻譯:袁星塵)
Publication Notes
TODAY'S WORDS 今日單字
1. religion n. 宗教(信仰) (zong1 jiao4 xin4 yang3) 例: Jason doesn't like to talk about his religion in public. (傑森不喜歡在公開場合談論他的宗教信仰。) 2. ceremony n. 典禮 (dian2 li3) 例: The wedding ceremony was held at an upmarket hotel. (那場婚禮在一家高檔的飯店舉行。) 3. complaint n. 抱怨 (bao4 yuan4) 例: Henry made a complaint to the manager after being abused by a waiter. (亨利跟經理抱怨有位服務生對他出言不遜。) 4. longevity n. 長壽 (chang2 shou4) 例: None of Leo's family knew the secret to his longevity. (李歐的家人都不知道他長壽的秘訣。)
Publication Notes
READING COMPREHENSION 閱讀測驗
1. Where did Baines celebrate her birthday? a. At a hospital. b. At a hotel. c. At a restaurant. 2. What did Baines do in November? a. She became the oldest person in the world. b. She became the oldest African American. c. She was the oldest person to vote for Barack Obama. 3. Did Baines ever drink or smoke? a. Yes, she did. b. No, she didn't. c. The article doesn't say. 4. Are any of her children still alive? a. Yes, they are. b. No, they aren't. c. The article doesn't say.
Publication Notes
SAY WHAT? 說說看
milestone 里程碑╱轉捩點 A milestone is an important event in a person's life, or a turning point in a particular process. For example: "Danny organized a massive party for his twenty-first birthday, because it was such an important milestone in his life," or "For many people, getting married represents an important milestone in their lives." 「milestone」指的就是某人生命中一個重要的事件,或是某段特定過程中的轉捩點。 例如:「丹尼辦了一場令人驚豔的二十一歲慶生會,紀念他人生中這個重要的里程碑」,或是「對許多人而言,結婚是他們一生中一個重要的轉折」。
Publication Notes
OUT LOUD 對話練習
Corey: It's my birthday next Friday. Do you think you can make it to the party? Dennis: Sure. Can I ask how old you will be? Corey: I'll be 58. Dennis: Wow, I had no idea you were so long in the tooth! Corey: I don't think 58 is very old. Anyway, I still feel healthy. Dennis: So what are you going to do for the party? Corey: I was thinking about going to a nightclub. Dennis: A nightclub? You're definitely too old for that! 寇瑞:下週五是我的生日。你能來參加慶生會嗎? 丹尼斯:當然,我可以請問你要過幾歲生日嗎? 寇瑞:五十八歲。 丹尼斯:哇,我不知道你這麼老了耶! 寇瑞:我不覺得五十八歲很老啊。總而言之,我覺得我還身強體壯。 丹尼斯:那你想怎麼辦這場慶生會? 寇瑞:我考慮去夜店。 丹尼斯:夜店?你對夜店來說肯定太老了! long in the tooth 年紀大了 If you say that a person or animal is long in the tooth, they are old. This idiom can only be used for living things, and not inanimate objects. 如果你說一個人或動物「long in the tooth」,就表示他(牠)們老了。這個片語只能用在活的生物上,不能用來形容沒有生命的物體。
Comments will be moderated. Keep comments relevant to the article. Remarks containing abusive and obscene language, personal attacks of any kind or promotion will be removed and the user banned. Final decision will be at the discretion of the Taipei Times.