WEEKEND SCIENCE: More game, less pain? 週末科學版: 多玩電動會比較不痛?
Welcome to Weekend Science! Every Saturday we're going to guide you through some cool experiments that you can do at home. It's a good idea for you to keep a record of what you do in a Science Journal. That way you can record what you learn, compare results and maybe use them to design new experiments! Remember to always ask a grown-up's permission before trying out an experiment.
歡迎閱讀《週末科學版》!我們每週六都要為你介紹可以在家中進行的有趣科學實驗。你可以在《科學日誌》中記錄自己做了哪些活動,這樣就可以將所學的記錄下來,比較這些結果,也許還可以利用它們來設計新的實驗!先看一下《科學日誌》的點子再開始吧。展開實驗之前,記得要獲得大人許可喔!
Imagine a world without pain. It might sound great, but losing our pain response would cause more harm than good. The ability to feel pain is what stops us consistently damaging our bodies. For example, some children persistently eat sharp objects, but they don't feel any pain and therefore don't realize the harm they are doing to their bodies.
So we know that pain is useful, but it is also very mysterious. Doctors have shown that if we are distracted we can block out pain, which is why they have started giving computer games to recovering patients.
In today's experiment you will put that theory to the test by subjecting your friends to some moderate pain and observing what happens to their pain tolerance when they are playing computer games.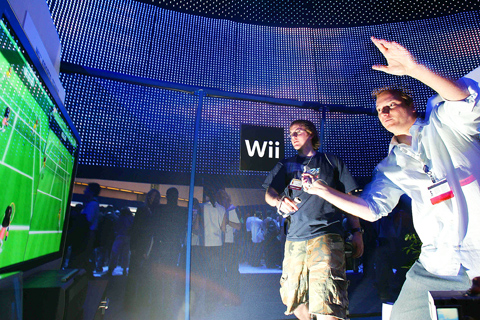 Users play tennis with Nintendo's Wii home console that lets users manipulate action on their television screens through the precise, life-like motion of the handheld remote, at the Los Angeles Convention Center, US, on May 10, 2006. 二OO六年五月十日,在美國洛杉磯國際會議中心內,玩家用任天堂家用遊戲機Wii打網球;玩家透過遙控手把做出明確、擬真的動作,便可操控電視螢幕上的一舉一動。 照片:法新社
PHOTO: AFP
What you will need: a basin, lots of ice, a thermometer, a video game system, a stopwatch and three or four willing friends.
(JOHN PHILLIPS, STAFF WRITER)
想像一個沒有疼痛的世界。那聽起來好像很不賴,但失去痛覺反應,結果可能弊多於利。痛覺的功能在於阻止我們繼續傷害身體,例如:有些小孩常常會把尖銳的物品放入口中,因為不覺得痛,所以他們並不了解這樣的行為對身體的傷害。
我們知道痛覺不但對我們有益,也相當不可思議。醫界已經證實,分散注意力可以減緩疼痛,因此醫生們已開始讓復原中的病人玩電動來止痛。
今天的實驗中,你將藉由讓朋友承受適度疼痛、並觀察玩電玩對其耐痛程度的影響來驗證這個理論。
實驗所需:一個臉盆、一大堆冰塊、一個溫度計、一套電玩、一個計時碼錶和三、四個有意願參加的朋友。
(翻譯:袁星塵)
Methodology
Step 1: Fill the basin with water and add about half of your ice. Leave it for ten minutes then take the temperature.
Step 2: Put the basin in front of a chair. Make sure there are no electrical cables around, because the basin might tip over.
Step 3: Ask your first friend to take off their socks and shoes and dip their toes in the water. Start your stopwatch. Time how long your friend can keep their toes in the water before it gets too painful. Don't let your friend keep their toes in for longer than five minutes because it could be dangerous. Record the time on paper.
Step 4: Add more ice, so that the temperature returns to what it was in step 1. Go through steps 2 and 3 with your other friends.
方法
步驟一:把臉盆裝滿水,然後加入一半的冰塊。靜置十分鐘後,測量其溫度。
步驟二:將臉盆放在一張椅子前。確認附近沒有電線,以免弄翻臉盆。
步驟三:請一個朋友脫掉鞋、襪,然後把腳趾頭浸入水中。拿出碼錶開始計時,看他能忍耐多久。別讓朋友的腳趾在冰水中浸泡超過五分鐘,否則可能會受傷。在紙上記下測到的時間。
步驟四:加入更多冰塊,讓水溫恢復至步驟一的溫度。然後請其他朋友重複步驟二和步驟三。
Introduce a distraction
Step 1: Go through exactly the same steps as above, but this time give your subjects a video game to play while their toes are in the ice water. Record your answers in a table.
Step 2: Thank your friends and give them some kind of reward.
Step 3: Calculate the average time increase and average percentage increase of pain tolerance.
Why do you think pain tolerance rises when we are distracted? Research it online or at your local library.
加入干擾因素
步驟一:這次請你的實驗對象一面玩電動,一面將腳趾頭放入水中。照著上述各步驟實驗,並將結果記錄在表格中。
步驟二:答謝你的朋友,並給他們一點小獎勵。
步驟三:算出增加的平均時間及耐痛度的平均增加率。
你認為為什麼注意力分散時,耐痛度會提高?可以上網或到當地的圖書館查查看。
Publication Notes
VOCABULARY 今日單字
1. pain n.
疼痛 (teng2 tong4)
2. persistently adv.
持續不斷地 (chi2 xu4 bu2 duan4 de5)
3. distract v.i.
分心 (fen1 xin1)
4. tolerance n.
忍耐力 (ren3 nai4 li4)
5. dip v.i./v.t.
浸泡 (jin4 pao4)
6. average n.
平均數 (ping2 jun1 shu4)
Comments will be moderated. Keep comments relevant to the article. Remarks containing abusive and obscene language, personal attacks of any kind or promotion will be removed and the user banned. Final decision will be at the discretion of the Taipei Times.