Tis' the season for sending text messages in Germany 這是德國狂發簡訊的季節
Germans are the world's champions when it comes to sending text messages, so it comes as no surprise that electronic greetings are replacing Christmas and New Year's cards in Germany.
Nearly half of all season's greetings are sent electronically in Germany, according to a new survey issued on the 15th anniversary of the very first text message in December 1992.
A Forsa study showed one in three Germans planned to send season's greetings this year via e-mail, text messages or multimedia messaging.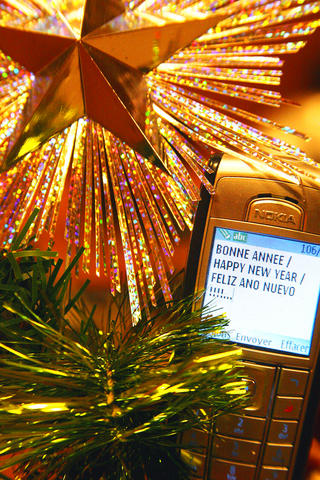 A New Year's text message appears on a mobile phone in Paris, France, on Dec. 28, 2006. 二OO六年十二月二十八日,法國巴黎一支手機顯示出的賀年簡訊。 照片:法新社
PHOTO: AFP
Text messaging was particularly popular among the 14 to 19 age bracket, a majority of whom said they preferred this form of communication to cards or letters.
Fifty-six of the 1,000 people surveyed said they would be sending cards or letters this Christmas, as opposed to 21 percent who planned to wish a Merry Christmas via e-mail. Three percent planned to send multimedia images from their cellphones.
The very first text message ever transmitted was a Christmas greeting sent by a British Vodafone mobile phone user in December 1992.
German books on etiquette now devote chapters to the proper way of issuing invitations and making RSVPs via mobile text messaging.
"It is a cheap and non-intrusive means of communication for millions of people who just want to send a quick thought on a whim before they forget," said communications researcher Joachim Hoeflich of Erfurt University.
When sending text message holiday greetings, it's important to consider the audience and their sensibilities, said Thomas Schaefer-Elmayer, who is Austria's leading expert on manners.
In Austria, Christmas is a bit serious, he said, adding, "Some people don't take that into account when they write funny Christmas cards."(DPA)
提到傳送簡訊,德國人可以說是世界第一。因此,若說簡訊在德國已漸漸取代耶誕卡和賀年卡的地位,一點也不讓人意外。
據最新調查結果顯示,德國將近半數的節慶祝賀是透過電子方式傳送。這項調查結果選在一九九二年十二月第一則簡訊發送後的十五週年紀念發布。
民調機構Forsa調查顯示,有三分之一的德國人計畫今年透過電子郵件、簡訊或多媒體訊息來表達節慶祝賀。
簡訊尤其受到十四到十九歲族群的青睞,其中多數人表示,比起卡片或書信,他們還是偏好這種溝通形式。
受訪的一千人中有五十六人表示,今年耶誕節他們會寄卡片或書信祝賀,相反的,有兩成一的民眾計畫使用電子郵件。有百分之三的民眾則是計畫用手機發送多媒體影音訊息。
世界上第一則簡訊是英國Vodafone行動電話的一位使用者,於一九九二年十二月所傳送的耶誕祝賀簡訊。
德國禮儀相關書籍現在也有專章,教導民眾如何透過手機適當地發送邀請和敬請賜覆簡訊。
「對數百萬只想在遺忘前傳遞一個突然出現的念頭的人來說,這是一種經濟且不具侵入性的溝通管道,」德國艾爾福特大學的傳播研究員尤沃金:荷耶佛里西說。
奧地利禮儀權威湯瑪士.薛弗艾梅爾說,在寄送賀節簡訊時,考量受信對象和他們的感覺是很重要的。
他說,在奧地利,耶誕節是一個頗為莊嚴的日子,他還說:「有些人在寫搞笑耶誕卡時,並沒有注意到這一點。」(德通社/翻譯:袁星塵)
Publication Notes
TODAY'S WORDS 今日單字
1. multimedia adj.
多媒體的 (duo1 mei2 ti3 de5)
例: Sid gave a multimedia presentation for his project.
(席德為他的專案進行一場多媒體簡報。)
2. bracket n.
同級的人 (tong2 ji2 de5 ren2)
例: Ray is in a high tax bracket.
(雷伊屬於高稅收等級。)
3. transmit v.t./v.i.
傳送 (chuan2 song4)
例: We're trying to transmit messages to aliens.
(我們試圖傳送訊息給外星人。)
4. etiquette n.
禮儀 (li3 yi2)
例: Etiquette is an important thing to learn from your parents.
(向父母學習禮儀是一件很重要的事。)
Publication Notes
SAY WHAT? 說說看
RSVP 敬請賜覆
RSVP is an acronym. It comes from a French term which means "please respond."
People write RSVP on invitations if they want invited guests to let them know if they'll be attending an event. They might need to prepare a certain amount of food or reserve a certain number of seats for a dinner.
People who write regrets only on an invitation only want a response from invited guests who will not be attending the event in question.
「RSVP」是首字母縮寫,這個說法源於法文,表示「請回覆」的意思。
人們若想知道受邀賓客是否要出席,便會在邀請函上寫下「RSVP」,因為他們需要準備特定數量的食物或預備晚宴的座位。
人們在邀請函上附上謝絕短柬,只是希望受邀客人
若經考慮無法出席能給個回覆。
Publication Notes
OUT LOUD 對話練習
Chris: Brian, what are you doing for New Year's Eve?
Brian: I plan on climbing a mountain.
Chris: Wouldn't you rather go to a New Year's party at somebody's house?
Brian: Not really. I think New Year's parties are always a bit of a letdown.
Chris: I know what you mean. I'd like to climb the mountain with you, but today is my last day to eat lots of fatty foods before I go on a diet.
克里斯:布萊恩,你跨年夜打算怎麼慶祝?
布萊恩:我計畫去爬山。
克里斯:你不會想去某人家參加跨年派對嗎?
布萊恩:還好耶,我覺得跨年派對總是讓人有點失望。
克里斯:我懂你的意思,我希望能跟你一起去爬山,但今天是我節食前最後一次大吃垃圾食物的日子了。
letdown 失望
Something that's a letdown is a disappointment. For example, "I read positive reviews about the movie, but it was a major letdown."
「letdown」表示某事很令人失望,例如:「我讀了些正面的影評,但是那部電影大大地讓我失望」。
Comments will be moderated. Keep comments relevant to the article. Remarks containing abusive and obscene language, personal attacks of any kind or promotion will be removed and the user banned. Final decision will be at the discretion of the Taipei Times.