Living together may lead to solitude 同居最後可能更寂寞
It used to be called "living in sin" but few Australians these days frown on couples who live together outside marriage. Recent research suggests it might be a good idea to start frowning again.
Far from being a prelude to marriage and a long-term relationship, living together can be a deterrent against it, said Ruth Weston, a researcher at the Institute of Family Studies.
"In the old days people might go 'steady,' but there was still opportunity to meet others," she said. "Now, once you are living with someone, you are cheating if you see someone else. When you cohabit, it adds a sense of commitment to a relationship that is going nowhere."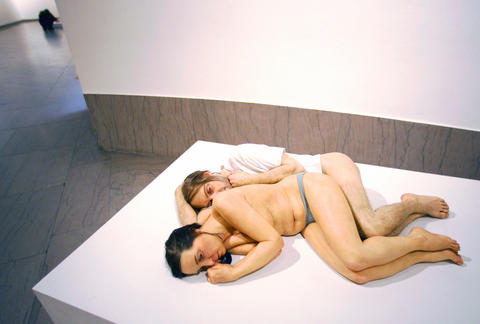 A sculpture titled Spooning Couple by Australian-born artist Ron Mueck on display at the Brooklyn Museum, Jan. 31,2007.PHOTO: AFP 澳洲藝術家榮恩•謬艾克創作的「求愛男女」雕像,今天一月三十一日在布魯克林博物館展出。照片:法新社
Weston told the Sydney Morning Herald that permissiveness was proving a double-edged sword. Couples who shack up early on in their relationship inadvertently close off opportunities to meet those that might suit them better.
"They enter prematurely, but can linger on and waste their time," she said. Lots of research - not just Weston's - concludes that cohabitation can be time-consuming and counterproductive. Women can end up in their 40s single and childless after splitting up with a partner. Men often fare much worse.
Figures from 2006 show that more than a third of women aged 30-34 are single - neither married nor living with a partner. For men, the equivalent proportion is more than four in 10.
Think of how different it was for an earlier generation. Boys and girls lived at home, or lived together in all-male or all-female households. They tried different partners and then settled on one for marriage and a long-term relationship.
Now, living together comes first - and more often than not doesn't lead to a real marriage.(DPA)
未婚同居在過去被稱做是「活在罪惡中」,但現在婚前同居在澳洲已廣為民眾接受。然而,最近的研究顯示,不贊成同居或許才是對的。
同居非但不是婚姻或一段長久關係的序曲,反而還可能阻斷未來可能的發展,澳洲家庭研究所的研究員茹絲.崴斯頓表示。
「以前,『穩定』交往中的情侶仍有認識其他對象的機會,」崴斯頓說:「但現在一旦你和某人同居,如果又和其他人約會,就是欺騙。同居讓一段難以有進展的關係又多了一層約束力。」
崴斯頓對《雪梨前鋒晨報》表示,自由放任就像是一把雙面刃,在交往過程中很快就同居的伴侶,往往會不慎錯過遇到更合適對象的機會。
「太早同居的伴侶,兩人的關係可能會持續拖延,浪費彼此的時間,」她說。除了崴斯頓的研究外,還有許多研究結果也顯示,同居可能會浪費彼此的時間,並產生反效果。女性在跟伴侶分手後,可能落得四十幾歲仍單身且膝下無子的下場,男性通常更慘。
二OO六年的統計數據顯示,三十到三十四歲的女性中,有超過三分之一仍是單身─未婚且未與他人同居。同齡的男性比例則高於四成。
試想老一輩的情況多麼不同,男孩和女孩住在家中,或是與同性同住,他們分別和一些人交往過,然後選擇一個安定下來,結婚並建立長久關係。
現在,人們在婚前先同居,結果這些伴侶大多沒有真正進入婚姻。
(德通社/翻譯:袁星塵)
Publication Notes
TODAY'S WORDS 今日單字
1. prelude n. 序幕 (xu4 mu4) 例: Sarah jumped straight into the lecture without any prelude. (莎拉沒有任何開場就直接開始上課了。) 2. deterrent n. 遏止物 (e4 zhi3 wu4) 例: The security cameras are meant as a deterrent. (監視攝影機的用意是發揮嚇阻作用。) 3. permissiveness n. 放任 (fang4 ren4) 例: The school was not known for its permissiveness. (這所學校以嚴格治學出名。) 4. counterproductive adj. 事與願違的 (shi4 yu3 yuan4 wei2 de5) 例: We found that the measures were counterproductive. (我們發現這些措施導致了反效果。)
Publication Notes
SAY WHAT? 說說看
double-edged sword 雙面刃 If something is a double-edged sword it can both help and harm a person or situation. The term comes from a sword with two sharp edges. While the sword can be used with greater effect against enemies, it also increases the likelihood of harming oneself. If something is described as a double-edged sword the drawback is often not very apparent when the situation is first examined. 如果我們說某事是「double-edged sword」,表示此事可能同時有助/害於某人或該情況。這個詞源自一把有著兩面銳利刀鋒的刀,這把刀可以有效地抵抗敵人,但傷到自己的機會也很大。 如果某事被形容成一把雙面刃,此事的短處通常不會一開始就顯現出來。
Publication Notes
OUT LOUD 對話練習
Sharon: I'm thinking about moving in with Kev. Kate: Really? But you guys have only been together for a few months. Sharon: More like a year. Anyway, it's no big deal. It'll save us a stack of cash on rent every month, and we spend most of our time together anyway. Kate: Hmm. Well, it seems like a big step. Just don't forget there's always a bed at mine for you if you two fight and you need somewhere to crash. Sharon: Cheers, Kate. Of course I hope we won't have that kind of a problem, but it's very sweet of you. And of course, it's good to know. 雪倫:我正在考慮搬去跟凱文一起住。 凱特:真的?但你們才交往幾個月而已耶。 雪倫:快一年囉。但這也沒什麼大不了的,一起住每個月可以省下一大筆房租,而且我們本來就每天都膩在一起。 凱特:嗯…感覺起來你們的關係進展了一大步。但如果哪天你們吵架了,你需要地方過夜,別忘了來找我。 雪倫:謝啦,凱特。我希望我們不會有那種時候,但你實在很貼心,我很高興你這樣說。 to crash 睡覺 The expression to crash has many meanings, one of which is to sleep. For example: "It's been a long day. I'm exhausted, I think I'm going to crash. 'Night!" 「to crash」可以表示許多種不同的意思,其中一種就是睡覺的意思,例如:「真是漫長的一天啊,我累得精疲力盡,我要先去睡囉,『晚安!』」。
Comments will be moderated. Keep comments relevant to the article. Remarks containing abusive and obscene language, personal attacks of any kind or promotion will be removed and the user banned. Final decision will be at the discretion of the Taipei Times.