Beep-la-la 上海禁鳴喇叭
Shanghai has banned cars from sounding their horns. But some drivers have thought of new ways to express themselves, the Shanghai Daily has said.
Shanghai started the ban last month. People using car horns can be fined up to 200 yuan (NT$862). Even police cars have been told they can only use their sirens in emergencies.
But some drivers have spent up to 800 yuan (NT$3,440) to make special horns. These horns use music or voice recordings. One taxi driver has a recording of a woman's voice saying, "Please mind the car, we are making a turn.'' Other horns play music, a bit like a ringtone.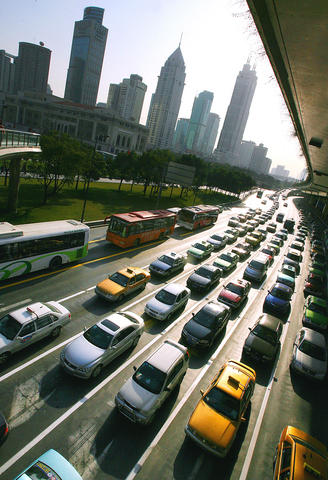 Cars line the freeway in Shanghai, China, Jan. 30, 2007. 一月三十日,行駛在中國上海市高速公路的車輛。
PHOTO: AFP
But the police say all kinds of horns are banned. "The new rule covers any kind of horn blaring, no matter what it sounds like,'' said traffic police spokesman Sun Guofu.
It is thought that the police will soon start to take action against the new horns, too.
《上海日報》報導,上海已禁止汽車鳴按喇叭,但有些駕駛卻想到了表現自我的新方式。
這項禁令於上個月開始生效,按喇叭的民眾最高可罰款兩百人民幣(新台幣八百六十二元)。即便是警車也只能在緊急時鳴笛。
不過,已有駕駛斥資了八百人民幣(新台幣三千四百四十元)來製造特殊喇叭。這些喇叭發出的是音樂或語音效果。一名計程車駕駛就錄製了女性說話的聲音︰「請留意車輛,我們正要轉彎。」還有喇叭播放的是音樂,有點像手機鈴聲。
不過警方表示,各式各樣的喇叭一律不准。交通警察發言人孫國富說︰「新規定涵蓋各式喇叭,無論是何種聲音。」
一般認為,警方很快就會採取行動來取締這些新喇叭。
(翻譯︰賴美君)
Publication Notes
TODAY'S WORDS 今日單字
1. ban v.i. /v.t. 禁止 (jin4 zhi3) 例: Our school has banned soda and chips. (我們學校已禁止飲用汽水與洋芋片。) 2. recording n. 錄音 (lu4 yin1) 例: No one answered the phone - it was just a voice recording. (沒有人接電話,只有電話答錄。) 3. ringtone n. 手機鈴聲 (shou3 ji1 ling2 sheng1) 例: Have you heard my cool new ringtone? (你聽過了我酷炫的手機鈴聲嗎?) 4. blare v.i. /v.t. 大聲響 (da4 sheng1 xiang3) 例: The music was blaring until 3am! (轟隆隆的音樂一直放到凌晨三點!)
Comments will be moderated. Keep comments relevant to the article. Remarks containing abusive and obscene language, personal attacks of any kind or promotion will be removed and the user banned. Final decision will be at the discretion of the Taipei Times.