Prisoners don't want time out 印度受刑人不想出獄
The Parappana Agrahara prison in Bangalore has an unusual problem. The prisoners like the food so much that they don't want to leave! The prison is crowded with 4,700 prisoners, which is double the proper amount.
Young offenders are also saying they are older so they can go into the adult prison.
The reason is the healthy food served by ISKCON, or the International Society for Krishna Consciousness, a Hindu organization.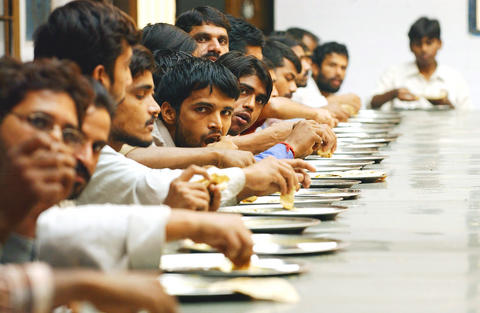 Inmates at the Tihar jail have their lunch, New Delhi, India, Nov. 8, 2005.二○○五年十一月八日,印度新德里提哈監獄的受刑人享用著午餐。(照片︰法新社)
PHOTO: AFP
ISKCON, commonly known as the Hare Krishna movement, started serving its pure-vegetarian food in the jail on May 21 under contract from the prisons department.
Lunch and dinner typically include piping hot rice, two vegetables and a spicy lentil dish called sambar, and buttermilk. A dessert is added on festival days and national holidays like Independence Day, and also once a week.
"When we are getting tasty, nutritious food three times a day here, why should we go out and commit crimes?" asked prisoner Raja Reddy, who has been arrested 20 times in 30 years for theft, robbery and burglary.
印度班加羅爾的帕拉帕納.阿格拉罕拉監獄面臨了不尋常的困擾。受刑人相當喜歡牢裡的餐點,一點也不想出獄!這所監獄目前擠滿了四千七百位受刑人,較合容量多了一倍!
少年受刑人謊報年齡,以便進入成人監獄。
這一切都是因為印度「國際奎師那意識協會」所供應的健康飲食。
國際奎師那意識協會一向以「哈瑞奎師那」運動聞名,與監獄單位擬定合約後,五月二十一日開始供應全素食餐點。
典型的午晚餐包括熱騰騰的米飯、兩種蔬菜,及一種稱為「sambar」的辣扁豆菜餚與白脫牛奶。每週供應一次甜點,節慶與獨立紀念日等國定假日還有額外的甜點可吃。
三十年來因竊盜、搶劫與闖空門進出監獄二十次的受刑人拉亞.瑞迪問︰「我們每天在這裡享用三次美味營養的食物,何苦還出獄犯罪呢?」(翻譯︰賴美君)
Publication Notes
TODAY'S WORDS 今日單字
1. vegetarian adj.
素食的 (su4 shi2 de5)
例: I follow a vegetarian diet.
(我吃素食。)
2. national holiday n. phr.
國定假日 (guo2 ding4 jia4 ri4)
例: October 10 is a national holiday in Taiwan.
(十月十日是台灣的國定假日。)
3. nutritious adj.
營養的 (ying2 yang3 de5)
例: Fruit and vegetables are very nutritious.
(蔬菜水果非常營養。)
4. commit a crime v. phr.
犯罪 (fan4 zui4)
例: People who commit crimes often get in trouble with the police.
(犯罪的人總會被警方盯上。)
Comments will be moderated. Keep comments relevant to the article. Remarks containing abusive and obscene language, personal attacks of any kind or promotion will be removed and the user banned. Final decision will be at the discretion of the Taipei Times.