Japanese eating less fish, more meat 日本人少吃魚 改吃肉
Sushi may be gaining followers around the world, but in Japan red meat may have overtaken fish on dinner tables as young people embrace Western-style food, the government said on May 22.
The carnivorous trend marks a turning point for Japan, which ate little meat other than seafood until the late 19th century.
Japan's annual volume of seafood purchases by households has plunged more than 20 percent over the past 40 years to 12.7kg per person in 2005, the fishery agency said in a white paper.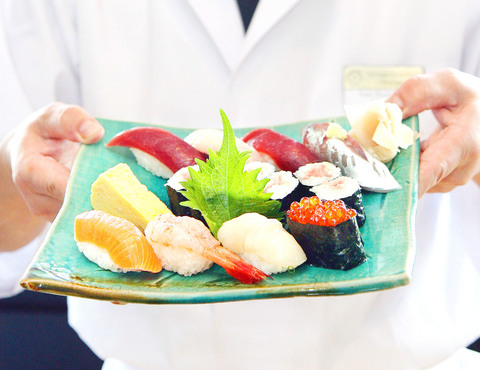 Photo taken Dec. 20, 2006, shows a sushi chef holding a dish of sushi at a Tokyo sushi bar.去年十二月二十日,東京一家壽司吧的壽司師父展示一盤壽司.
PHOTO: AFP
By contrast, purchases of other meat by Japanese households more than doubled to 12.6kg over the same period, the agency's annual report said.
"It would be no surprise if meat consumption has already surpassed seafood consumption by now," said Tomomi Hirano, a fishery agency official.
The decline in fish consumption was partially due to rising fish prices and a growing taste for easy-to-cook meat, but "the biggest reason behind the decline in seafood consumption is a change in people's tastes, particularly children," Hirano said.
Hirano added that "young generations are shifting their taste from traditional fish foods to meat-oriented dishes that we can often see in Western foods."
Some 32 percent of families said they cook meat more than fish because their family members, mostly children, dislike fish dishes, the report said.
"Those who did like fish in their childhood tend to avoid cooking fish when they grow up," Hirano said. "It's a vicious circle." (AFP)
日本政府五月二十二日表示,壽司也許風靡全球,但由於日本年輕人逐漸喜歡西方食物,餐桌上的魚可能已被紅肉取代。
這股肉食性潮流點出日本面臨了轉捩點。十九世紀晚期之前,日本人所吃的海鮮比肉品還多。
日本漁業局的白皮書中說,過去四十年以來,日本家庭每年的海鮮消費量下降了逾20%,二○○五年已降至每人十二點七公斤。
日本漁業局這份年度報告中說,相較之下,日本家庭其他種類的肉品消費量在同期兩倍增,達到十二點六公斤。
漁業局官員平野朋美說︰「假如肉品消費量現在已超越了海鮮,也沒什麼好訝異的。」
平野女士說,魚類食用量下降尤其可歸咎於魚價上揚,以及大眾逐漸喜歡易煮的肉類,但「海鮮食用量下滑的主因還是民眾口味改變,尤其是小朋友」。
平野女士也說,「年輕世代的口味逐漸從傳統魚食改為西餐中常見的肉食。」
這份報告中也指出,約32%的家庭說他們煮肉的機會多於煮魚,理由是家庭成員(多半是小孩)不喜歡吃魚。
「小時候喜歡吃魚的人長大後往往會避免煮魚,」平野女士說︰「這是惡性循環。」 (法新社/翻譯︰賴美君)
Publication Notes
TODAY'S WORDS 今日單字
1. embrace v.i. /v.t.
擁抱 (yong3 bao4),欣然接受 (xin1 ran2 jie1 shou4)
例: James embraced his new role as a professor, spending hours each day preparing for his classes.
(詹姆斯欣然接受教授的新職務,每天都花好幾個小時準備課程。)
2. consumption n.
消費 (xiao1 fei4)
例: When supply remains stable but consumption increases, prices tend to rise with the demand.
(供給保持穩定,但消費需求上升,價格往往就會上揚。)
3. particularly adv.
特別地 (te4 bie2 di5)
例: Billy is particularly tall — a head taller than all his brothers.
(比利特別高,比他所有兄弟都高出一個頭。)
4. vicious adj.
惡性的 (e4 xing4 de5),兇惡的 (xiong1 e4 de5)
例: The vicious tigers tore the chickens to shreds.
(兇惡的老虎把雞隻撕成碎片。)
Publication Notes
SAY WHAT? 說說看
turning point  轉捩點
A turning point is a place or time that a course of events changes direction. In this article, 2005 was a turning point for Japanese diets because meat consumption began to catch up with fish consumption. Another example: "The turning point in the candidate's campaign was when his love affair became public knowledge; he didn't have much of a chance after that."
You could also talk about a pivitol point, which also is the time or place at which something turns.
「a turning point」就是一連串事件轉折的地點或時間。在本文中,二○○五年是日本人飲食方式的轉捩點,因為肉品消費量開始趕上了魚類消費量。再舉一例︰「戀情曝光讓他的選情急轉直下,他從此機會渺茫」。
你也可以用「a pivitol point」來指轉捩點。
Publication Notes
OUT LOUD 對話練習
Jessie: I took my family out to dinner the other day.
Brenna: Oh yeah? Where did you guys go?
Jessie: Well, since my sister doesn't like seafood but my parents do, we went to a Japanese barbeque place.
Brenna: Did everyone enjoy the food that you ordered?
Jessie: It really hit the spot. Everyone left full and happy.
潔西︰我前幾天帶家人去吃晚餐。
布蘭娜︰喔,真的呀?你們去哪裡啊?
潔西︰由於我姊姊不喜歡吃海鮮,但我家人喜歡,所以我們就去吃日式燒烤了。
布蘭娜︰大家都喜歡你點的食物嗎?
潔西︰實在讓人心滿意足。大家都開開心心飽餐一頓回家。
hit the spot 心滿意足,合胃口
If something hits the spot, then it satisfies you, especially food or drink. "I was so thirsty after eating those fries. The iced tea really hit the spot."
若某事「hit the spot」,就是讓你感到滿足,尤其是指食物或飲料。例如︰「我吃了這些薯條後好渴,這杯冰茶正合我意」。
Comments will be moderated. Keep comments relevant to the article. Remarks containing abusive and obscene language, personal attacks of any kind or promotion will be removed and the user banned. Final decision will be at the discretion of the Taipei Times.