End of the batch for bakery bus 烘培巴士的最後餘香
Officials told a rabbi that he could no longer use a school bus retrofitted as an oven to bake matzos, a special unleavened bread, for last week's Passover holiday.
Manny Carmona, Spring Valley's deputy building inspector, issued a letter forbidding Rabbi Aaron Winternitz from using his contraption, which he says has been using to make matzos for his congregation for nearly three years.
"My department is not satisfied this oven is safe to use,'' Carmona said. "He did as much as he could.''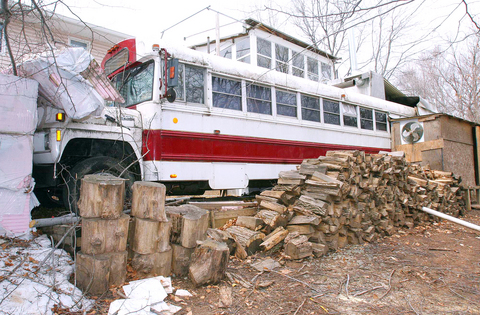 A school bus that has been converted into a supersized oven attached to the home of Rabbi Aaron Winternitz in Spring Valley, N.Y.,USA, Mar. 26, 2007. 今年三月二十六日美國紐約春谷市,一台改裝成超大型烤箱的校園車緊鄰在猶太祭司安隆溫特鎳茲的家。
PHOTO: AP
The old, red and white bus had been converted into a supersized oven for Passover matzos — complete with a smokestack, exhaust fans and working fire.
Carmona ordered the rabbi earlier late last month to move the bakery bus away at least 3m from the house. Winternitz was also told to disconnect the unauthorized gas line that was fueling the oven and come up with documents to show that a licensed engineer had overseen the project.
But in the end, Carmona judged any changes that had been made insufficient, and he issued the letter in advance of Passover's start at sundown Monday April 2.
Winternitz had been making the unleavened bread inside the school bus for his 50-member Congregation Mivtzar Hatorah for the past three Passovers. The bus was behind his house and was discovered by authorities after a neighbor complained of smoke last week.
Matzo is eaten during Passover week to illustrate how the Jews had no time to let their bread rise as they fled slavery in Egypt. (AP)
政府官員告知一名猶太祭司,他不能再利用改裝校車當烤箱,為上週的踰越節烘培一種特殊的無酵餅「matzos」。
春谷市建築副督察曼尼.卡蒙那發函猶太祭司安隆.溫特涅茲,禁止他使用這台巴士烤箱。溫特涅茲表示,他已經用這玩意兒為他的教眾製作無酵餅近三年了。
「我的部門質疑這個烤箱的安全性,」卡蒙那表示︰「他已經盡力了。」
這台為製作踰越節無酵餅而改裝成超大烤箱的老舊紅白條紋巴士,還加裝煙囪、排氣風扇和木材生火。
卡蒙那稍早在上個月底下令這名猶太祭司將這台烘培巴士搬到至少離房子三公尺遠的地方。溫特涅茲還被告知要切斷烤箱所使用的未經核可的瓦斯管路,並且提供經合格工程師檢驗過的文件。
不過最後卡蒙那判定已做的一切改變都還不夠,他在四月二日星期一日落,踰越節開始前去函禁止。
過去三年來的踰越節,溫特涅茲都在這台校車內為他的五十名「Mivtzar Hatorah」會眾製作無酵餅。這台巴士在他家後面,上週鄰居抱怨排煙問題後才被相關單位發現。
在踰越週吃無酵餅是為傳達猶太人在逃離埃及奴隸生活時,來不及讓麵包發酵的情景。(美聯社╱翻譯︰鄭湘儀)
TODAY'S WORDS
1. unleavened adj
未發酵的 (wei4 fa1 xiao4 de5)
例: Unleavened bread doesn't rise.
(沒發酵的麵包不會膨脹。)
2. congregation n.
會眾 (hui4 zhong4)
例:Our church has a very active congregation.
(我們教會的教眾非常活耀。)
3. smokestack n.
煙囪 (yan1 cong1)
例: Our log cabin has a large smokestack.
(我們的木屋有很大的煙囪。)
4. flee v.i. /v.t.
逃離 (tao2 li2)
例: The robbers fled the scene when they were seen by the security guard.
(強盜被警衛發現後便逃離現場。)
Comments will be moderated. Keep comments relevant to the article. Remarks containing abusive and obscene language, personal attacks of any kind or promotion will be removed and the user banned. Final decision will be at the discretion of the Taipei Times.