Have a happy New Year! 過個快樂年
Do you consider the New Year to be a critical time for a fresh start?
Psychologists believe that a positive attitude and a healthy body are related. Research in the July 2003 issue of the journal Psychosomatic Medicine points out that people who think positively get sick less than those who are depressed or suffer from anxiety.
Psychologists have a few suggestions for your New Year: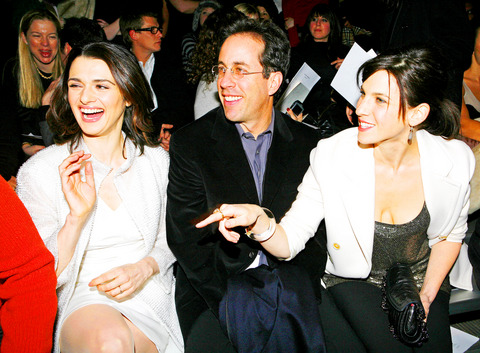 Actress Rachel Weisz, left, shares a laugh with comedian Jerry Seinfeld and his wife Jessica Seinfeld, right, at the showing of the Narciso Rodriguez fall 2007 collection, Feb. 6, 2007. 2月6日在設計師Narciso Rodriguez的秋季時裝展中,女星瑞秋•懷茲 (左) 與喜劇演員傑瑞•塞菲爾及其妻潔西卡 (右) 一同開懷大笑。 (照片:美聯社)
PHOTO: AP
Think positively. Don't let negative feelings linger for too long, and make a list of things that make you feel happy to shift your focus. When you face a difficult situation, you should adopt a plan to solve your problem and face the challenge with a positive attitude.
Set an exercise schedule. Exercise can increase your vigor and increase your ability to think positively.
Reduce your stress. Understand the sources of your stress, and when appropriate, get that anxiety off your chest. Don't always bottle it up inside.
Improve the quality of your sleep. Lack of sleep can lower the response of your immune system and increase the chances of you falling ill. It also makes it easier for you to feel uncomfortable or anxious, slows down your response time and influences your relationships with others and work performance.
Eat healthily. A good way to do this is to eat breakfast every day and eat more vegetables.
It's never too late to break bad habits. Start now and enjoy a great New Year! (Translated by Jason Cox)
你認為新年是新開始的契機嗎?
心理學家認為,積極的態度與身體健康息息相關。二○○三年七月號的《心身醫學》研究報導指出,正向思考的人較憂鬱或情緒焦躁的人不易生病。
新的一年,心理學家為我們提供了一些建議︰
「正面思考」。別讓負面情緒盤據太久,列出讓你感到快樂的事物清單,轉移注意力。遇到挫折時,也應提出「解決問題」的計畫,用正面的態度來迎接挑戰。
「規律運動」。運動可以增進活力,提升正面能量。
「減壓」。了解壓力的來源,適當宣洩情緒,別悶在心裡。
「提升睡眠品質」。失眠會降低免疫力,增加罹病機率,也容易讓情緒煩躁不安,反應變慢,影響到人際關係與工作表現。
「健康飲食」。天天吃早餐,多食用蔬果,都是改善飲食的良好方法。
破除危害健康的惡習永不嫌晚,就從現在開始過個快樂年吧! (賴美君編撰)
Publication Notes
Today's Words 今天單字
1. critical adj.
關鍵性的 (guan1 jian4 xing4 de5)
例: Securing support from the community is critical to the success of the plan.
(取得社區的支持是計畫成功的關鍵。)
2. psychosomatic adj.
身心的 (shen1 xin1 de5)
例: Zoe suffers from a psychsomatic disorder.
(柔伊遭逢身心失調。)
3. linger v.i.
徘徊 (pai2 huai2)
例: Don't linger around on your way home from school!
(放學後不要在回家的路上逗留。)
4. immune adj.
免疫的 (mian3 yi4 de5)
例: Superbugs attack the body's immune system.
(超級病菌會攻擊人類的免疫系統。)
Comments will be moderated. Keep comments relevant to the article. Remarks containing abusive and obscene language, personal attacks of any kind or promotion will be removed and the user banned. Final decision will be at the discretion of the Taipei Times.