A different kind of chicken 不一樣的雞肉
When Joe McPherson moved to Seoul in 2002, he thought he was leaving fried chicken behind.
"Living in the southern US, you think you know fried chicken," he said. But in Seoul, he said, "there is a mom-and-pop chicken place literally on every corner." Many Asian cooking traditions include deep-fried chicken, but the popular cult of crunchy, spicy, perfectly nongreasy chicken — the apotheosis of the Korean style — is a recent development.
Platters of fried chicken are a hugely popular bar food in South Korea — like chicken wings in the US, they are downed with beer or soju, after work or after dinner, rarely eaten as a meal.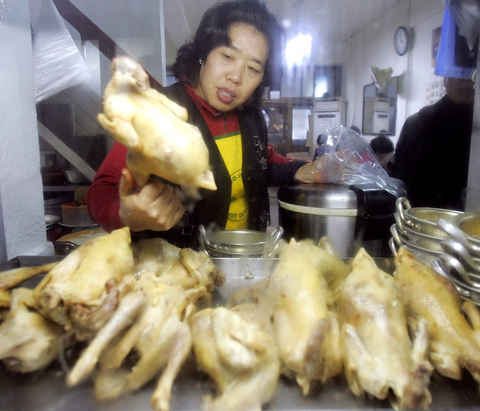 A South Korean restaurant owner prepares chickens for sale in Seoul, Jan. 20, 2007. 2007年1月20日,南韓首爾一名餐廳老闆準備販賣雞肉。 (照片:美聯社)
PHOTO: AP
"Some places have a very thin, crisp skin; some places have more garlicky, sticky sauces; some advertise that they are healthy because they fry in 100 percent olive oil," said McPherson, an English teacher, who writes a food blog called zenkimchi.com/FoodJournal.
"Suddenly there will be a long line outside one chicken place, for no apparent reason, and then the next week, it's somewhere else."
For crunch, American-style fried chicken relies on a thick, well-seasoned crust, often made even thicker by soaking the chicken pieces beforehand in buttermilk.
Korean-style fried chicken is radically different, reflecting an Asian frying technique that renders out the fat in the skin, transforming it into a thin, crackly and almost transparent crust. (Chinese cooks call this "paper fried chicken.") The chicken is unseasoned, barely dipped in very fine flour and then dipped into a thin batter before going into the fryer. It is only seasoned after frying.
Korean-style fried chicken restaurants are springing up throughout the US.
(NY Times Services)
當喬依.麥可佛森二○○二年搬到首爾,他以為再也不會看到炸雞。
「住在美國南方,你會以為自己知道什麼是炸雞,」但是在首爾,他表示︰「真的每個轉角都是小型炸雞店。」許多亞洲傳統烹調都包括酥炸雞肉,不過脆皮、辣味、完全不油膩的韓式經典雞肉卻是最近才風行一時。
大盤大盤的炸雞在南韓是廣受歡迎的酒吧食物,就像美國的雞翅,搭配啤酒或燒酒,作為工作後或晚餐後的點心,很少當正餐吃。
身為英文老師的麥可佛森表示︰「有些店的雞皮非常脆薄,有的店有濃稠的大蒜醬料,有些地方主打健康概念,因為他們使用百分之百的橄欖油進行油炸。」麥可佛森撰寫的美食部落格網址是zenkimchi.com/FoodJournal。
他表示︰「某家雞肉店外面會沒來由的突然大排長龍,然後隔週就會換別的地方。」
美式酥脆炸雞靠的是精心調味的厚脆表皮,雞肉通常會被浸泡在白脫牛奶中以增加表皮厚度。
韓式炸雞則是截然不同,反映出亞洲的油炸技巧—炸出皮中油脂,將皮炸到脆薄幾近透明的程度。(中國廚師稱此為「紙炸雞」),雞肉未經調味,僅沾上很細的麵粉,在下油鍋前浸入稀麵糊,炸完之後才調味。
韓式炸雞餐廳在全美各地如雨後春筍般開業。
(紐約時報╱翻譯︰鄭湘儀)
Publication Notes
Today's Words 今天單字
1. apotheosis n.
完美的典型 (wan2 mei3 de5 dian3 xing2)
例: This book is the apotheosis of literary genius.
(這是本文學造詣登峰造極之作。)
2. blog n.
部落格 (bu4 luo4 ge2)
例: I haven't read your blog in a couple of weeks.
(我有好幾個禮拜沒讀你的部落格了。)
3. apparent adj
顯而易見的 (xian3 er2 yi4 jian4 de5)
例: The apparent reason he ran away was that he was scared of the police.
(他逃跑的原因顯然是因為他怕警察。)
4. transparent adj.
透明的 (tou4 ming2 de5)
例: The walls in the building were all transparent glass.
(這棟建築物的牆都是透明的玻璃。)
Comments will be moderated. Keep comments relevant to the article. Remarks containing abusive and obscene language, personal attacks of any kind or promotion will be removed and the user banned. Final decision will be at the discretion of the Taipei Times.