For crying out loud! 放聲大哭!
Martin Marlin, 66, a middle school science teacher in the US, was driving on the freeway about a month ago when his mobile phone rang. "I picked up and said 'hi,' and somebody on the other end goes, 'Hey, wanna go to Taiwan?' And I said, 'Um, sure. Wait, who is this?'" Marlin told the Taipei Times.
The caller was from King Car Education Foundation, a non-governmental organization (NGO) promoting education reform in Taiwan. Morgan Sun, the executive director of the Foundation, had heard about Marlin's new teaching techniques on a tour of US schools. So Marlin and first aid instructor Sandy Leach came to Taiwan to share their skills with Taiwanese teachers and students.
Leach demonstrated high-tech, anatomically correct manikin babies that are revolutionizing domestic science curricula in the US. Boasting a digital interface on their backs, the babies are "programmed to cry at different times for different reasons," Leach said, encouraging Sun to hold one.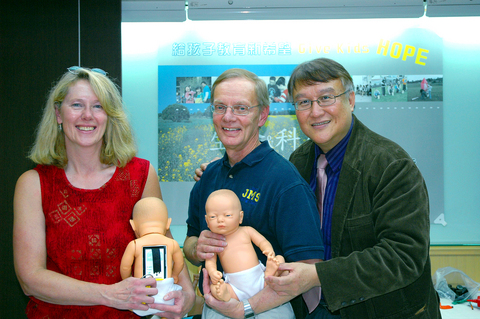 From left to right Sandy Leach, Martin Marlin and Morgan Son displlay their digital manikin babies. (由左到右)珊蒂李區,馬丁馬林和孫慶國展示電子娃娃。 照片:歐新社
PHOTO: EPA
"Oh, I grandfather now [sic]!" Sun said while rocking a baby. Before Sun could finish his sentence, however, he accidentally dropped the 4.5kg doll with a resounding thud. The manikin's disturbingly realistic wailing kicked in, leaving the executive director with egg all over his face.
More babies then started crying loudly as members of the local press put down their tape recorders to reach out to them. "At this point, you must insert a key-card in the baby's back," Leach said. " But the trick is knowing which card to insert — there's a diaper-changing key, a feeding key, a burping key, etc. The baby will only stop crying when the key corresponding to its particular need is inserted," Leach added.
Sun said the dolls are ideal teaching tools to promote responsible sexual behavior among the nation's youth, saying that once students understand the level of discipline required to care for a baby, they tend to approach sex with a more mature attitude.
(max hirsch, staff reporter)
約一個月前,六十六歲的美國中學自然教師馬丁.馬林駕駛在高速公路上時手機響起,「我接起電話說『嗨』,電話另一頭的人說『嘿,想要去台灣嗎
?』我就說『嗯,當然,等一等,你是誰?』。」 他對台北時報表示。
致電者是在台灣推廣教育的非政府組織,金車教育基金會的執行長孫慶國,他在美國學校巡迴參觀時,耳聞馬林的新教學方式,於是請馬林和急救教練珊蒂.李區來台灣和師生分享他們的技巧。
李區示範在美國本土帶起一波科學教育革命的高科技擬真娃娃。李區得意地表示,這些娃娃背上的數位介面,設定娃娃「在不同時間因不同理由哭鬧」,他還鼓勵孫慶國抱一個。
孫慶國搖著嬰兒時說︰「哇,我現在是祖父了。」不過他失手讓四點五公斤的娃娃呯地一聲掉落在地,嬰兒娃娃開始發出逼真又惱人的哭嚎聲,弄得孫執行長灰頭土臉。
更多嬰兒開始放聲大哭,此時許多本地記者放下錄音機,伸手要去抱娃娃。李區表示︰「此時你必須在娃娃的背上插入鑰匙。」她補充︰「不過,技巧在於知道插入哪一隻鑰匙,有「換尿布」、「餵奶」和「打嗝」等鑰匙,要插入符合狀況需求的鑰匙,娃娃才會停止哭嚎。」
孫慶國表示,這些電子娃娃是向台灣年輕人推廣負責任性行為的理想工具,因為學生一旦了解照顧嬰兒需要費多大的心力,就會對性行為採取更成熟的態度。
(翻譯︰鄭湘儀)
Publication Notes
TODAY'S WORDS 今日單字
1. anatomically correct manikin n. phr.
擬真娃娃 (ni3 zhen1 wa2 wa5)
例: We use anatomically correct manikins in biology class.
(我們的生物課使用符合人體真實結構的娃娃教學。)
2. digital interface n. phr.
數位介面 (shu4 wei4 jie4 mian4)
例: My keyboard has a digital interface.
(我的鍵盤有數位介面。)
3. resounding adj.
響亮的 (xiang3 liang4 de5)
例: He slammed the door with a resounding bang.
(他大聲地摔上門。)
4. corresponding adj.
符合的 (fu2 he2 de5)
例: You have to match the vocabulary words to the corresponding photos.
(你得將單字連結到相對應的圖片。)
Comments will be moderated. Keep comments relevant to the article. Remarks containing abusive and obscene language, personal attacks of any kind or promotion will be removed and the user banned. Final decision will be at the discretion of the Taipei Times.