Lovesick swan moves tonew lake 思春天鵝愛相隨
Germany's oddest couple — a black swan and a bird-shaped pedal-boat that has won its undying love — made a stately departure from a German lake a little over a week ago as winter approached.
Swan Peter — it has not been said whether the swan is male or female — has been stalking the boat, which has a 2-meter-high, white, fiberglass superstructure shaped like a swan, since the springtime on Aasee lake in the city of Muenster in northwest Germany. The pedal-boat can be hired by the hour.
Black swans are native to Australia but there is a small wild population in Europe, where animal protection groups feed both the black and white types during winter when lakes are frozen over.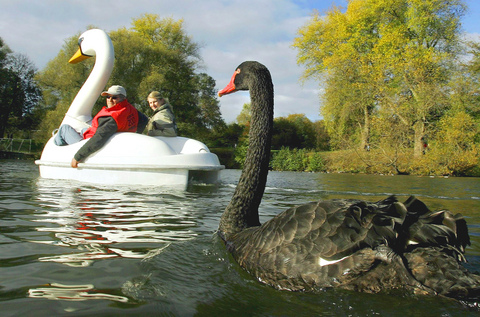 Zoo staff encourage Peter to follow his love all the way to the zoo on Nov. 2.十一月二日前往動物園途中,園方人員鼓勵彼得一路"愛相隨"
PHOTO: EPA
Muenster City Zoo has offered to take in both Peter and its big "friend" for the winter months. The trip to the zoo, navigating along canals and streams, began Thursday Nov. 2 and took a week to complete with the pair arriving safely at the zoo on Nov. 9. Peter dutifully paddled alongside its big hero all the way there.
It is hoped the stay at the zoo may cure Peter's obsession: there are six black swans in the zoo collection.
"Four of them are unmated, so there's hope for Peter yet," said Monika Ewering, a zookeeper.
Park visitors said they had the impression that Peter's affection for the boat was lessening anyway. In recent weeks, the celebrity swan had spent less and less time trailing it and more and more time accepting food gifts from curious tourists at the side of the lake. (DPA)
隨著冬季的到來,德國最奇特的戀人─一隻黑天鵝與一艘贏得永恆之愛的天鵝造型腳踏船,一個多星期前隆重地搬離生活的湖濱。
性向不明的黑天鵝比得自春天以來就一直在德國西北部明斯特的艾汐人工湖裡,默默守候這艘兩公尺高的白天鵝玻璃纖維船。這艘腳踏船可按鐘點租借。
黑天鵝原生於澳洲,但歐洲也有一小群野生黑天鵝,當地的動物保護團體會在冬季湖面結冰時餵養黑白兩種天鵝。
明斯特市立動物園已表示願意收容比得和牠的大「朋友」。這趟遷居之旅於十一月二日星期四展開,途經大小河渠與溪流,十一月九日這對愛侶安然抵達動物園,前後費時一星期。比得一路緊跟在牠的大英雄身邊。
眾人衷心期盼待在動物園裡或許可以治癒比得的迷戀症:園內共飼養了六隻黑天鵝。
動物園管理員莫妮卡?艾威爾因說:「牠們當中還有四隻沒配偶,因此比得還有希望。」
遊園民眾表示,印象中比得對白天鵝船的愛戀正逐漸減少。最近這幾週,這隻名天鵝與白天鵝船「愛相隨」的時間愈來愈少,反倒是在湖邊享受好奇遊客丟贈食物的時間愈來愈多。(德通社/翻譯:林倩如)
Publication Notes
TODAY'S WORDS 今日單字
1. stately adj.
威嚴的 (wei1 yan2 de5) ,隆重的 (long2 zhong4 de5)
例: He surveyed the crowd with a stately air.
(他神態威嚴的環視群眾。)
2. navigate v.i./ v.t
導航 (dao3 hang2)
例: I'll drive; you can navigate. Okay?
(我來開車,你負責看路。沒問題吧?)
3. dutifully adv.
盡職地 (jin4 zhi2 di5)
例: Every Sunday morning Zoe dutifully completes her share of the household chores.
(每個星期天早上柔伊都盡職地做完她份內的家務。)
4. obsession n.
著迷 (zhao2 mi2)
例: Emily's support of the Cardinals is bordering on obsession.
(艾蜜莉對樞機主教的支持近乎著迷。)
Comments will be moderated. Keep comments relevant to the article. Remarks containing abusive and obscene language, personal attacks of any kind or promotion will be removed and the user banned. Final decision will be at the discretion of the Taipei Times.