Taiwan's single Internet users on the rise 台灣單身網路族增多
Fifty-three percent of Internet users in Taiwan are single, giving the country's market for online dating services high potential, a Yahoo Kimo official has announced.
The new figure compares with only 40 percent of users who were single in 2003 and 44 percent in 2004, according to Wu Yuan-ju, head of the public relations department of the company, which is the owner of the largest online dating site in Taiwan.
With the population of singles increasing in Taiwan, approximately three quarters of a million out of 1.42 million Internet users in the country are single, Wu said.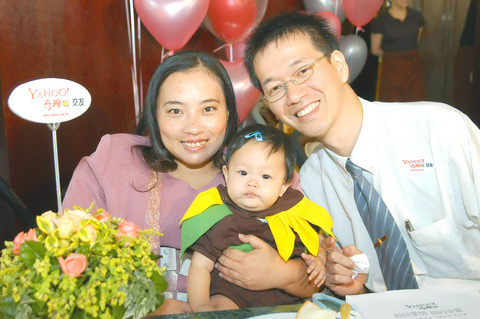 A happy Taiwanese married couple who met through online dating. 一對透過網路交友相識的台灣佳偶。 (照片:台北時報)
PHOTO: TAIPEI TIMES
She said online dating meets the needs of today's people because of what she described as "their limited living scope" which provides them with little time or opportunity to make new friends. Online dating sites can help them screen and match their date partners.
Meanwhile, surveys indicate that 33 percent of users of online dating sites clearly identify their purpose as finding a girlfriend, boyfriend or marriage partner, Wu noted.
Online dating was once viewed with suspicion by many people and concerns were raised about the safety of meeting strangers first contacted online. One of these concerns was the possiblity of serious deception by one of the two parties. However it appears that people have developed some common sense rules to stay safe — such as meeting in public spaces, and always letting a third party be aware of their whereabouts.
She said Yahoo Kimo will hold a "National Singles Day" activity on Nov. 22 for the fourth consecutive year to create an opportunity for Internet users to meet with real people. A similar activity held last year attracted 600 participants and successfully matched seven pairs of lovers, she added.
(Staff Writer with CNA)
雅虎奇摩一名職員表示,台灣有53%的網路族為單身,網路交友服務的市場潛力龐大。
雅虎奇摩公關部主任吳苑如表示,與
這項新數字相較,二○○三年只有40%的使用者是單身,二○○四年則為44%。雅虎奇摩是台灣最大的網路交友網站。
吳苑如指出,台灣單身人口增加,一百四十二萬網路族就有大約七十五萬人是單身。
她表示,網路交友符合今日社會大眾的需要,因為生活圈有限,沒什麼時間和機會交到新朋友,線上交友網站能幫助他們篩選和配對約會對象。
吳苑如同時強調,數份問卷調查顯示33%的交友網站使用者會清楚地表達自己的目的是要找女朋友、男朋友或婚姻伴侶。
許多人曾對網路交友抱持懷疑的態度,對於跟網路認識的陌生人見面的安全也有顧慮,其中一項顧慮是擔心一方可能會有欺騙行為,然而,民眾對於該如何維護自身安全漸漸產生共識,例如,在公共場合見面和確保第三者知道彼此的行蹤。
她表示,雅虎奇摩將在十一月二十二日舉辦第四屆「全國單身日」活動,替網路族製造面對面認識的機會。她補充,去年類似的活動吸引六百名民眾參加,成功配對了七對情侶。
(中央社╱翻譯︰鄭湘儀)
Publication Notes
Today's Words 今天單字
1. online dating n.
網路交友 (wang3 lu4 jiao1 you3)
例:Sally met her husband through an online dating site.
(莎莉透過交友網站認識她丈夫。)
2. limited adj.
有限的 (you3 xian4 de5)
例: My knowledge of classical Chinese literature is limited.
(我對中國古典文學的所知有限。)
3. deception n.
欺騙 (qi1 pian4)
例: Con artists are masters of deception.
(騙徒精通騙術。)
4. whereabouts n.
行蹤 (xing2 zong1)
例: It is important to let your family be aware of your whereabouts when travelling overseas.
(海外旅遊時讓家裡知道你的行蹤很重要。)
Comments will be moderated. Keep comments relevant to the article. Remarks containing abusive and obscene language, personal attacks of any kind or promotion will be removed and the user banned. Final decision will be at the discretion of the Taipei Times.