Necropolis becomes modern museum 死城變身博物館
Builders in Vatican City were hard at work on a parking garage when they made a strange discovery: a well-preserved necropolis that is thousands of years old. As of last week, it is on display as a museum that gives people a window into society and religion in Rome during the time of the emperors. Walkways overlooking the dig allow visitors to view the city of the dead.
Archeologists took three years to uncover about 250 tombs of different shapes and sizes. The tombs range in age from a few years before the life of Jesus Christ to the early fourth century, under the emperors Augustus through Constantine.
The archeologists tried to leave much of the site alone, so that the necropolis can be seen almost exactly how it was found. There are tombs with urns that still hold ashes, and skeletons still lying in the places carved out for them.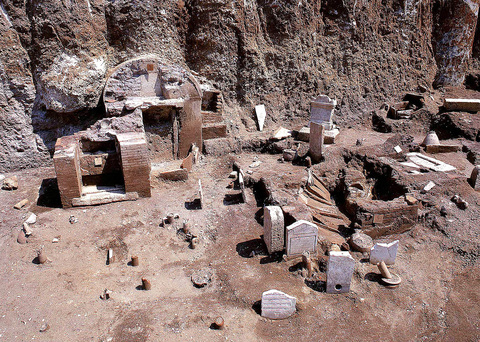 A general view of the ancient necropolis in Vatican City, Rome.羅馬梵蒂岡古墓群全景。 (照片:美聯社)
PHOTO: AP
Coffins belonging to wealthy families lie alongside humble, giving clues to social classes, daily life and the religious upheaval that was rocking Rome at the beginning of Christianity.
Among tombs covered with scenes of hunting lies the simpler tomb of a young horseman who died at age 17. On it are pictures of a philosopher, a woman at prayer under a tree and a bird. Archeologists believe this suggests that the youth and his family belonged to the first generation of Christians.
The site may be visited by appointment on Friday and Saturday mornings.
(AFP)
梵蒂岡城的建築工人在停車場施工時有重大的發現︰保存良好的千年古墓群。上週此遺址以博物館的形式公開展示,提供民眾一扇窺視羅馬帝國時期社會及宗教的窗口,民眾在博物館走道上可俯瞰整個考古遺址。
考古學家花了三年,挖掘出約兩百五十具各式大小棺木,年份自耶穌基督出生前幾年至西元四世紀初,縱貫奧古斯丁到康士坦丁大帝的統治時期。
考古學家試圖保留遺址中多半的文物,儘量維持古墓群出土時的原貌。墓群中的骨灰罈仍存放著骨灰,骨骸也仍置於原位。
富裕家庭和清寒貧戶的靈柩並列,可看出基督教早期的社會階級、日常生活和撼動羅馬帝國的宗教動亂。
覆蓋著狩獵圖的石棺中,有一具風格較簡單的靈柩,是十七歲的青年馬伕之墓,其上畫著一名哲學家和一名婦女在樹和鳥下禱告的景象,考古學家相信這顯示這名青年和家人為第一代的基督徒。
民眾可在星期五及星期六早上預約參觀。
(法新社╱翻譯︰鄭湘儀)
Publication Notes
Today's Word 今日單字
1. preserve v.i. /v.t.
保存 (bao3 cun2)
例: Egyptians made mummies to preserve dead bodies.
(埃及人製作木乃伊保存屍體。)
2. tomb n.
墓 (mu4)
例: The Taj Mahal was built to be the tomb of the king's wife.
(泰姬瑪哈陵是為王妃打造的陵墓。)
3. humble adj.
謙遜的 (qian1 xun4 de5) 、卑微的 (bei1 wei2 de5)
例: He may be powerful and famous now, but that movie star had humble beginnings.
(那名電影明星現在也許聲名和大權雙全,但他出身清寒。)
4. upheaval n.
劇變 (ju4 bian4)
例: When parents divorce, it can be a huge upheaval for a child.
(父母離婚會對孩子產生巨大的衝擊。)
Comments will be moderated. Keep comments relevant to the article. Remarks containing abusive and obscene language, personal attacks of any kind or promotion will be removed and the user banned. Final decision will be at the discretion of the Taipei Times.