Globe trotting: Tunisia 世界走透透 - 突尼西亞
The ancient people who first lived in Tunisia - — as well as much of northwestern Africa — the Berbers, founded the ancient city of Carthage and eventually ruled over parts of Spain. Take a closer look at Tunisia, the country whose modern one-party government is responsible for one of the most progressive stances on women's rights in the region, while at the same time
keeping tight control of information and press freedom.
最早居住在突尼西亞,同時也是最早定居在西北非的柏柏爾人建立了迦太基古城邦,最後統治部分西班牙。深入了解突尼西亞,現今一黨專政的突尼西亞政府,是西北非對女權採取最開明態度,卻是嚴格掌控資訊流通和新聞自由的國家。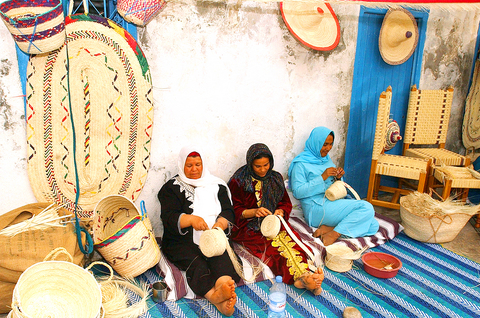 Women make baskets in Gabes, south of Tunis. 婦女們在突尼斯南邊的加貝斯製作竹籃。 (照片:美聯社)
PHOTO: AP
A closer look 說古論今
The land of Tunisia has been passed through the hands of several different cultures over the centuries. The one constant is its involvement in the economic and political lives of the civilizations around it. In ancient times, the city of Carthage was as powerful and prominent as many of its Roman contemporaries. In fact, the navy of Carthage was so powerful that it was considered even better than Rome's. Powerful hatred existed between Carthage and Rome. The Romans even told stories, which may have been true, about Carthage's practice of child sacrifice. Carthage was eventually destroyed by Rome, and stories of its destruction describe Romans as being so angry that they salted the fields around Carthage so that nothing could ever grow in them again.
Since then, Carthage has been influenced by Arabs, Turks, Egyptians and even Europeans. While many people know that Africans were at one time sold to Europeans as slaves, did you know that in ancient Tunisia it was quite normal for a wealthy slave owner to own people who originally came from Europe? Although it was controlled most recently by France, the country became independent over 50 years ago and now has its own constitution and system of electing its leaders. Although many people criticize the country for keeping too much information about its government a secret, some people also praise the government for the rights that it protected for women when the country first became independent in the 1950's.
數百年來,突尼西亞的國土被幾個不同的文化統治,唯一不變的是對週遭文明在經濟和政治方面的影響。古代的迦太基和當時許多羅馬城邦一樣強大顯赫,事實上,甚至有人認為迦太基的海軍比羅馬海軍還具威力。迦太基和羅馬之間有血海深仇,羅馬曾流傳迦太基以孩童獻祭的故事,也許存在幾分真實性。迦太基最後被羅馬毀滅,而記載迦太基末日的故事中描述,極為憤怒的羅馬人為了讓迦太基寸草不生,還在周圍土地灑上鹽巴。
自此之後,迦太基就一直受到阿拉伯、土耳其、埃及甚至歐洲人的影響。許多人都知道非洲人曾經被賣到歐洲當奴隸,但你可知道,在古代的突尼西亞,富裕的主人擁有來自歐洲的奴隸是件稀鬆平常的事?雖然突尼西亞近代多受法國管轄,但如今已獨立逾半世紀,並且擁有自己的憲法和選舉制度。儘管許多人批評突尼西亞過度掌控政府資訊,部分人士仍對於它在一九五○年代首次宣布獨立時捍衛女權的態度予表肯定。
(翻譯︰鄭湘儀)
Publication Notes
About Tunisia 國家概況
Size: 163,610km2, more than four times the size of Taiwan
Location: Northern Africa
Border countries: Algeria, Libya
Capital: Tunis
Population: 10,175,014
Languages: Arabic and French
Government: Republic
Currency: One Tunisian dinar is worth about NT$25.
面積:十六萬三千六百一十平方公里,比台灣四倍大。
位置:北非
鄰國:阿爾及利亞、利比亞
首都:突尼斯
人口:一千零一十七萬五千零一十四人
官方語言:阿拉伯與和法語
政體:共和政體
貨幣:一突尼西亞第納爾約值新台幣二十五元
Comments will be moderated. Keep comments relevant to the article. Remarks containing abusive and obscene language, personal attacks of any kind or promotion will be removed and the user banned. Final decision will be at the discretion of the Taipei Times.