Old lady fined for walking slowly 老婦人因慢行被罰款
An 82-year-old woman received a US$114 (NT$3,700) ticket for taking too long to cross a street in California.
Mayvis Coyle said she began shuffling with her cane across a busy road when the light was green, but was unable to make it to the other side before it turned red.
She said the police officer who ticketed her on Feb. 15 told her she was obstructing traffic.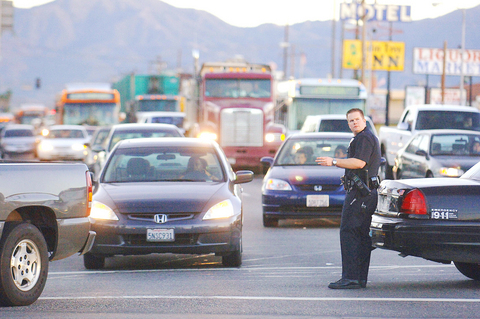 A Los Angeles policeman directs traffic. 一名洛杉磯警察在指揮交通。 (照片:美聯社)
PHOTO: AP
``I think it's completely outrageous,'' said Coyle. ``He treated me like a six-year-old, like I don't know what I'm doing.''
Los Angeles policeman Mike Zaboski said police are trying to be tough on people who improperly cross streets because the number of pedestrian accidents has been above normal. He said he could not comment on Coyle's ticket other than to say that it is her word against that of the officer.
``I'd rather not have angry pedestrians,'' Zaboski said. ``But I'd rather have them be alive.''
Others, however, supported Coyle's claim that the light where Coyle crossed the street does not give people enough time to cross the five-lane street.
``I can go halfway, then the light changes,'' said Edith Krause, 78, who uses an electric cart because she has difficulty walking. These women are not the only people who have trouble making it across the street. Sometimes the light changes too quickly even for high school students to make it across without running. It can go from green to red in 20 seconds.
Councilwoman Wendy Greuel said she has asked transportation officials to figure out how to accommodate elderly people.
``We should ... accommodate their needs in intersections,'' she said. (AP)
加州一名八十二歲婦人因過馬路太慢,而收到一張一百一十四美元(新台幣三千七百元)的罰單。
梅薇絲.克歐說,轉綠燈後,她就開始拄著拐杖拖著腳步,走過繁忙的馬路,卻無法在變紅燈前走到對面。
她表示警察在二月十五日開了她一張罰單,說她阻礙交通。
克歐說:「我覺得這簡直太過分了!他把我當六歲小孩看待,好像我不知道自己在做什麼。」
洛杉磯警員麥克*沙鮑斯基表示,因為行人交通事故過高,警方正強力取締不當穿越馬路的行人。他對於開克歐罰單一事不予置評,只表示雙方各執一辭。
他說:「我不願惹惱行人,但我更希望他們活著。」
不過有人支持克歐的說法,指出克歐過馬路的紅綠燈沒有給民眾足夠時間穿越五線道的馬路。
今年七十八歲,因不良於行而使用電動車的伊蒂絲*克羅斯說:「我過馬路才過一半,燈就變了。」不只這些婦人過馬路有困難,有時燈變得太快,甚至高中生不用跑得都走不到對面,因為綠燈在二十秒之內就會變紅燈。
女議員溫蒂*葛兒表示已要求交通局官員設法顧及年長者需要。
她說:「我們應該考量到他們過馬路時的需求。」
(美聯社/翻譯:鄭湘儀)
Publication Notes
Today's Words 今天單字
1. shuffle v.i./v.t. 拖著腳走 (tuo1 zhe5 jiao3 zou3) 例:When Lynn is sick, she shuffles around her apartment all day in her slippers. (琳恩生病時,會整天在公寓裡穿著拖鞋,拖著腳走來走去。) 2. obstruct v.t. 阻塞 (zu3 se4) 例:If your drain is clogged, you need to remove whatever is obstructing the flow of water. (如果排水管堵住,你應該清除任何阻塞水流的東西。) 3. pedestrian adj./n. 行人 (xing2 ren2) 例:The pedestrian traffic in that shopping area is very heavy. (那個購物區的行人流量很大。) 4. accommodate v.t. 提供 (ti2 gong1)、考慮到 (kao3 lu4 dao4) 例:If you get a dog, you must accomodate its needs in your life. (如果你有隻狗,就必須在你的生活中顧及牠的需要。)
Publication Notes
Reading Comprehension
閱讀測驗
1. Why was Mayvis Coyle fined US$114? a. She drove her car through a red light. b. She walked across the street too slowly. c. She rode her motorcycle too slowly. 2. Why are the police being tough on pedestrians? a. There have been more pedestrians involved in accidents than there normally are. b. There have been more traffic accidents than normal. c. There have been more slow pedestrians than normal. 3. Coyle says that ... a. the traffic laws are for six-year-olds. b. she can only make it halfway across the street. c. the light changes too quickly. 4. Who has the light been too fast for? a. Only eldery people. b. Only six-year-olds. c. Elderly people and high school kids.
Comments will be moderated. Keep comments relevant to the article. Remarks containing abusive and obscene language, personal attacks of any kind or promotion will be removed and the user banned. Final decision will be at the discretion of the Taipei Times.