Setting up your house for luck
Bring yourself good luck during the New Year! Want to get a good start to 2006 and make it a year of prosperity? Let us show you some easy ways to turn yourself into a master of good luck.
新年來,開運自己來!二○○六年,想要討個好兆頭,從年頭一路旺到年底嗎?讓我們教你輕輕鬆鬆做自己的開運大師!
1. If the energy at your house is weak, you can put some fresh flowers on both sides of your front door to help strengthen its vitality.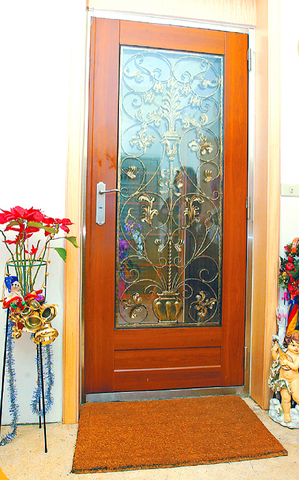 PHOTOS: LIN WEI-YAN, TAIPEI TIMES
一.如果住家的氣勢較弱,可以在門口兩邊放些當令的鮮花,有助於提振運勢。
2. Hanging a gourd on the wall next to your front door is thought to bring wealth and fortune.
二.在大門口旁可以掛上一個葫蘆,一般認為可招財納福。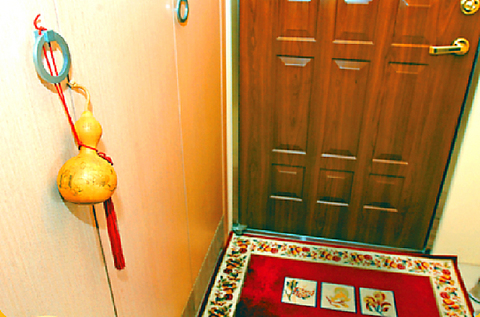 3. Place some fresh flowers right inside the entrance to your house. For example, purple orchids symbolize riches, so displaying lots of them will improve your prestige.
三.正對門口處,也可以放些當令的鮮花,譬如紫色蘭花代表貴氣,要你貴氣自起。
4. Put five small teapots on a shelf in the living room facing the door. Arrange the teapots so that the spouts are all facing the door to bring the traditional "5 kinds of good fortunes to your door."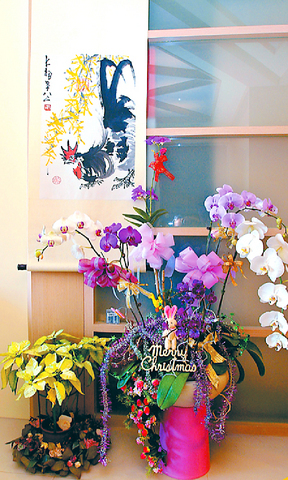 四.客廳面對門的櫃子,可以放五個小茶壺,讓壺口一致面對大門,取「五福臨門」之意。
5. If you put the teapots on a red mat and put a dragon coin in front of each one, you will find wealth wherever you turn. You can also use a NT$50 coin instead of the dragon coin.
五.在茶壺下面墊紅色的茶墊,讓壺口面對龍銀,取「福在眼前」的吉祥意。龍銀也可以用五十元硬幣代替。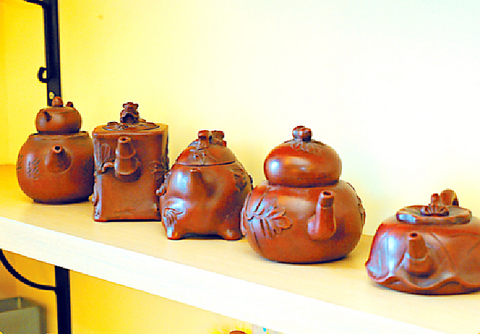 6. Put a big, white pomelo on a mat in your living room. Write the word "you" (to have) on the bottom part of the fruit, and put it in the east to bring prosperity. If there are children in your house preparing for exams, you can put the pomelo in the south -- the direction of "Wenchang," the god of literature and scholars -- to bring them success.
六.客廳可以放置一顆大白柚,下面墊張墊子,在大白柚底部上下各寫一個「有」字,放在東方有催財之意。家中若有小孩準備考試,也可以把大白柚放在正南方,即文昌位。
7. If you want to get everything you desire during the new year, put two fresh persimmons beside a "ruyi," a kind of Chinese symbolic device. You can also display four small glass pigs to symbolize prosperity.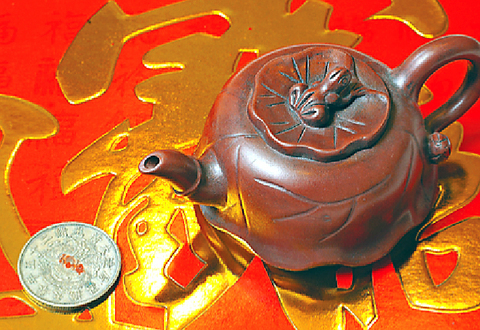 七.希望新的一年事事如意,可以在傳統吉祥物「如意」旁,放兩顆新鮮的柿子;或是擺四隻玻璃小豬,取「諸事如意」的好兆頭。
Translated by marc langer

藍孟翔翻譯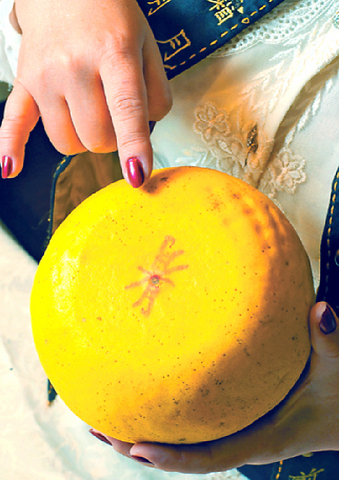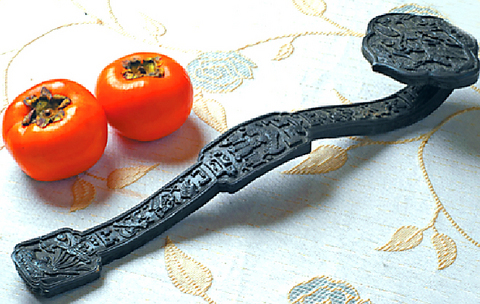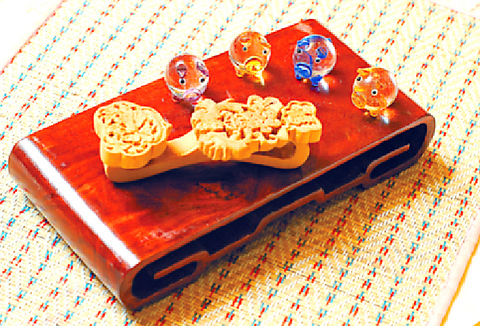 Comments will be moderated. Keep comments relevant to the article. Remarks containing abusive and obscene language, personal attacks of any kind or promotion will be removed and the user banned. Final decision will be at the discretion of the Taipei Times.