Pucker up
Have you ever seen a fish make this face?
If you see it on a human, it might mean they want to be kissed. Or, if that person is in the water like these fish are, it might mean they are trying to breathe.
But fish don't breathe air, and they don't use their mouths to breathe.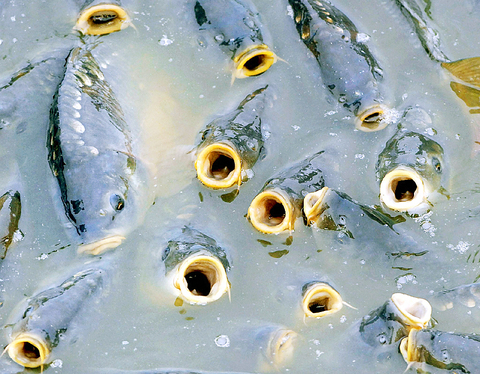 PHOTO: EPA
Fish breathe underwater, through slits on the sides of their bodies called gills.
Maybe these fish want to kiss the person taking their picture, but probably not. Fish usually make this face when they are hungry and they think there is food nearby.
Next time you're hungry, try making this face and see if it works!
Publication Notes
Do you know?
FISH FOOD These fish are called carp. Many countries think these fish are very troublesome, but not the Czech Republic. In that country, many carp are being caught this time of year. Many people in the Czech Repulic like to eat carp around Christmastime.
Publication Notes
The words of the day
to pucker up 皺成一團 (zhou4 cheng2 yi4 tuan2) When Tara ate the sour candy, her mouth puckered up like a fish's. 泰拉吃這顆酸糖果時,嘴巴皺得像魚嘴一般。 gill 鰓 (sai1)
Comments will be moderated. Keep comments relevant to the article. Remarks containing abusive and obscene language, personal attacks of any kind or promotion will be removed and the user banned. Final decision will be at the discretion of the Taipei Times.