Thirty premature babies evacuated from Gaza hospital
More than 30 premature babies were yesterday evacuated from Gaza's largest hospital, a health official from the Hamas-run territory said, as Israel's army struck more targets in its war on the Palestinian militant group.
The WHO scrambled to evacuate the last remaining patients and staff from Al-Shifa Hospital, describing it as a "death zone" after UN officials visited the facility raided earlier this week by Israeli troops.
Mohammed Zaqut, director general of Gaza's hospitals, said that "all 31 premature babies in Al-Shifa Hospital ... have been evacuated," along with three doctors and two nurses.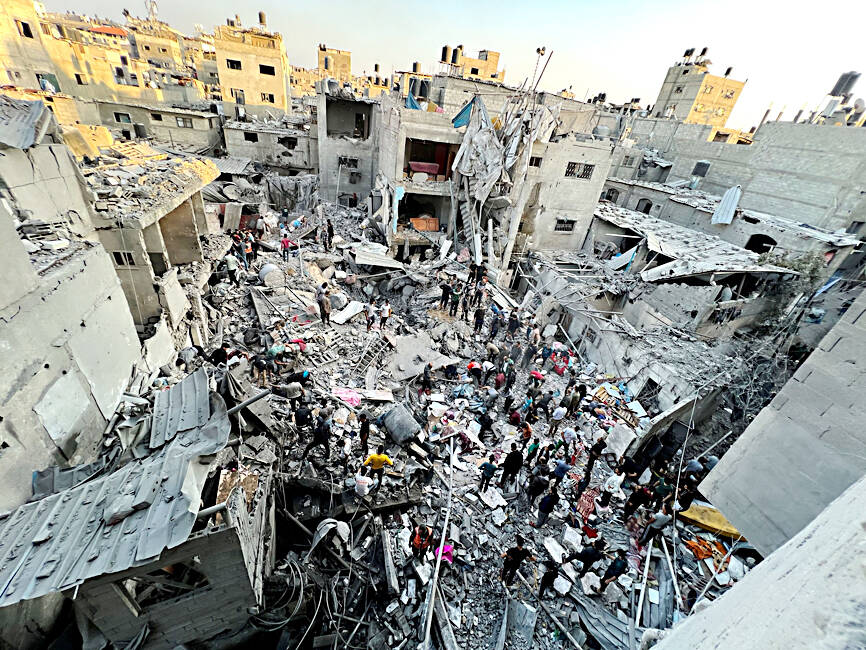 People search for casualties at the site of Israeli strikes on houses in the Jabalia refugee camp, amid the ongoing conflict between Israel and Hamas, at Indonesia Hospital in the northern Gaza Strip on Saturday.
Photo: Reuters
"Preparations are under way" for them to enter Egypt via the Rafah crossing, Zaqut said.
Elsewhere in northern Gaza, a Hamas health official said that more than 80 people were killed on Saturday in twin strikes on Jabalia refugee camp, the territory's largest, including on a UN school sheltering displaced people.
Israel has vowed to destroy Hamas over Oct. 7 attacks that it says killed 1,200 people and ended with 240 hostages taken, in the worst-ever onslaught on the country.
In Gaza, the Hamas government says 12,300 have been killed in Israel's relentless aerial bombardment and ground operations.
Most of the casualties on both sides are civilians.
Israel on Saturday said that its military was "expanding its operational activities in additional neighborhoods ... of the Gaza Strip," where the UN says about 1.6 million people have been internally displaced by more than six weeks of fighting.
The narrow Palestinian enclave, under a crippling blockade since Hamas took power in 2007, has been under an Israeli siege since the war erupted, leaving food, water, medicine and fuel in short supply.
The fighting has rendered more than half of Gaza's 36 hospitals nonfunctioning by shortages, combat or damage, the UN has said.
The WHO yesterday described dire conditions at Gaza City's Al-Shifa Hospital, with a mass grave at the entrance and nearly 300 patients left inside with 25 health workers.
It said it was planning "the immediate evacuation of the remaining patients, staff and their families."
However, it said that nearby facilities were already overstretched and urged an immediate ceasefire given the "extreme suffering of the people of Gaza."
Israel has told Palestinians to move south for their safety, but deadly strikes continued there, too.
At least 26 people were killed in a strike that hit a residential building on Saturday, the director of Nasser Hospital in Khan Yunis said.
UN Relief and Works Agency for Palestine Refugees head Philippe Lazzarini said he had seen "horrifying images" of Saturday's strike on the UN school in Jabalia, which Egypt called a "war crime."
The Israeli army said "an incident in the Jabalia region" was under review without elaborating.
The White House on Saturday denied a Washington Post report of a tentative agreement to free women and children held hostage in Gaza in exchange for a pause in fighting.
Qatari Prime Minister Mohammed bin Abdulrahman Al Thani yesterday said a deal to free hostages hinges on "very minor" practical issues, without elaborating.
Comments will be moderated. Keep comments relevant to the article. Remarks containing abusive and obscene language, personal attacks of any kind or promotion will be removed and the user banned. Final decision will be at the discretion of the Taipei Times.