Japanese PM visits Manila to boost defense ties in face of PRC aggression
SECURITY AID PACKAGE: A highlight of Fumio Kishida's visit is to be the launch of Japanese security assistance for friendly militaries — with Manila being the first recipient
Japan's prime minister yesterday began a two-day visit to the Philippines, where he is expected to announce a security aid package and upcoming negotiations for a defense pact in a bid to boost Tokyo's alliances in the face of China's alarming assertiveness in the region.
After a red-carpet welcome at the Malacanang Palace in Manila, Philippine President Ferdinand Marcos Jr was set to hold talks with Japanese Prime Minister Fumio Kishida on bolstering overall relations, primarily defense ties. China's increasingly aggressive actions in the South China Sea would be high in the agenda, Philippine officials said.
Two weeks ago, China's ships separately blocked then hit a Philippine Coast Guard vessel and a supply boat near the disputed Second Thomas Shoal (Renai Shoal, 仁愛暗沙) in the South China Sea. Japan immediately expressed its strong support to the Philippines and the US renewed its warning that it is obligated to defend its treaty ally if Filipino forces come under an armed attack in the contested waters.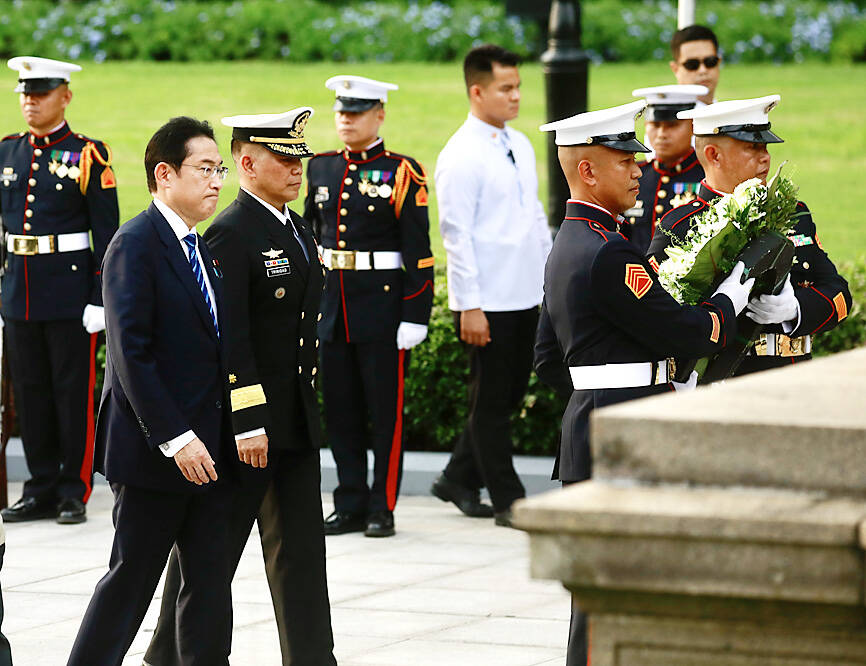 Japanese Prime Minister Fumio Kishida, second left, attends a wreath-laying ceremony to honor Philippine national hero Jose Rizal at Luneta Park in Manila yesterday.
Photo: EPA-EFE
Kishida today is to become the first Japanese prime minister to address a joint session of the Philippine Congress, underlining how ties have transformed since Japan's brutal occupation of the Philippines in World War II.
Kishida said in a departure speech in Japan that he would outline Japan's diplomatic policy for Southeast Asian nations, including the Philippines.
"I hope to confirm our pursuit toward a world where the free and open international order based on the rule of law is maintained and human dignity is protected," he said.
He is scheduled today to visit a Japanese-funded Manila subway project and board one of a dozen Japanese-built coast guard patrol ships, before leaving for Malaysia.
"We look forward to the address of a leader of a nation that is a robust trading partner, a strong security ally, a lending hand during calamities and an investor in Philippine progress," Philippine Senate President Juan Miguel Zubiri said.
Kishida's government has unveiled plans to build up its security and defense.
Under the new strategy, Japan is to utilize its huge development aid to support efforts by poorer nations such as the Philippines to strengthen their security capabilities and improve safety at sea as China flexes its military muscle in the region.
Those objectives dovetail with Marcos' thrust to strengthen his nation's external defense after a series of tense confrontations between Chinese and Philippine ships in the disputed South China Sea.
A highlight of Kishida's visit would be the launch of Japanese security assistance for friendly militaries in the region — with the Philippines as the first recipient, a Japanese official said without elaborating.
The official spoke at a briefing on condition of anonymity set by the Japanese Ministry of Foreign Affairs. The new security aid would likely be used to provide Japanese-made non-lethal equipment such as radars, antennas, small patrol boats or infrastructure improvements, rather than advanced weapons.
Kishida and Marcos are also expected to announce an agreement to start negotiations for a defense pact called the Reciprocal Access Agreement, the official said.
Such a defense agreement would allow Japanese and Philippine troop deployments to one another for military exercises and other security activities that could serve as a deterrent to aggression in the region, including joint patrols in the South China Sea.
Comments will be moderated. Keep comments relevant to the article. Remarks containing abusive and obscene language, personal attacks of any kind or promotion will be removed and the user banned. Final decision will be at the discretion of the Taipei Times.