Lawmakers eye higher fines for working for CCP
Lawmakers on Thursday said they are to propose an amendment to increase the maximum financial penalties for Taiwanese working for Beijing to NT$1 million (US$30,957) in a bid to counter China's "united front" activities.
Taiwanese may not work for the Chinese Communist Party (CCP) or any Chinese military, administrative or political entities according to Article 33 of the Act Governing Relations Between the People of the Taiwan Area and the Mainland Area (臺灣地區與大陸地區人民關係條例).
The ban applies to employment in Chinese entities that compromise the employee's loyalty or national identity, engage in "united front" work or undermine national security, the Mainland Affairs Council says.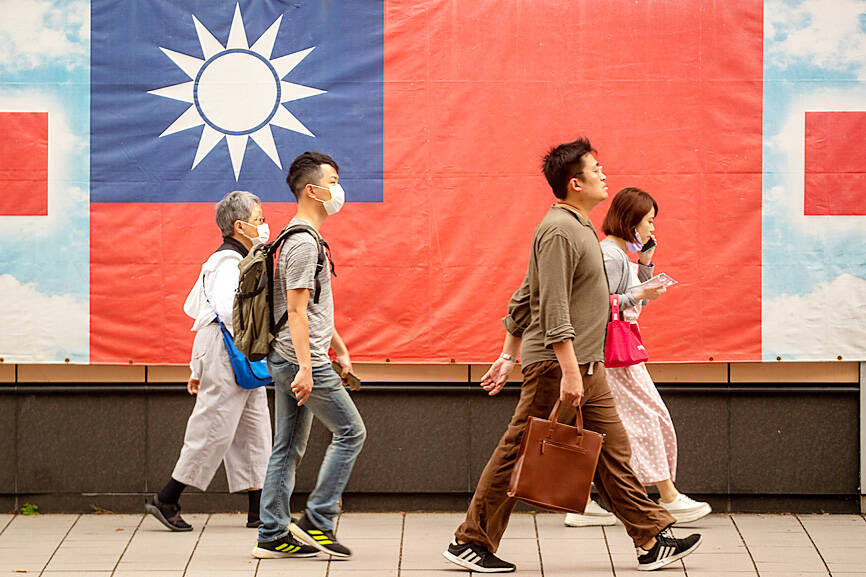 People walk past the national flag in Taipei on April 6.
Photo: Ritchie B. Tongo, EPA-EFE
Democratic Progressive Party legislators Michelle Lin (林楚茵), Kuo Kuo-wen (郭國文) and Lai Jui-lung (賴瑞隆) and independent Legislator Freddy Lim (林昶佐) said the NT$500,000 to NT$1 million fine currently stipulated is too low to act as a deterrent.
The economy has grown significantly since Article 33 was written nearly 20 years ago, with GDP per capita increasing from NT$14,066 to NT$32,756, the lawmakers said, adding that the doubling of income lessened the impact of the penalty.
Citing government data, they said Article 33 breaches most frequently involve Taiwanese accepting positions in China's National Committee of the Chinese People's Political Consultative Conference, the National People's Congress or as an executive at a Chinese enterprise.
These positions have high remuneration and confer a significant amount of political power, further justifying the case for increasing the fine, they said.
The proposed change to Article 33 has gathered enough signatures from lawmakers to be introduced as a bill, which was expected to happen yesterday, the lawmakers said.
Lin said the penalty should be increased to enhance the law's deterrence in light of rising tensions across the Taiwan Strait and Beijing looking to interfere in next year's presidential and legislative elections.
Comments will be moderated. Keep comments relevant to the article. Remarks containing abusive and obscene language, personal attacks of any kind or promotion will be removed and the user banned. Final decision will be at the discretion of the Taipei Times.