Some to still benefit from power price freeze: source
The Ministry of Economic Affairs' electricity price review committee is expected to keep electricity prices frozen for certain businesses and establishments next month to prevent affecting general consumer prices, a source said yesterday.
A drop in international fuel prices, decreased demand and a Taiwan Power Co (Taipower, 台電) capital infusion would be the main reasons for maintaining a freeze on power prices at its meeting on Tuesday, said the source, speaking on condition of anonymity.
The ministry hiked power prices for industrial users by 15 percent in July last year and 17 percent in April.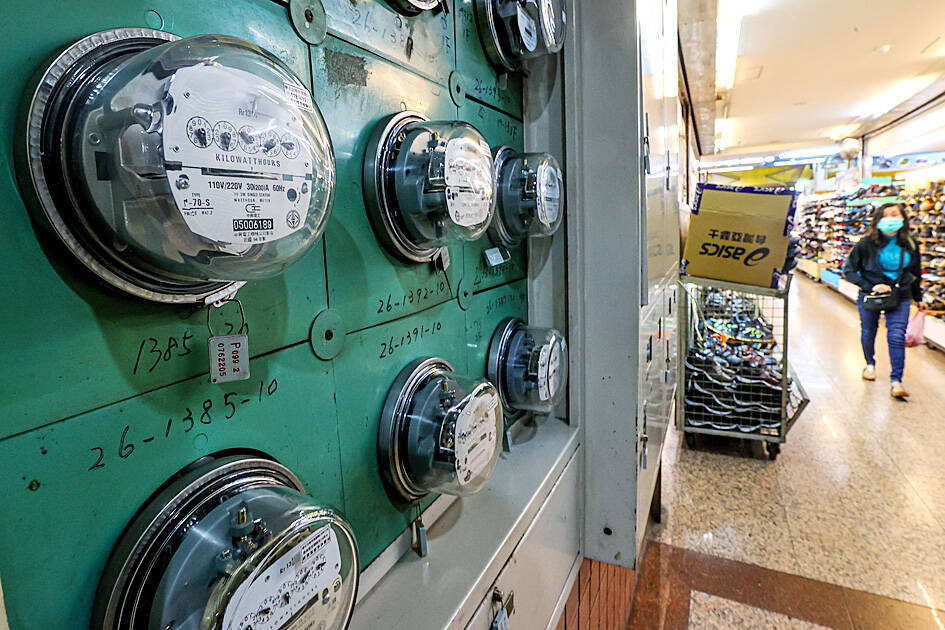 Electricity meters in Taipei are pictured in an undated photograph.
Photo: CNA
However, considering the impact that such policies have, the ministry at the time did not hike prices for businesses that produce products or offer services for domestic needs, and only raised prices half as much for the textile and metals industries in April.
At the committee's meeting, it is highly possible that while schools, public welfare facilities, small restaurants, small stores and markets would not be charged more for electricity, cinemas, gyms, department stores and large restaurants would see power prices return to normal, the source said.
Taipower's capital infusion from the government might lead to unfairness due to oversubsidizing, resulting in the committee likely lifting the price freeze for industries that are recovering noticeably in the post-COVID-19 era, the source said, adding that about 880 establishments could be affected.
They said that the price freeze would continue to benefit about 120,000 establishments.
Taipower is expected to report an increase in annual revenue of NT$1.6 billion (US$50.11 million) due to the policy, the source added.
Comments will be moderated. Keep comments relevant to the article. Remarks containing abusive and obscene language, personal attacks of any kind or promotion will be removed and the user banned. Final decision will be at the discretion of the Taipei Times.