Kim to visit Russia as US warns of arms deal
North Korean leader Kim Jong-un is to meet Russian President Vladimir Putin in Russia's far east as the US warns that Pyongyang might provide Moscow arms for its war with Ukraine.
Kim is to travel to Vladivostok and visit Putin during the annual Eastern Economic Forum, which is to be held from Sunday to Wednesday next week, a person familiar with the plans said.
The US earlier said Kim expected "leader-level talks" with Putin as he seeks weapons, and that arms negotiations between the two nations were "actively advancing."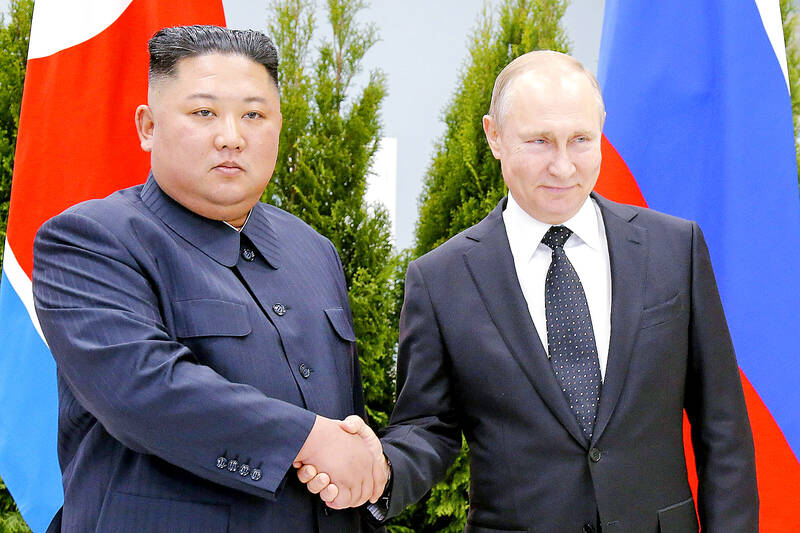 Russian President Vladimir Putin, right, and North Korean leader Kim Jong-un shake hands during their meeting in Vladivostok, Russia on April 25, 2019.
Photo: AP
Putin and Kim held their first official meeting in April 2019, when the North Korean leader traveled to Vladivostok on an armored train across his country's border with Russia.
While the 2019 meeting touched on the breakdown of nuclear disarmament talks between North Korea and the US, the upcoming visit is likely to be colored by Russia's invasion of Ukraine.
The discussions would be focused on the development of the cooperation between the nations, a person familiar with the plans said.
Kim and Putin have been exchanging letters and Russian officials visited Pyongyang to discuss possible arms deals, US National Security Council spokesman John Kirby said.
Russia in July also proposed joint naval drills with North Korea and China, Yonhap News reported, citing South Korea's spy agency, though there was no indication of whether Kim accepted the offer.
The New York Times earlier reported the North Korean leader could travel to Russia as early as next week.
The Kremlin did not immediately respond to a request for comment.
Putin's spokesman Dmitry Peskov declined to comment on the reports about the visit during his daily briefing, reports from Russian news services said.
The White House has said the weapons North Korea can provide Russia would not significantly alter the situation on the battlefield. The most likely weapons Pyongyang could send would be artillery shells, artillery rockets and anti-tank missiles.
In return, Kim is seeking Russian help on advanced technology, including for satellites and submarines, as well as food aid, the New York Times report said, citing US officials.
Comments will be moderated. Keep comments relevant to the article. Remarks containing abusive and obscene language, personal attacks of any kind or promotion will be removed and the user banned. Final decision will be at the discretion of the Taipei Times.