Debt talks productive, Biden says
US President Joe Biden and House Of Representatives Speaker Kevin McCarthy on Monday both said they had a productive debt ceiling discussion at the White House, but there was no agreement as negotiators strained to raise the nation's borrowing limit in time to avert a potentially chaotic federal default.
It is a crucial moment for the Democratic president and the Republican speaker, just 10 days before a looming deadline to raise the debt limit.
As soon as Thursday next week, US Secretary of the Treasury Janet Yellen said in a letter to US Congress, "it is highly likely" the government would be unable to pay all the nation's bills.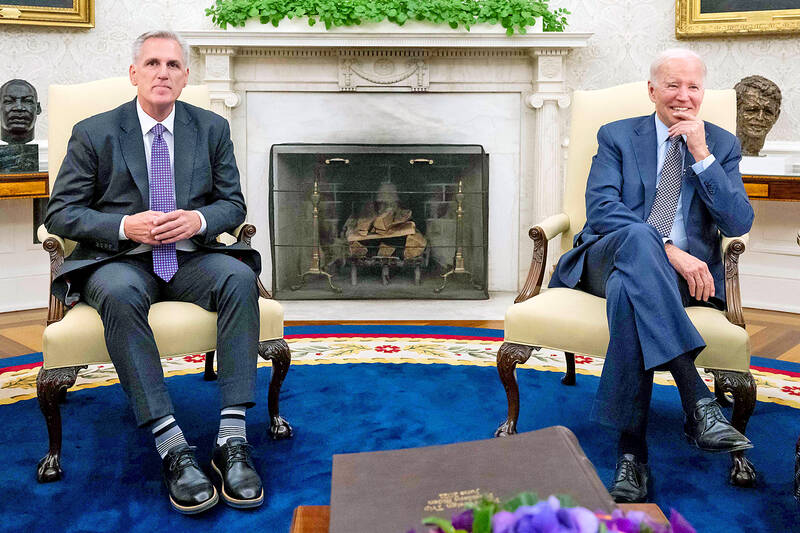 US President Joe Biden, right, meets with US House of Representatives Speaker Kevin McCarthy about the debt ceiling in the Oval Office of the White House in Washington on Monday.
Photo: AFP
Such an unprecedented default would be financially damaging for many Americans and others around the world relying on US stability, sending shock waves through the global economy.
Each side praised the other's seriousness, but basic differences remained. They are at odds over how to trim annual budget deficits.
Republicans are determined to cut spending, while Biden's team offered to hold spending levels flat. Biden wants to increase some taxes on the wealthiest Americans and some big companies, but McCarthy said early on that is out of the question.
"The time of spending, just spending more money in America and government is wrong," McCarthy said after the Oval Office meeting.
In a brief post-meeting statement, Biden called the session productive, but merely added that he, McCarthy and their lead negotiators "will continue to discuss the path forward."
Upbeat, McCarthy said their teams would work "through the night."
Biden said all agreed that "default is not really on the table."
Although there is no agreement on basic issues, the contours of a deal seem within reach. A budget deal would unlock a separate vote to lift the debt ceiling, now US$31 trillion, to allow more borrowing.
Negotiations are focused on finding a compromise over a budget year cap next year that would be key to resolving the standoff. Republicans insisted next year's spending be less than it is now, but the White House instead offered to hold spending flat at this year's numbers.
Republicans initially sought to roll back next year's spending to last year's levels and impose a 1 percent cap on spending growth for 10 years, though a later proposal narrowed that to about six years.
The White House wants a two-year budget deal, keeping next year's spending flat. It proposed a 1 percent cap on spending growth for 2025, according to a person familiar with the talks and granted anonymity to discuss them.
A compromise on those top-line spending levels would enable McCarthy to deliver for conservatives, while not being so severe that it would chase off the Democratic votes that would be needed in the divided US Congress to pass any bill.
"We're going to find a baseline that we agree to that will be less than what we spent this year," McCarthy said at the Capitol.
Time is getting short.
The House speaker promised lawmakers he would abide by the rule to post any bill for 72 hours before voting, making any action doubtful until the end of the week — just days before the potential deadline. The US Senate would also have to pass the package before it could go to Biden's desk to be signed into law.
Comments will be moderated. Keep comments relevant to the article. Remarks containing abusive and obscene language, personal attacks of any kind or promotion will be removed and the user banned. Final decision will be at the discretion of the Taipei Times.