Ex-Pakistan PM vows to appear in court after clashes
Former Pakistani Prime Minister Imran Khan yesterday vowed to appear in court today, after skipping hearings in the past few days, potentially setting the scene for further political unrest.
Supporters battled with security forces outside the former cricket star's private residence in Lahore, Pakistan, this week, as police attempted to arrest him. He faces charges of failing to disclose funds received from the sale of state gifts when he was in prime minister.
"The government, I'm afraid, wants to put me in jail," Khan said in an interview with Bloomberg Television, while repeating allegations that his successor was involved in an attempt on his life in November last year.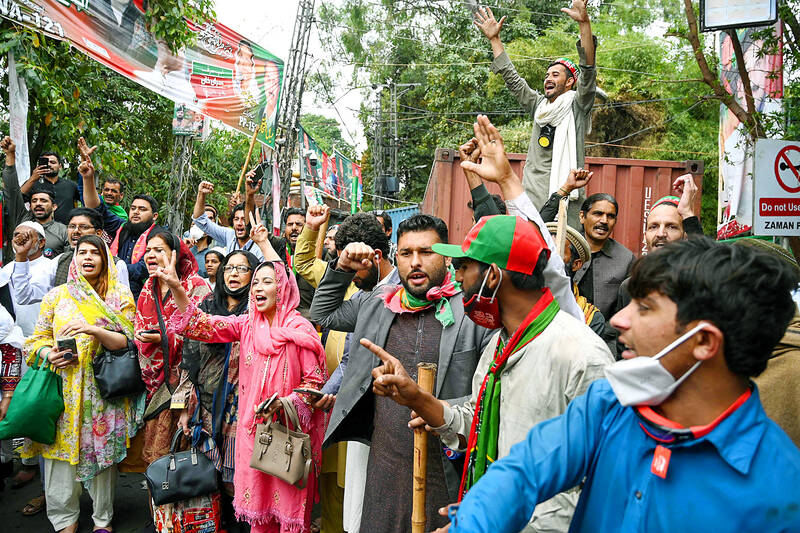 Supporters of former Pakistani prime minister Imran Khan guard his residence in Lahore, Pakistan, yesterday.
Photo: AFP
"On Saturday, I plan to be in Islamabad to present myself in front of the court," he said.
The administration of Pakistani Prime Minister Shehbaz Sharif has repeatedly denied any involvement in the assassination attempt, or that the charges are a move to silence Khan ahead of elections expected later this year.
Sharif has said his focus is on securing bailout loans from the IMF, adding that he would serve out his term, which ends in August.
Khan is attempting to build a media narrative to evade court scrutiny of corruption allegations, Pakistani Minister for Information and Broadcasting Marriyum Aurangzeb said yesterday.
"Khan has lost his credibility in what he says and what the actual reality is," she said.
Khan's ouster from office in April last year sparked a fresh bout of political instability in Pakistan.
Khan, 70, has skipped several court appearances, citing risks to his safety, and has been largely confined to his home in Lahore since he was shot and wounded in the leg during a rally in November.
However, he has led massive street protests aimed at pressuring Sharif to call snap elections.
The Sharif administration is "petrified we're going to sweep the elections," Khan said.
"If I felt that this government could really solve our economic problems and lift our country out of this quagmire, I would let them continue," he added.
A majority of Pakistanis surveyed in an opinion poll published last week blamed the Sharif administration for the economic crisis, after it enacted tough reforms in the past few weeks, such as raising energy prices and taxes.
Khan, who was prime minister for four years, downplayed the difficulty of raising taxes to meet the IMF aid conditions.
It is harder to broaden the tax base and restructure state-run companies, he said, adding that the government needs a mandate from the public to take those decisions.
Comments will be moderated. Keep comments relevant to the article. Remarks containing abusive and obscene language, personal attacks of any kind or promotion will be removed and the user banned. Final decision will be at the discretion of the Taipei Times.