Agricultural exports a priority: Tsai
BILATERAL TALKS: A trade initiative with Washington is a way for Taiwan to trade top-quality agricultural items with the US to help local farmers, the president said
The government will prioritize exports of Taiwanese agricultural products to the US market in bilateral talks on the implementation of the US-Taiwan Initiative on 21st-Century Trade, President Tsai Ing-wen (蔡英文) said yesterday.
Tsai made the remarks during a visit to the Dasian Temple (大賢 宮) in Nantou County's Mingjian Township (名間) on the second day of the Lunar New Year, where she offered prayers for the new year and handed out red envelopes.
Tsai said the government would aim to "systematically improve rural infrastructure, especially water conservation and irrigation systems, so that farmers can grow better crops more easily."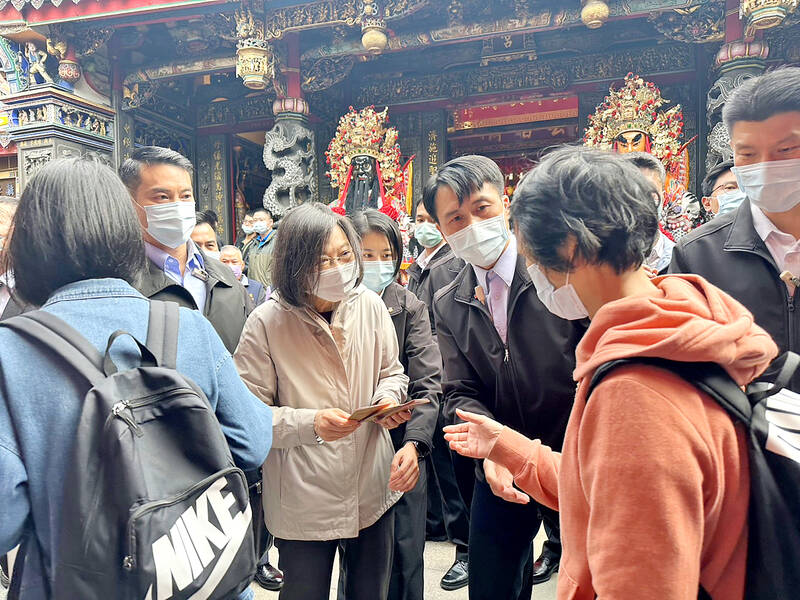 President Tsai Ing-wen, third left, hands out red envelopes during Lunar New Year celebrations at the Tzu Chi Temple in Taichung yesterday.
Photo: CNA
The government is also looking at ways to help small and medium-sized enterprises reduce labor costs through the use of smart technology, she said.
The most important task now for Taiwan is to expand trade in the international agricultural market, she said, adding that the government sees the trade initiative as a way for Taiwan to trade top-quality agricultural products with the US.
"This is a priority project for us. We hope to market good agricultural products to the world, at good prices," she said.
Taiwan and the US last week wrapped up their latest round of talks in Taipei under the trade initiative, which was launched in June last year.
The Office of Trade Negotiations has said it aims to complete talks with Washington in the areas of trade facilitation, combating corruption, small and medium-sized enterprises, good regulatory practices and the domestic regulation of services.
It added that it hoped to announce the results of those talks before the APEC summit is held in the US later this year.
Separately, Vice President William Lai (賴清德), the new chairman of the Democratic Progressive Party, yesterday morning visited New Taipei City's Guangji Temple (廣濟宮), Wugu Siandi Temple (五穀先帝廟), Jian Temple (濟安宮) and Zhennan Temple (鎮南宮) as part of his nationwide temple visits during the Lunar New Year holiday.
While giving out red envelopes at the temples, Lai said he hoped that in the coming year, companies and the general public would demonstrate wit and prudence in the face of "poor international economic conditions, geopolitical changes and the threat of authoritarianism."
Additional reporting by CNA
Comments will be moderated. Keep comments relevant to the article. Remarks containing abusive and obscene language, personal attacks of any kind or promotion will be removed and the user banned. Final decision will be at the discretion of the Taipei Times.