US brands Wagner paramilitary group a 'criminal' entity
The US on Friday designated Russia's Wagner group as a "transnational criminal organization," piling pressure on the private Russian army fighting in Ukraine.
US National Security Council spokesman John Kirby said Wagner, controlled by Yevgeny Prigozhin, a businessman close to Russian President Vladimir Putin, has about 50,000 fighters in Ukraine, 80 percent of them drawn from prisons.
Kirby showed US intelligence photographs of North Korea supplying arms to Wagner for its Ukraine operations, and said the private army has become a rival to the formal Russian military.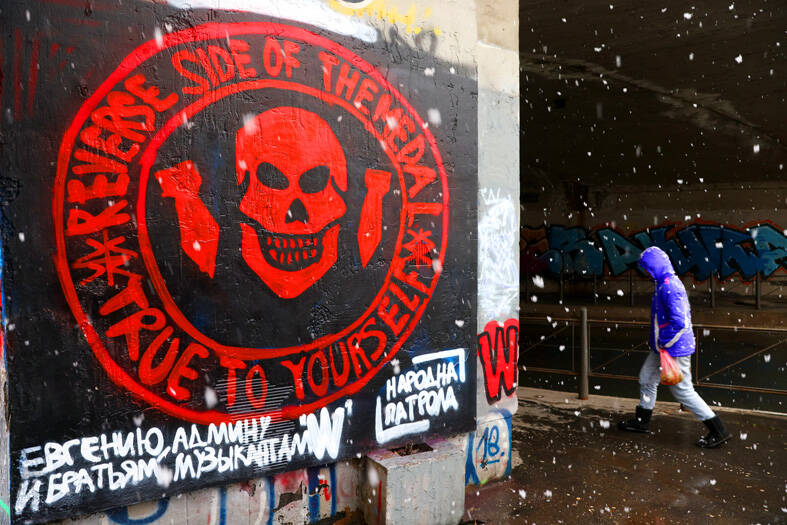 A person walks past a mural depicting the logo of the Russian paramilitary group Wagner in Belgrade, Serbia, on Friday.
Photo: EPA-EFE
The photographs, from Nov. 18 and 19 last year, show Russian rail cars entering North Korea, picking up a load of infantry rockets and missiles, and returning to Russia, he said.
He said the US Department of the Treasury was formally designating Wagner as a transnational criminal organization, putting it in league with Italian mafia groups, and Japanese and Russian organized crime.
The designation would allow the wider application of sanctions on the group's sprawling global network, which includes mercenary operations as well as businesses in Africa and elsewhere.
Wagner "is a criminal organization that is committing widespread atrocities and human rights abuses," Kirby said.
"We will work relentlessly to identify, disrupt, expose and target those who are assisting Wagner," he said.
Kirby also said the US had presented its intelligence on Wagner's North Korean purchase to the UN Security Council's unit on North Korea sanctions.
The arms transfers from North Korea are in direct violation of UN Security Council resolutions, Kirby said.
Kirby said there is evidence that Prigozhin's confidence in Wagner fighters' relative success in Ukraine has generated tensions in the Kremlin.
Comments will be moderated. Keep comments relevant to the article. Remarks containing abusive and obscene language, personal attacks of any kind or promotion will be removed and the user banned. Final decision will be at the discretion of the Taipei Times.