Incoming NZ leader vows to win October elections
New Zealand's incoming prime minister Chris Hipkins yesterday vowed to "get things done" and win a looming October general election after being chosen as his party's only candidate to replace New Zealand Prime Minister Jacinda Ardern.
The 44-year-old red-headed politician emerged as the sole nominee to lead the ruling Labour Party in a meeting of fellow members of parliament, and now faces what is seen as the mere formality of a confirmation by his colleagues today.
As leader of the party, he is to take over as the country's 41st prime minister following Ardern's shock resignation on Thursday.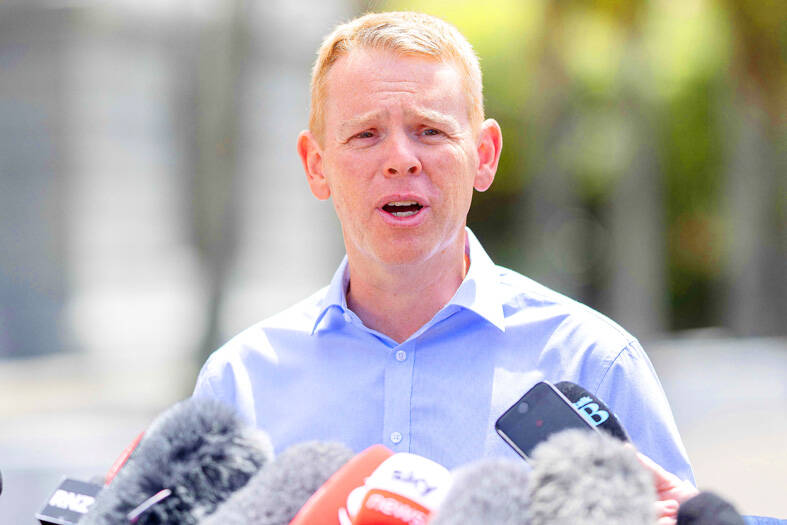 Incoming New Zealand prime minister Chris Hipkins speaks to the media outside parliament in Wellington yesterday.
Photo: AFP
Ardern said she would step down by Feb. 7, but could do so earlier given that her successor was chosen in barely 48 hours.
"I like to think I am pretty decisive and I can get things done," said Hipkins, who became a household name for leading the nation's COVID-19 crackdown for nearly two years.
With his party lagging in the opinion polls under criticism over rising prices, poverty and crime rates, reporters gathered outside parliament in Wellington asked if he can win general elections to be held on Oct. 14. "Yes," he replied.
Ardern, a global figurehead for progressive politics, stunned New Zealand by announcing her abrupt exit from office, less than three years after securing a second term in a landslide election win.
Hipkins praised Ardern as "the leader we needed at the time that we needed it," but agreed that she had been on the receiving end of "absolutely intolerable vitriol."
Ardern's successor is widely seen as a safe pair of hands with more than 14 years in parliament.
Hipkins told reporters that he was feeling "energized and enthusiastic" about the new job.
"It's a big day for a boy from the Hutt," he said, referring to the Hutt Valley region near Wellington.
"My parents came from relatively humble beginnings and worked really hard to provide a good life for my brother and I," Hipkins said, vowing to give New Zealanders the opportunities to improve their lives.
Asked about whether being a red-haired prime minister would be a historic moment, he said: "I think it was about time we had a ginger at the top."
Comments will be moderated. Keep comments relevant to the article. Remarks containing abusive and obscene language, personal attacks of any kind or promotion will be removed and the user banned. Final decision will be at the discretion of the Taipei Times.