Visiting MP warns over China
RUSSIAN EXAMPLE: Appeasing China would harm the region and the wider world, a Lithuanian lawmaker said, adding that defending Taiwan is key to world peace
The global community should know that an unfettered China would cause suffering in the region and across the world, Lithuanian lawmaker Dovile Sakaliene said during a meeting with President Tsai Ing-wen (蔡英文) at the Presidential Office in Taipei yesterday.
Sakaliene, the vice chair of the Lithuanian Parliamentary Group for Relations with Taiwan, is leading a nine-member delegation from the Lithuanian Committee on National Security and Defense on a visit to Taiwan.
The world is at a turning point and those who want peace must prepare for war, she said, adding that Taiwan has been staring down China's threats, pressure and persecution on a daily basis.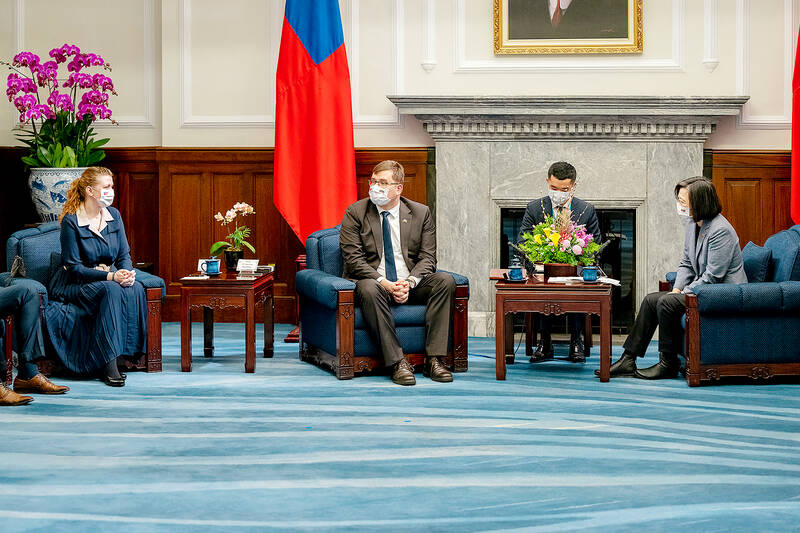 President Tsai Ing-wen, right, meets with members of a Lithuanian parliamentary delegation at the Presidential Office in Taipei yesterday.
Photo: AP
Taiwanese exercising their right to self-determination face an unfair situation where Taiwan must make exceptional achievements in fighting the COVID-19 pandemic and contributions to the world just to be seen by other countries, she said.
Citing her family's history of persecution under the Soviet Union, Sakaliene said history shows that allowing China free rein would lead to harm not only in the region, but the whole world.
The international community was wrong about Russia, a mistake that Ukraine, Europe and the rest of the world are now paying for, she said.
Protecting Taiwan against aggression is key to world peace and requires comprehensive cooperation across multiple domains, she said in a call for closer ties between the nation and Lithuania.
Lithuania sympathizes with Taiwan's situation of being a free and democratic nation that faces steep geopolitical challenges, delegation coleader and committee chair Laurynas Kasciunas said.
Anti-communism is "in the DNA" of Lithuanians and Taiwanese, ensuring the two peoples would stand together in their shared quest to establish an exemplary democracy in their countries, he said.
Deepening bilateral ties would be beneficial to both nations, as Vilnius wants a trade partner to grow its economy, while Taipei needs a friend in the EU, he said, emphasizing collaborations in security, defense, investment and trade.
Tsai expressed Taiwan's willingness to bolster its relations with the Baltic nation, saying that the establishment of the Taiwan Representative Office in Lithuania shows the government's commitment to forming partnerships with other democracies.
Taiwan and Lithuania are boosting bilateral cooperation in areas such as countering disinformation and strengthening cybersecurity, as well as civil defense management, she said.
The nation is able and willing to share its experience with democratic allies in the fight to contain the spread of authoritarianism and preserve the free way of life, Tsai said, before thanking the lawmakers and Vilnius for their support for Taiwan.
Lithuanian deputy ministers of foreign affairs, agriculture, and economy and innovation have separately visited Taipei, while a Taiwanese delegation led by National Development Council Minister Kung Ming-hsin (龔明鑫) visited Vilnius, she said.
Taiwan strives to maintain prosperity and stability in the region, and hopes its improving partnership with Luthiania would contribute to democratic resilience across the globe, Tsai said.
Comments will be moderated. Keep comments relevant to the article. Remarks containing abusive and obscene language, personal attacks of any kind or promotion will be removed and the user banned. Final decision will be at the discretion of the Taipei Times.