Conscription no 'waste of time': Tsai
'THANKS FOR YOUR SERVICE': Longer conscription is to bolster Taiwan's defense preparedness, Tsai said, as she lauded the hard work of soldiers stationed on Penghu
The extended conscription period would not be a "waste of time" for conscripts, President Tsai Ing-wen (蔡英文) said yesterday as she thanked navy and army personnel for their service.
Tsai was addressing the navy's 146th Fleet at a naval base in Penghu County, days after China conducted its largest military maneuvers of the year.
"Your duty is very heavy ... and I wanted to thank you, our military brothers and sisters, for your hard work," she said. "Taiwan is on the front lines of democracy. Only if we are prepared for war can we avoid war, and only if we have the ability to wage war can we stop war."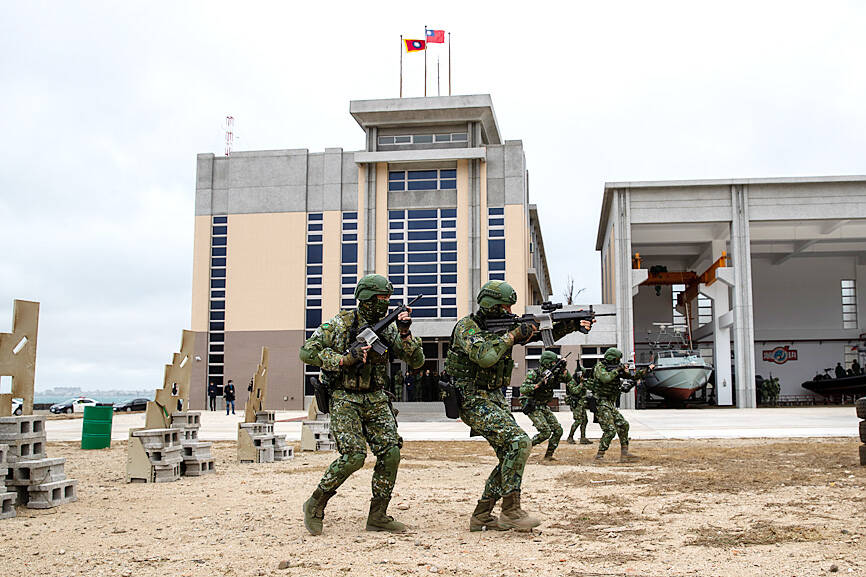 Soldiers take part in a drill during the visit of President Tsai Ing-wen at a military base in Penghu yesterday.
Photo: Ritchie B. Tongo, EPA-EFE
In a 24-hour period from Sunday to Monday, 47 Chinese warplanes crossed the median of the Taiwan Strait, the Ministry of National Defense said.
Tsai also vowed to modernize training for service members.
Conscripts learn skills to help them fight, survive and save others, she said, adding that the extension of the conscription period to one year from four months, to take effect in 2024, would help them become more capable of protecting their homeland and families.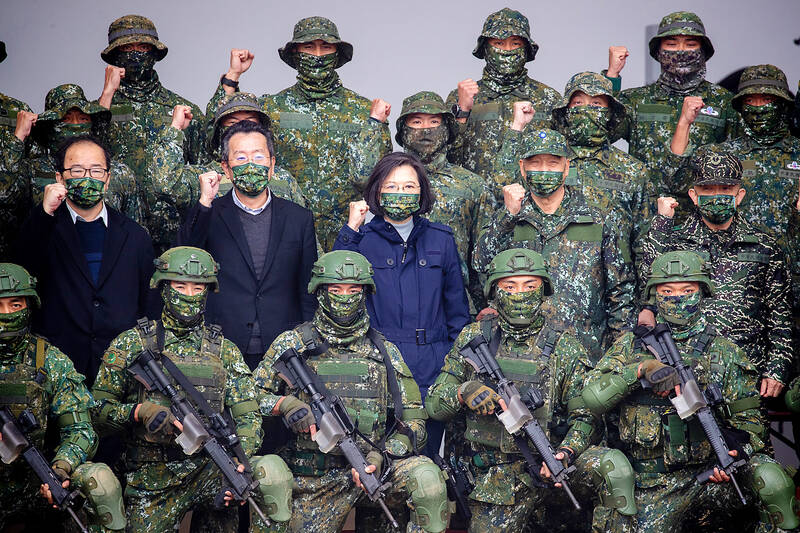 President Tsai Ing-wen, center, poses for photograph with military personnel at a base in Penghu yesterday.
Photo: Ritchie B. Tongo, EPA-EFE
Announcing the extension on Tuesday, Tsai also announced that the minimum monthly pay for service members would be raised to NT$20,320.
A source, speaking on condition of anonymity, yesterday said the ministry has received confirmation from Washington that the US would sell Taiwan additional Stinger missiles, which would be used to equip certain conscripts.
The source declined to comment on how many additional Stinger missiles were requested.
The ministry previously bought 500 of the missiles — 250 for the army and 250 to be distributed to the marines and navy — to be delivered before the end of 2025.
The source said that the military might also ask the US for additional M142 High Mobility Artillery Rocket Systems (HIMARS), after the sale of 29 such systems was approved previously.
Two sets are reserved for training purposes, while the remaining 27 would be distributed among the three army groups tasked with defending Taiwan's north, south and central areas respectively.
As the outlying island counties of Kinmen, Lienchiang and Penghu are closer to China, deploying HIMARS there would add defensive depth and give Taiwan more robust counterstrike capabilities against inland Chinese military facilities, the source said.
The Executive Yuan on Thursday also clarified that conscripts who were born in or after 2005 and opt for alternative service would only be allowed to do so for family or religious reasons.
Those who qualify for the alternative program would be required to serve no more than one year and two months, the Ministry of the Interior said, adding that the increased monthly pay would also apply.
Conscripts applying for alternative service for family-related reasons currently have to serve four months, while it is six to 18 months for others, the ministry said.
From 2024 onward, the period of service would be adjusted to one year for individuals applying for family-related reasons and 14 months for those citing religious reasons, Deputy Minister of the Interior Chen Tsung-yen (陳宗彥) told reporters.
Since 2020, people serving in the alternative program have received basic emergency medical technician training, Chen said, adding that target practice and public defense mobilization courses would be increased from next year.
The interior ministry said the alternative service program was launched in 2000 as part of efforts to downsize the military, enabling conscripts to work in government agencies instead.
People serving in the program mainly care for socially disadvantaged people, or work in social welfare, law enforcement, firefighting or in educational, medical and cultural institutions in rural areas.
Separately, former US secretary of defense Mark Esper on Thursday said that Taiwan was "not prepared enough" for a potential Chinese invasion, but trusted it would become ready.
In his meeting with Tsai in July, he recommend a number of measures to boost Taiwan's defense capabilities, including an increased defense budget and restoring conscription to one year.
"They seem to be on that path, that's a good thing. Washington is doing similar things with providing arms and additional training," he told Bloomberg's Balance of Power podcast.
Additional reporting by AP and Wu Su-wei
Comments will be moderated. Keep comments relevant to the article. Remarks containing abusive and obscene language, personal attacks of any kind or promotion will be removed and the user banned. Final decision will be at the discretion of the Taipei Times.