Su allays concern over China attack to divert attention
The government will keep a close watch on changes in China and respond in a timely manner, Premier Su Tseng-chang (蘇貞昌) said yesterday amid concern that Beijing might try to divert attention from domestic unrest by attacking Taiwan.
Protests have erupted in China against the government's strict "zero COVID" policy after restrictions reportedly delayed rescue efforts in a deadly fire on Thursday in Urumqi, Xinjiang, leading to 10 deaths.
Asked whether Beijing might use Taiwan to divert attention from domestic troubles, Su told reporters that the world — including Taiwan — has already moved to coexist with COVID-19.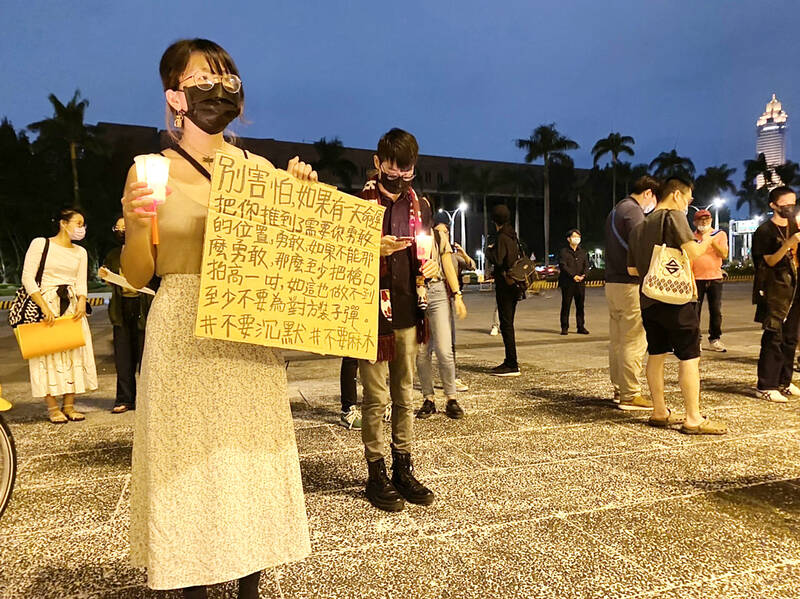 Demonstrators gather at Taipei's Liberty Square on Sunday evening to show support for protesters in China.
Photo: CNA
It is no wonder that fervent protests have broken out in China, as the government's strict COVID-19 lockdowns have severely disrupted people's lives, he said.
As China is an authoritarian state and a close neighbor of Taiwan, the government will keep a a close eye on any changes and respond immediately, he added.
On Sunday night, a candlelight vigil was held in Taipei to show support for the protests.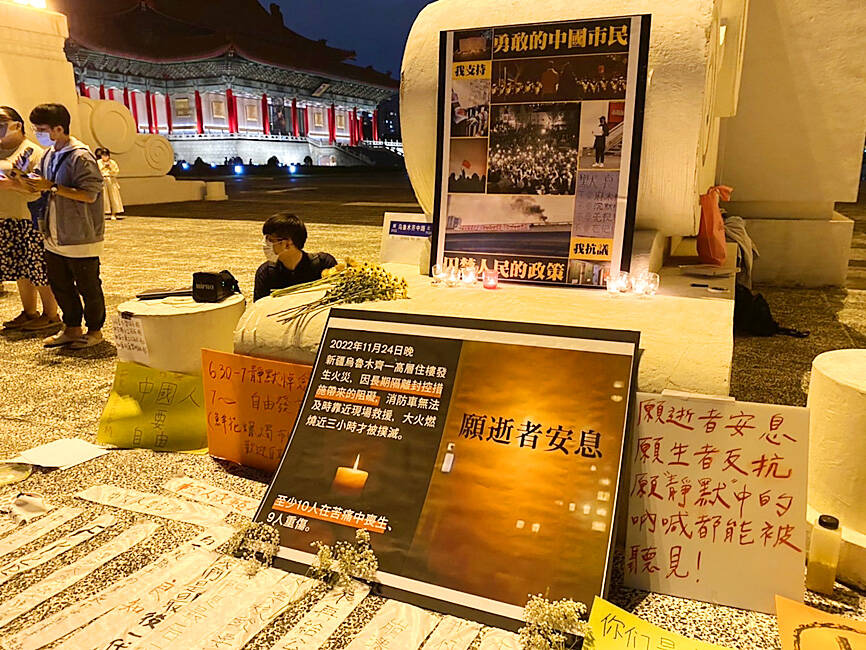 Placards with messages supporting protesters in China and commemorating the victims of an apartment fire in Urumqi, Xinjiang, are displayed at Liberty Square in Taipei on Sunday evening.
Photo: CNA
Many people, including Taiwanese, Hong Kongers and Chinese living in Taiwan, gathered in Liberty Square in Taipei, holding candles and white sheets of paper against the backdrop of a large banner with the large Chinese character for "mourn" (悼).
They also chanted: "China needs freedom," "Give me liberty or give me death," "Rest in peace for the dead" and "Continue to fight" — slogans used by student protesters at several universities in China.
Chinese pro-democracy activists Wang Dan (王丹) and Zhou Fengsuo (周鋒鎖), who were in Taipei for a forum on Saturday's nine-in-one elections, also attended the vigil.
Holding a poster reading "Chinese people want freedom," Zhou said it was very meaningful to see many people in Taipei showing up to voice their support for the oppressed in China.
Wang said Chinese are fighting not only for freedom and democracy, but also for the right to live.
It is important to give them support, because "Chinese lives matter," he added.
Democratic Progressive Party Deputy Secretary-General Lin Fei-fan (林飛帆), a leader of the 2014 Sunflower movement, on Facebook called on people to pay attention to the protests and to show their support.
He also urged Beijing to refrain from using repressive measures against its own people.
Additional reporting by Chen Yun
Comments will be moderated. Keep comments relevant to the article. Remarks containing abusive and obscene language, personal attacks of any kind or promotion will be removed and the user banned. Final decision will be at the discretion of the Taipei Times.